Press Release: EOS Cafe Calgary launches bloks.io, the fastest EOS block explorer
New tool launched in partnership with HKEOS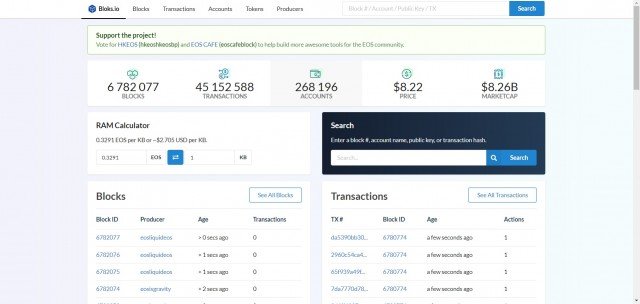 EOS Cafe Calgary is proud to announce the launch of bloks.io, the fastest block explorer for EOS. The tool was launched by EOS Calgary alongside HKEOS.
Bloks.io is a web tool that allows people to view information about blocks, transactions, accounts, and producers on the EOS blockchain. It also has a detailed account page which shows:
Balances of all airdrops
Filtering actions based on type (RAM/Account/Producer)
Breakdown of RAM/CPU/NET usage
Proxy information
Token transfers, and more
"We're excited to share bloks.io with the EOS community," said Syed Jafri, Head of Development at EOS Cafe Calgary. "Our goal was to create the fastest and most reliable block explorer for the community as a way to engage with others and keep them informed about the EOS network."
EOS Cafe Calgary is a leading block producer candidate on the EOS network, under the name 'eoscafeblock'. They are active members of the EOS community and have participated in network activities since before its launch, collaborating with other block producers in an effort to increase the adoption and value of EOS. In addition to bloks.io, EOS Cafe Calgary has also created user-friendly tools for the EOS community such as offline key validation, a paper wallet, and fallback registration.
Based in Canada, EOS Cafe Calgary has communities all over the world, supporting the development of dApps on the EOS blockchain. Their ultimate mission is to create online and real-world collaboration spaces – EOS cafes – for enthusiasts to meet up and build upon the system.
Earlier this month they also announced a partnership with KARMA, to whom they provided RAM support for the KARMA Token.
For more information, visit bloks.io and eoscafecalgary.com.
- ends -
Contact:
Syed Jafri
[email protected]
Telegram: syed_jafri
About EOS Cafe Calgary
EOS Cafe Calgary is a leading block producer candidate that is committed to increasing the adoption and value of EOS. Our goal is to harness the power of EOS to provide education, infrastructure and decentralized applications to enrich the global EOS ecosystem. eoscafecalgary.com | GitHub | Medium | Steemit