EOSBet Joins Binance Chain Alliance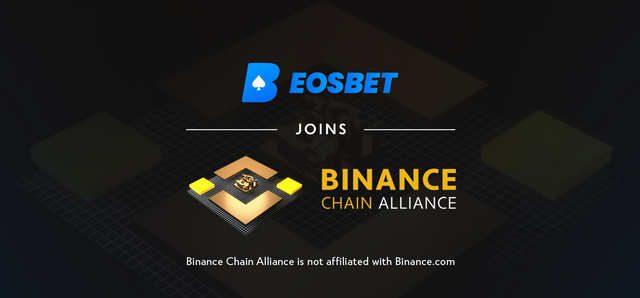 EOSBet Joins Binance Chain Alliance
We are proud to join a group of high-quality companies in creating a collaborative consortium at the forefront of blockchain technology. The Binance Chain Alliance is an association of blockchain projects who have successfully migrated to Binance Chain and been listed on Binance DEX.
The aim of this new initiative is to support other projects and their founders during their migration process to Binance Chain as well as supporting them afterwards in a variety of topics such as financing, technology, KYC and network introductions.
We are particularly well-equipped to help other EOS projects join the Binance ecosystem. Our team has developed a conversion bridge that easily allows our BET token holders to swap their tokens between EOS and Binance Chain. We are excited to help other promising projects take advantage of Binance DEX's user-friendly interface, fast transaction time, and access to Binance's strong community.
Binance Chain Alliance
Website: https://www.bepalliance.com
E-Mail: [email protected]
Twitter: https://twitter.com/bepalliance
Medium: https://medium.com/@binancechainalliance
Binance DEX
Website: https://www.binance.org/en/
Telegram: https://t.me/BinanceDEXchange
Telegram: https://t.me/binanceexchange
About EOSBet
EOSBet is a decentralised, provably fair gaming platform on the EOSIO blockchain. Our goal is to utilise blockchain technology to create an entertaining gaming experience that rewards our community and BET token holders. In early 2018, we pioneered the dividend token model and continue to add creative new mechanisms to drive player engagement.
EOSBet is one of the largest and most commercially successful dapps to date. We were the first licensed on-chain gaming platform and have paid over $5,000,000 back to our BET token holders. We offer a non-custodial player account system, betting in several popular currencies, and a wide-variety of exciting games.
Website: https://eosbet.io/
Telegram: https://t.me/eosbetcasino
Twitter: https://twitter.com/EOSBetCasino
Email: [email protected]
Thank You to Cubiex
We are grateful to Cubiex eSports and Pierre Chahine, CEO of the project, for launching the Binance Chain Alliance and inviting EOSBet to promote the initiative in collaboration with other projects. Please keep in mind: The Binance Chain Alliance is a project driven initiative, that is not officially affiliated with Binance.com
Disclaimer: EOSBet.io is owned and operated by Aurora Tech N.V., a company registered and established under the laws of Curaçao, registration number 148186, and registered address at Ambraham de Veerstraat 7 Willemstad, Curaçao. Gambling License: GLH-OCCHKTW0711072018. No U.S. or Chinese players. All players must follow the laws in their jurisdiction. Must be 18 years or older to play. BET tokens have no rights, uses, or attributes.