EOS.Pizza Major Updates: Whitepaper, Avatar-as-a-Topping and new introductionary video - come get your 🍕
Big updates from the EOS.Pizza core team! As we are slowly rolling out our promo machine for the Initial Slice Offering we have undergone the following updates:
1. Whitepaper is out now!
Visit
https://eos.pizza
for the all new whitepaper, including information about the Open Graph Slice Index, Proof of Slice algorithm and much more.
Yes, yes! You can now add your own custom social toppings to the EOS.Pizza! By using the SteemJS library you can now add your own social topping. Add your Steem/Twitter/Facebook/Instagram avatar to the pizza and share it with your friends.
To "top it off" you can also pick your favorite cryptocoin to mix in too. So here is for example @ned: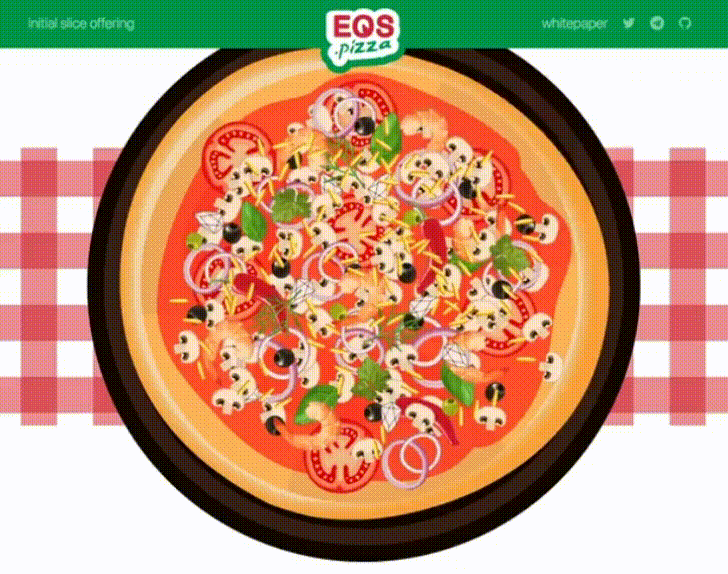 Source: https://eos.pizza/#!p=steem&c=steem.png&u=ned
3. Promo / explainer video now available
Our CMO has been working it's ass off to get you the most shiny explainer video. Check it out:
4. More code committed to our github
Our CTO has been going wild on
github
:
Whitepaper
Smart Contract source code (Solidity)
Initial Slice Offering site
EOS.Pizza - the community for airdrops
Join the Initial Slice Offering
before May 18, 2018. Simply
visit EOS.Pizza
and be part of the amazing community of free-thinkers, pizza-lovers and illuminizza's! By joining you will be included in the
Open Slice Genesis Index Master Boot release
which is a community building source for upcoming and next level blockchain projects.
Be sure to download the whitepaper and learn all about the Proof of Slice algorithm.