How to Vote for Your Favorite EOS Block Producer (using Scatter)
EOS is going through the process of launching its Mainnet. This process is the culmination of the whole EOS community working together creating one single chain.
LibertyBlock would like to thank everyone in the community that is striving to make this dream a reality. As Tim Lewis stated, this is "everyone's net, our net."
Many in the community are signaling that today may very well be the day that the EOS Launch is enabled.
4 stages of EOS's Launch
Verify Snapshot & Boot: ERC-20 token Snapshot is verified by EOS Mainnet Launch Group (EMLG) and third parties.* Appointed Block Producers within the EMLG initiate the Boot process.
Testing: EMLG and third parties will need some time to verify that the tokens have been loaded according to the snapshot file and that the software performs well. This stage will continue for 48-hours and repeat in the event that a major bug is found.
Enable: The Block Producer community will release a joint statement once it's safe to import private keys and vote. Voting begins.
Activation:  Once 15% of votes have been staked, appointed Block Producers will be immediately replaced by elected Block Producers and we can declare the EOS Mainnet active.
The EOS community is in the process of finishing its Testing stage of launching (Stage 2). EOS creator, Dan Larimer is boldly encouraging the community to be brave and commence the Enabling stage- Stage 3:
"I see people petrified by fear of unknown bugs. Life is messy. Be brave. We can overcome anything… Fortune favors the bold. And voters will notice… The demand for perfection before implementation only delivers procrastination.... It's the search for perfection that drives innovation, not the demand to have it before acting… I cannot promise you there will be no bugs or no losses. But each day people lose money to scams and new risks Mount. The rag tag teams of producers on steem and bitshares can do this. Surely the professionals here can."
How to Vote for Your Favorite EOS Block Producer using Scatter
There has been both prudence and courage within the EOS community. It is in this balance that the community moves to launch EOS. It is in this spirit that LibertyBlock decided put forth this present tutorial.
What Are Block Producers?
Block producers essentially act as the custodians of the EOS network. Elected by EOS token holders, block producers basically confirm the transactions of the network.
EOS co-founder & CTO Dan Larimer makes the analogy of block producers on EOS being the DJ's of a radio station. Similar to how DJ's decide what goes on the air and which callers to take, block producers determine the priorities for transactions on the network.
Voting for Block Producers
LibertyBlock has created its own voting tool: Scatter is the most secure means of using our open source voting tool.
Introducing Scatter (and Why It's the Best Way to Vote for Block Producers)
Scatter makes the use of one's private keys, when voting, more secure. The private key is needed in singing the transaction of the votes.
This is the easiest way to vote for any block producer candidate.
Download the Scatter browser plug-in. You can either download an extension for Chrome, or an add on for Firefox.
Scatter provides EOS holders with a secure framework for signing transactions and interacting with different web applications… without exposing your private keys!
Using Scatter on our LibertyBlock voting tool minimizes any hassle of entering any personal information.
Step-by-Step Guide: How to Vote for LibertyBlock as an EOS Block Producer
Step 1: Set Up Scatter
Go to get-scatter.com and select the browser plug-in that matches the web browser you are on.
(We advise that you use Chrome, and we'll show you why in a minute.)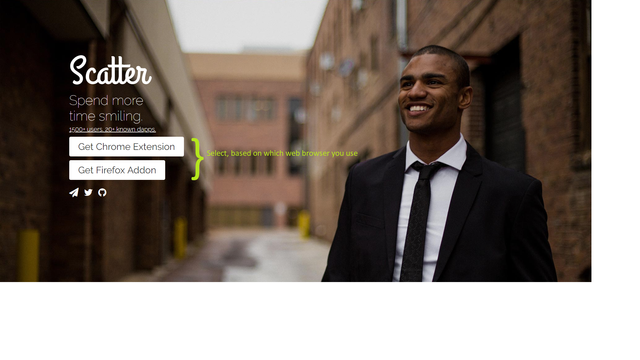 Once you select the option, another screen will pop up.
Step 2: Validate your Scatter ID
Before downloading the Scatter plug-in, go to http://eosportal.io/ and click on 'Help'. Then scroll down until you find a section called 'Validating your Scatter.'
In the 'Validating for Chrome' box, click on the series of letters that after the following statement: There will be an ID property there. Make sure that it is exactly equal to:
You are doing this to ensure you are downloading Scatter from a trusted resource and that you have the correct extension ID.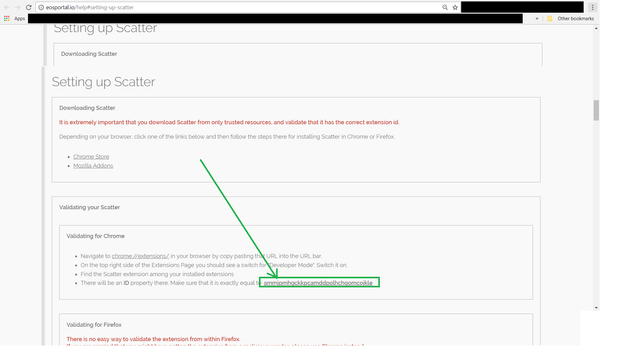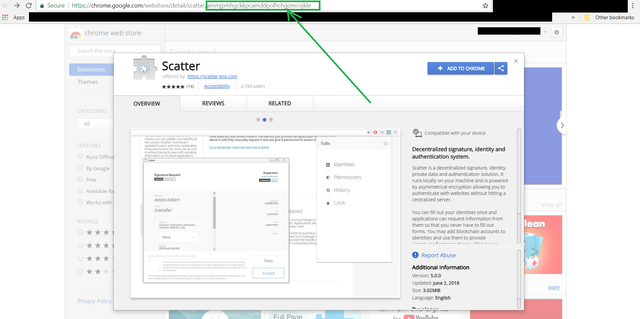 We advise that you validate the extension you're downloading from within your web browser. There is an easy way to do this through Chrome. As the EOS Portal states on their website:
If you're using Firefox and are worried that you may have gotten the extension from a malicious vendor, we recommend that you switch to Chrome.
Step 3: Add (and validate) the extension
Simply add the Scatter extension to your browser. You should see a blue icon with a white S appear on in the top-right corner of your browser.
If you are on Chrome, it's safe to validate the Chrome extension:
Go to chrome://extensions/ or click the three-dotted icon in the top-right corner and follow the navigation below.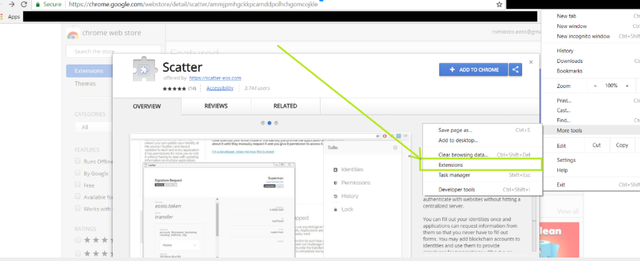 b) Check the ID inside the Scatter extension's description. If the ID does not match with what you added, remove it and re-install the plug-in; this prevents anyone from stealing your keys.
Step 4: Create a New Scatter Account
Contrary to signing up with any other service, Scatter only requires one thing from you: a password.
Simply click on the extension, create and confirm the password and select 'Create New Scatter.' (Make sure you use a strong password.)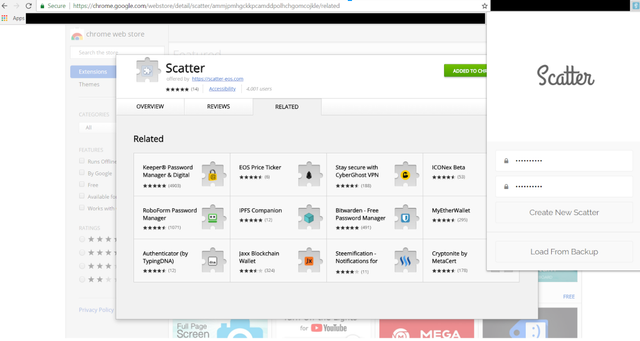 Step 5: Write down the mnemonic phrases
Scatter gives you a list 20 mnemonic keywords to enter in case you forgot your password. Write these down and keep them in a safe space in case you cannot re-access your account.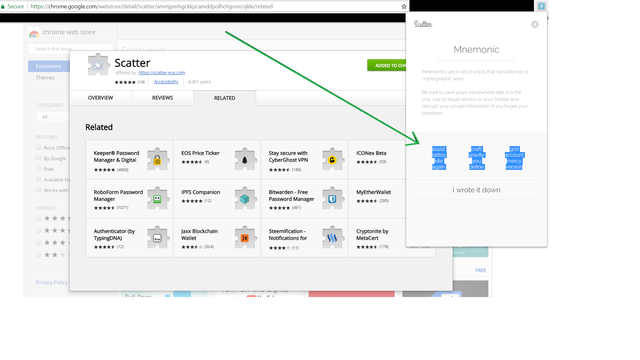 Step 6: Import your EOS keys
In order to vote for your favorite block producer with Scatter, you need to import your public and private keys into Scatter.
To add a keypair, follow these steps:
Copy your private key to your clipboard.
Open Scatter and click the 'Key Pairs' option from the main menu.
Click the 'New' button in the top-right corner.
Paste your private key into the private key input field.
Give the key a name so you remember which one it is
Click 'Save.'
These steps are demonstrated in the GIF below: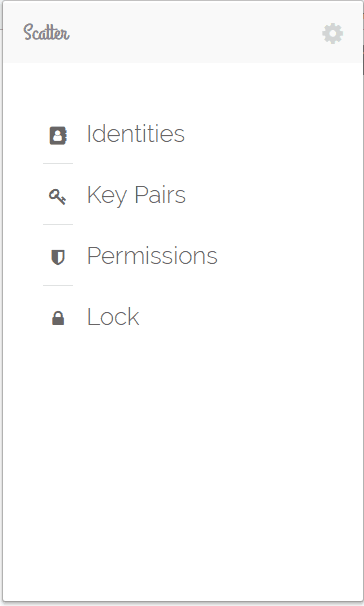 Note that, once you generate an EOS keypair, you need to save your private key elsewhere.
(If you did not import your keys into Scatter, but if you generated them within Scatter- make sure you save your keys)
If you had your keys in Exodus here is a tutorial on how to export your keys
Step 7: Import LibertyBlock's Chain to Your Account
Now that you have uploaded your keypair, you need to select a chain and import it into your Scatter account. This allows you to vote for any block producer within that chain (particularly the one you want to vote for).
To do this:
Go back to http://eosportal.io/ and click 'Use Chain'.
You will find a few different chains. Select the row that has id:8 in it; the Chain ID should start with 57...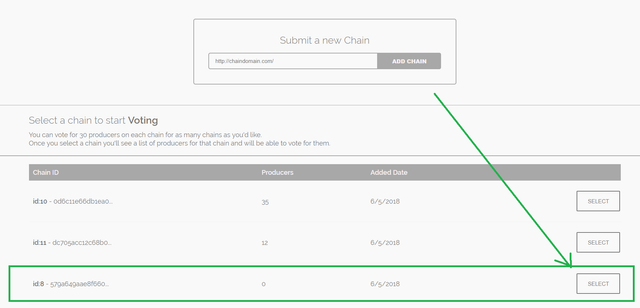 Select 'Use Chain' (the third option in the sub-navigation bar above) and click 'Accept.'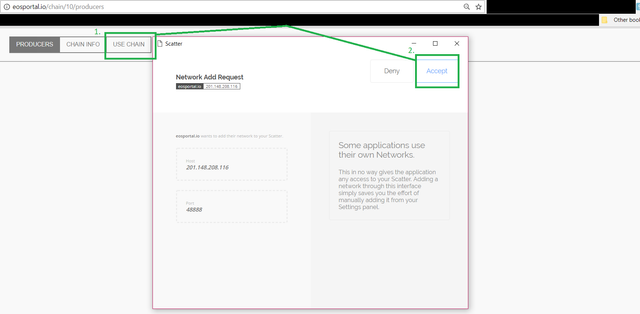 Then, click the Scatter icon again and click 'Identities.'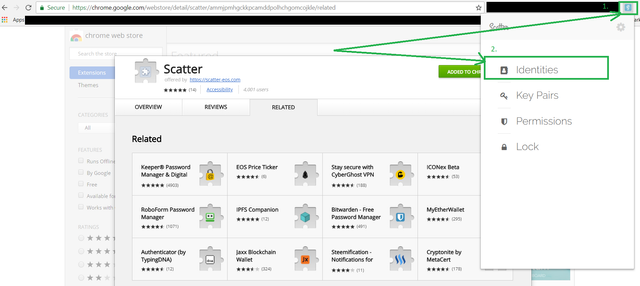 Next, click on the pencil icon: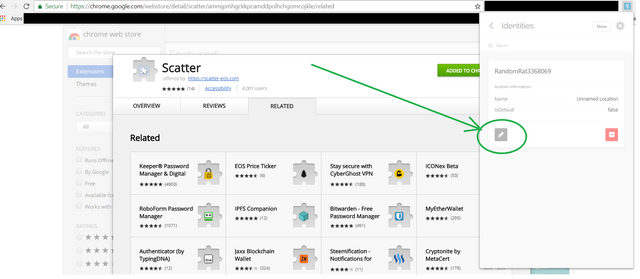 Once you do this, you can confirm that the network -network number as seen below (EOS########...) was added to your account.
Step 8: Import your keys to the LibertyBlock chain
Once you add the chain, it's time to add your keys to the chain.
In the second drop-down menu (where it says 'None'), you will find the key you attached to your account earlier. Click on that, and then select import.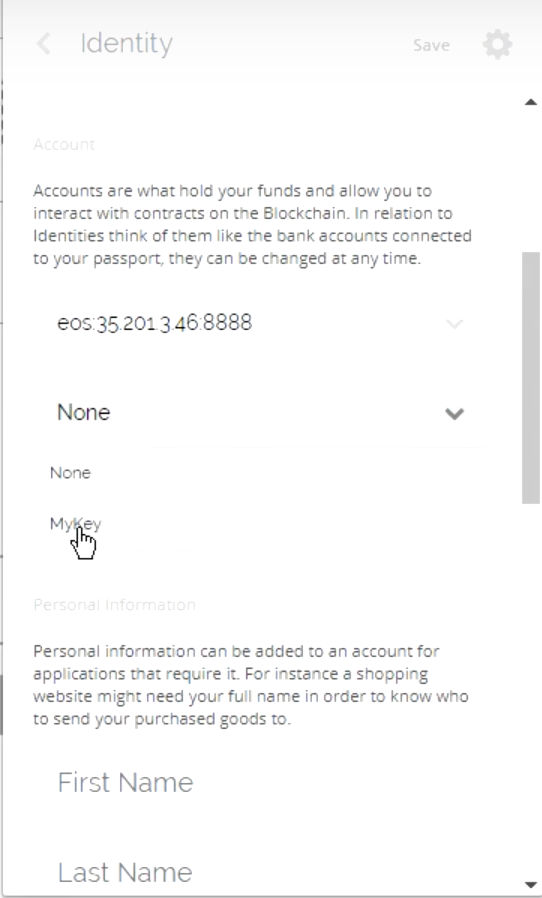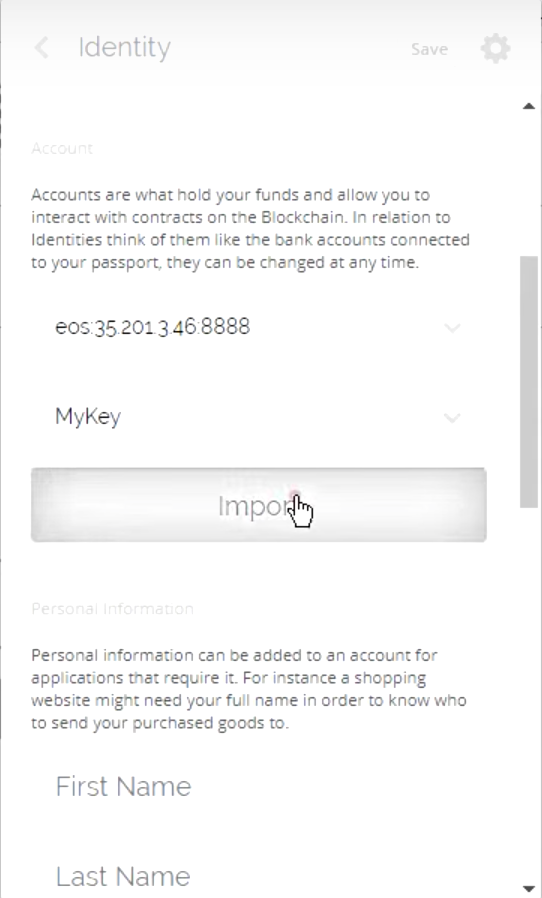 You will then find a list of accounts that you have connected to your public key. You will most likely see two options here: an @active account and an @owner account. Click on @active, then select 'Use Selected Account' and hit 'Save.'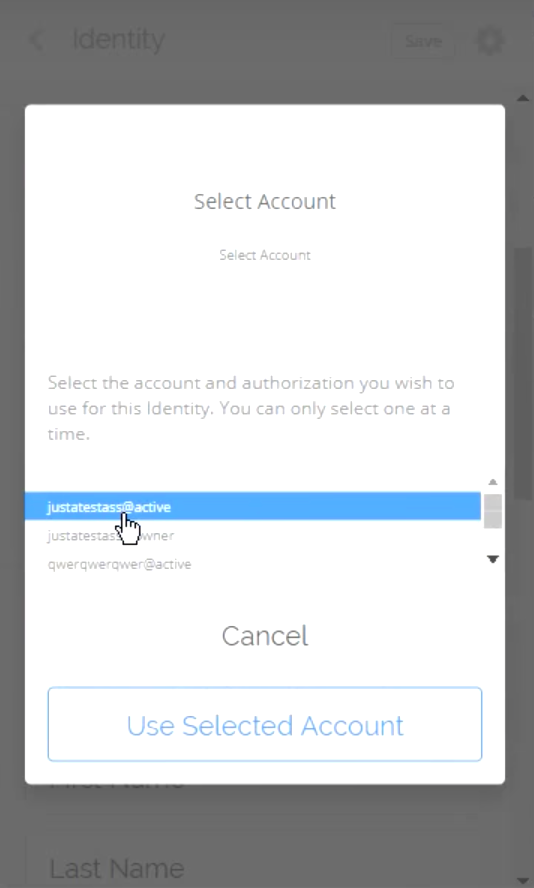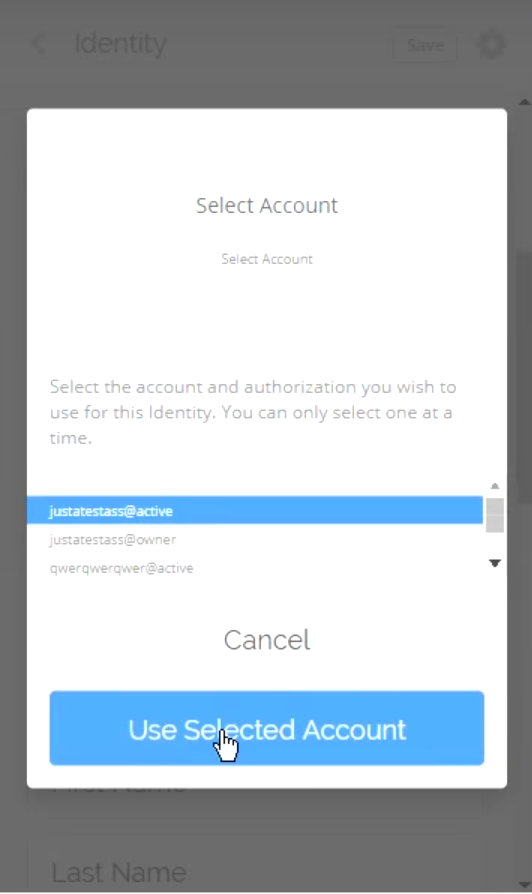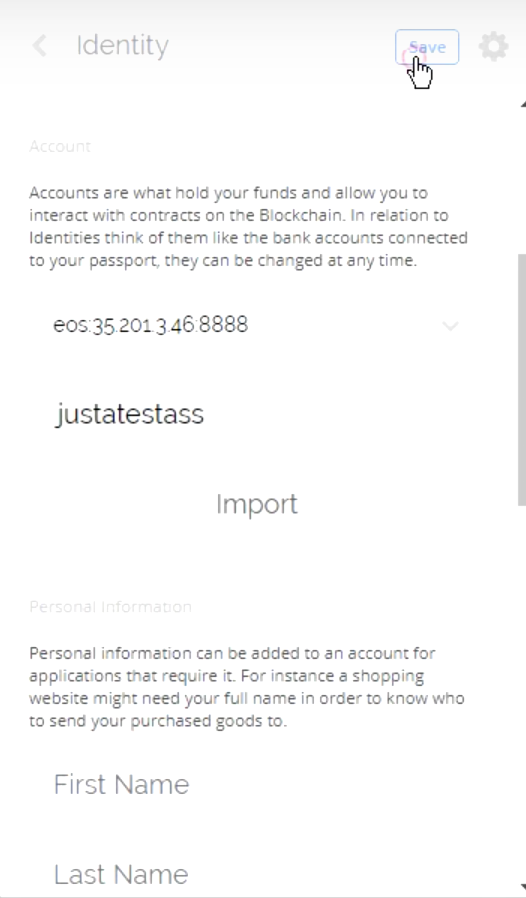 Step 9: Pair Your Scatter to the EOS Portal
Now that we've added your account to Scatter, you can now pair your account (with the chain) to the EOS portal.
To do this:
Select 'Pair Scatter' (the third option in the sub-navigation bar)


Click 'Select Identity' (this is the name of the account you just imported).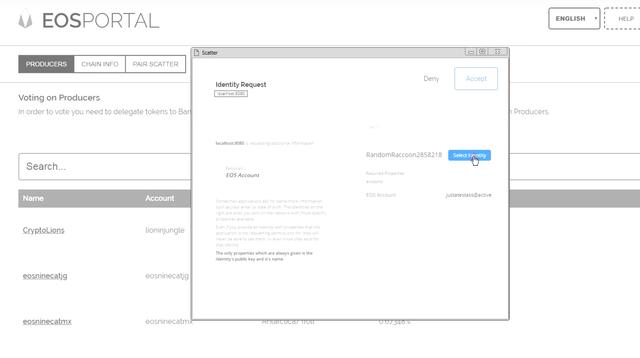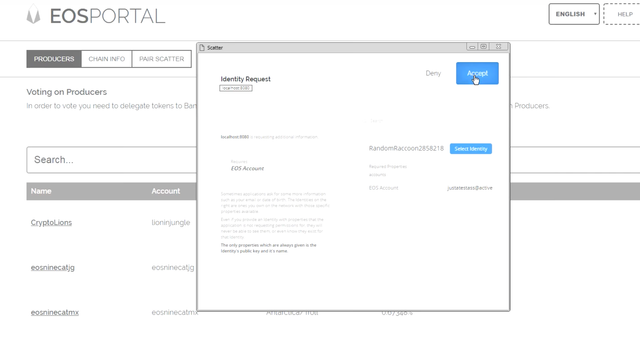 You should now see the list of block producers from the chain you linked to your account, with a bunch of 'Vote' buttons on the right.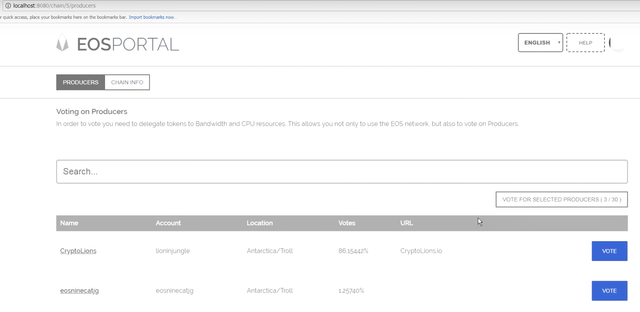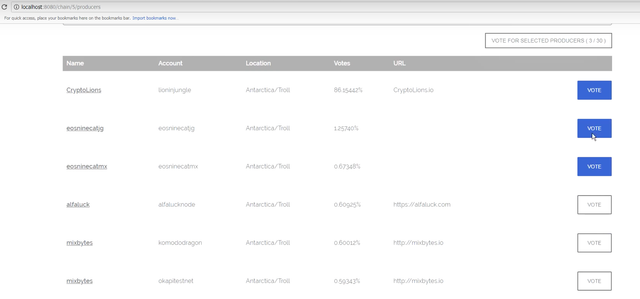 We're almost there!
Step 10: Vote for LibertyBlock
You've finally made it to the end and can officially vote for LibertyBlock to be an EOS block producer!
To make it official, click the 'Vote' button that matches the row for LibertyBlock, scroll up and select the 'Vote for Selected Producers' icon. This will open up a prompt.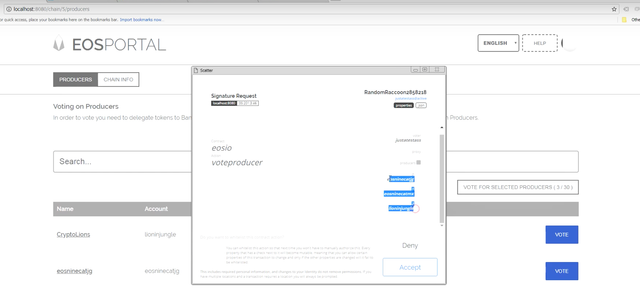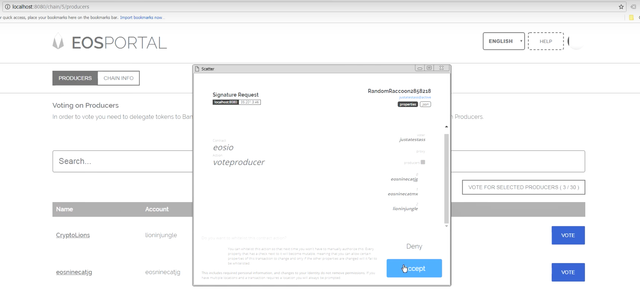 Once you hit Accept, you're done! You have officially voted!
Note that you can vote for a total of 30 block producers. If you'd like to vote for someone else (there are several great block producers doing wonderful things), just select all the block producers in that chain before hitting 'Vote for Selected Producers.
BONUS:
If you prefer to vote using LibertyBlock's own voting portal - http://vote.libertyblock.io - do the exact same thing here and scroll down here when you reach Step 9.
Step 9: Select the Scatter option for Signing Method. You will get a popup asking you to select an identity. Select the one with the key you wish to vote with.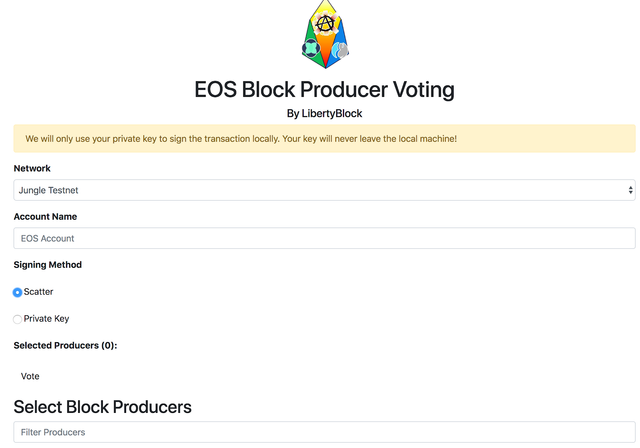 Step 10: Enter an account name and select block producers in the voting checklist and click Vote. The active key for the account name you enter must be contained in the Scatter identity you approved.
We will be available to help on our TDV Facebook groups, our EOS LibertyBlock Facebook group, and on our Telegram channel: https://t.me/eoslibertyblock
Happy voting!