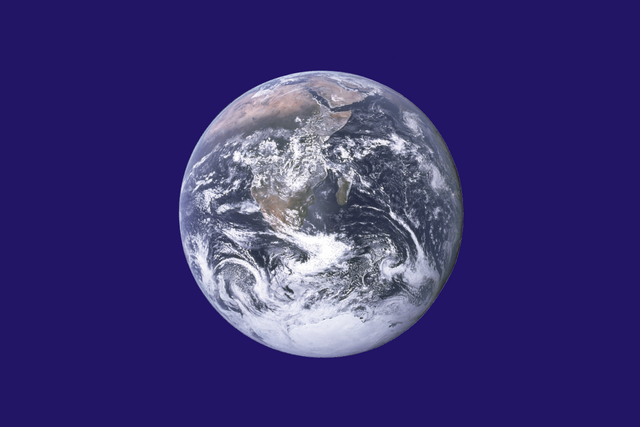 The Blue Marble Flag also know as The Earth Day Flag is a 1972 NASA photograph
Today, it's the World Environment Day - globally celebrated every year to raise awareness about emerging environmental issues and action for the protection of our environment.
Do we really need to conserve our environment?
I often wonder, why do we need to protect and conserve the environment of our planet. The first WED (World Environment Day) was celebrated on this day in 1974 with the theme Only One Earth.
But so what if we have only one Earth?
It's often assumed that humans are destroying this planet. But what exactly destruction means!
Several terms like global warming, climate change, desertification, deforestation etc. are used to draw our attention towards our rapidly changing surroundings. But what if we let it happen just like that? Won't this planet survive all these?
During the course of long history, our planet has seen more extreme times than these. It has survived through ice age and warmer climates than today. It has seen several folds more Carbon-dioxide levels than present. So what exactly are we trying to protect?

World Environment Day Anthem
In 2013, an Indian poet Abhay Kumar released the Earth Anthem which is also called as
World Environment Day Anthem
. It reads:
Our cosmic oasis, cosmic blue pearl
the most beautiful planet in the universe
all the continents and all the oceans
united we stand as flora and fauna
united we stand as species of one earth
different cultures, beliefs and ways
we are humans, the earth is our home
all the people and the nations of the world
all for one and one for all
united we unfurl the blue marble flag.
So yes, it's all about survival of our planet. But whether it was Ecocene Epoch or Eocene Epoch, our planet has survived all. Eocene epoch has been known for containing the warmest period during the Cenozoic and also for a decline into an icehouse climate and the rapid expansion of Antarctic ice sheet. It also witnessed a significant decrease of >2000 ppm in atmospheric carbon dioxide concentrations.
So what all these talks about saving our planet and its environment on World Environment Day? Our planet is robust enough to survive on her own!
Do tree plantation really help?
Many institutions, organizations and individuals initiate a plantation drive on this day. They will plant saplings in their office premises, public parks & places or even on the sides of the roads. But all these actions are symbolic and doesn't mean much except bringing smiles and satisfaction to those involved in these activities.
We don't need to plant trees but forests. And in fact, even massive afforestation can't make any significant impact today unless we reduce or eliminate the cause of environmental damage. On the one hand, we want rapid growth in industrialization and keep fooling ourselves that afforestation will nullify its impact. It's not going to happen.
If we stop generating massive industrial pollution and waste, forest will grow on their own. We won't even need to plant any!
However, today humans have know-how to convert whole of Sub-Saharan desert into a dense forest. But studies show that it will bring several other environmental problems and even destroy the fertility of soil as far as in America and may turn it into a desert!
My point here is that if we really want to conserve our environment, first we need to do away with whatever thing that's causing its damage. And today, we all know that more than transport and industries, it is animal farming that is the biggest threat to our environment.
Unfortunately, only a handful of people are taking steps to go vegan. Even so-called environmentalist who contribute organizing plantation drives end up eating meat in dinner on the same day!
So I want to ask, are you really contributing anything significant towards protecting your environment?