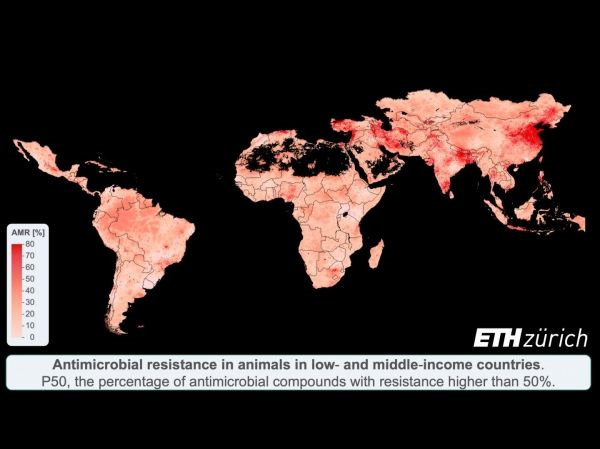 According to a new research report, the growing appetite for animal protein in low- to middle-income countries has resulted in widespread antibiotic consumption for livestock that has nearly tripled the occurrence of antibiotic resistance in disease-causing bacteria between 2000 and 2018.
The researchers gathered c. 1,000 publications and unpublished veterinary reports from around the world and found that antibiotic resistance in livestock was most widespread in China and India, with Brazil and Kenya emerging as new hotspots.
Analysis and Comments
This paper is the first to track antibiotic resistance in animals globally and its findings once again highlight the need to find effective alternatives. While this is not a new issue (the WHO is calling it "one of the biggest threats to global health, food security, and development today"), currently, meat production still accounts for 73% of global antibiotic use.

In the US, more than 2m illnesses and 23,000 deaths per year (c. 700,000 worldwide) are caused by antimicrobial resistance (AMR) infections and those numbers are expected to rise dramatically in the coming years.

Despite this, many big pharma companies have recently announced a halt to their antimicrobial research as commercial model for anti-infectives is critically challenged (Novartis, Bristol-Myers Squibb, AstraZeneca, and Eli Lilly), making SMEs an important stakeholder in the future of AMR.

Companies currently developing novel antibacterial therapies include Warp Drive Bio, Entasis Therapeutics, Nabriva Therapeutics, Symcel Sveridge, and Melinta Therapeutics (which recently merged with Cempra.

Some currently used alternatives to in-feed antibiotics include probiotics, prebiotics, organic acids, phytogenics and zeolites (see here if you want to read a recent study).

Perhaps somewhat encouraging to see that nearly 220 commitments were recently made by more than 20 countries to join the UN antimicrobial resistance challenge which is aimed at accelerating the fight against AMR with action across governments and industries worldwide. A regularly updated list with companies' commitments can be found here.