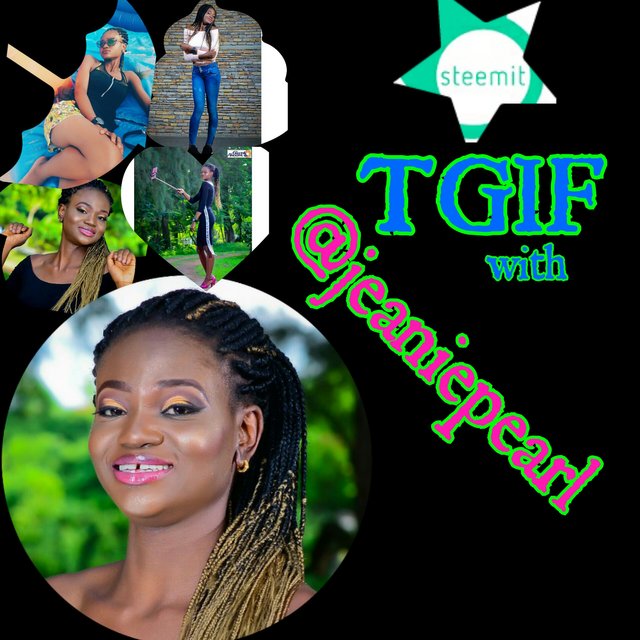 Dances in with a bright smile hahahaha don't even look at me like that,I know I am not such a good dance but today started with a bucket full of positive vibes and I just can't help it. yeah.... I know you missed me and I owe you all an apology,frown no more, TGIF WITH @jeaniepearl is back for good.....hurray!!!!!.
Here with me is a steemit BIG GUY,fun master,lover of animals and of cause pepper.yeah...yeah... you got it right,it's @papa-pepper all the way from USA, live!!!! in TGIF WITH @jeaniepearl studio. make some noise!!!!!!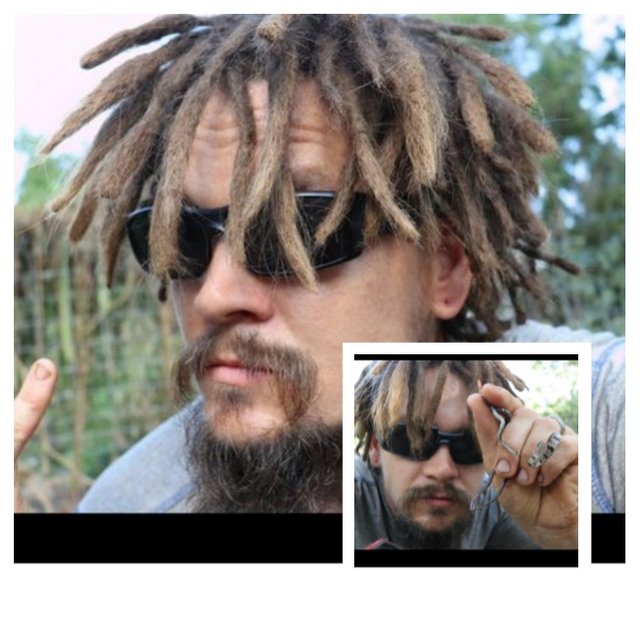 I am shivering actually....he has a life snake with him but I trust him enough so i won't freak out totally.. hahahahahaha.
@jeaniepearl ~ Welcome to TGIF WITH @jeaniepearl episode 23 How did you get to know about steemit?
@papa-pepper ~ A guy I used to know originally started telling me about steemit. I rarely went online at all in those days, and it sounded too crazy to be true. How could someone make money just for sharing some photos, words, and videos online? I thought it was insane, fake, or a scam at first, but he kept encouraging me and finally convinced me to do an intro post. Once I got that payout, and then found out it was real, I was hooked! I like to call steemit "the spider that finally got me caught in the worldwide web!"
@jeaniepearl ~ hahahahaha..your love for animals tho. wow!!!! i can see over 21000 followers on your profile.... how did you achieve that?
@papa-pepper ~ Interesting question, since I can't make anyone follow me. I think that the consistent posting and varied content help a lot. People know that they can check my page daily and find something new since I'm consistent, and the varied content attracts all types. Also, commenting helps a lot, since it lets people know that you were there viewing their posts.
@jeaniepearl ~ As an old member of the platform can you say that Steemit is growing and improving or stagnant? Give your reason
@papa-pepper ~ I think it is growing and improving, because steemit is a group effort. The more steemians that there are, the more talent, ideas, experiences, advice, encouragement, and points of view there are.
@jeaniepearl ~ What do you think is holding Steemit from breaking off to become as popular as Facebook or Twitter
@papa-pepper ~ Probably just awareness. For me, it was able to do what Facebook, Instagram, Twitter, Myspace, and the rest never could, which was get me online. It'll take time, but it's got a lot going for it for sure.
@jeaniepearl ~ What is your most memorable experience on Steemit
@papa-pepper ~ There are so many good memories. I think that just meeting so many steemians in real life would be the answer to that. I really love these people, and some of my best friends I only met because of steemit
@jeaniepearl ~ Name 5 Steemians you look up to as role models and 5 Steemians that you are most grateful to.
@papa-pepper ~ Steemians to look up to? I'd probably have to go with ones like @gringalicious, @rigaronib, @anotherjoe, @brianphobos, & @verbal-d. The reasons are varied, but these steemians have a lot of talent in different areas and are all worthwhile interacting with.
As far as five that I'm grateful for... @bluerthangreen, @allforthegood, @dwells, @darthnava, and sallybeth23. Probably @armadilloman, @goldmoney, @em3, @erodedthoughts, @haphazard-hstead, @vcelier, @kus-knee, @pharesim, and others too! The reasons are also as varied as the list, but I'm blessed because of steemians like them.
@jeaniepearl ~ What is your opinion on peging SBD to 1 dollar
@papa-pepper ~ In all honesty, it would be impossible in my opinon. On the bright side, it does give a great opportunity to periodically be blessed when the value spikes.
@jeaniepearl ~ If you could add,remove or change any feature on Steemit what action will you take?
@papa-pepper ~ Private messaging on the actual platform and having resteems NOT show up in our blog history. That would be a great start.
@jeaniepearl ~ Where do you see STEEM and SBD in two years time.
@papa-pepper ~ I think that the only two options are that it'll really get bumped up to a higher level of appreciation and value (which is what I hope) or it'll fizzle out. I'm not sure why it could fizzle out, but things like that do happen sometimes.
@jeaniepearl ~ What type of content attract you the most while scrolling through your feed?
@papa-pepper ~ I guess just people being brutally honest. I don't care about image or hype. I like it real and raw. When people open up and actually share the truth, it is refreshing and needed.
@jeaniepearl ~ What advice do you have for new and struggling steemians that want to be known and earn well as well.
@papa-pepper ~ That advice is simple. IF YOU QUIT, YOU WILL NEVER SUCCEED. Sticking to it and keeping at it doesn't guarantee SUCCESS, but quitting guarantees FAILURE. If you want an opportunity, then keep trying.
@jeaniepearl ~ Tell us something interesting about papa-pepper that the blockchain doesn't have record of
@papa-pepper ~ Wow, so much has been put out already. However, I don't think I ever shared about the time I killed a guy. That would be news to many people out there.
@jeaniepearl ~ Shout out to your fans
@papa-pepper ~ I can't name names, as there are so many, but you guys mean the world to me. Without your interest, encouragement, support, and help, I would not be here. Thanks EVERYONE!
@jeaniepearl ~ Thanks so much @papa-pepper for honouring my invite,it was a great pleasure having you here. And yupeee.... the cute little creature didnt bite me.
SHOUT OUT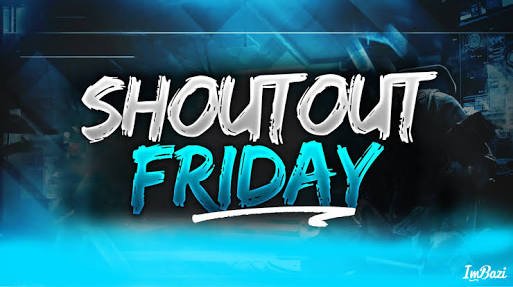 @enoye ~ Shout out to my dearest @Illuminatus, I will break your head🌝,to my sister @emem,i love you , to @florae my girlfriend,you left me lol, to @Sweetestglo you're amazing, to @destinysaid I care♥, @ehiboss keep bullying me,to @amec best when lambo¿lol you're amazing too, @brainz Oga I see the wonderful songs, @evelyniroh cutie @adabless forever young, @camzy I'm looking at u o @the_chiomz I miss you, @gbenga been a while, hope you're good and @Rebecca First Lady✂. I love you all.. 😘 😘
@vheobong ~ @kodeblacc,i saw your picture somewhere... Ehen, so you can be fine....
Okay lemme be going
@xpressng you have less than 12hours to produce your nysc pictures or else....
@annieben don't allow yoruba pepper to deceive you oh
@aideedavies you save my number na
@ekjosh I'm proud of you
@Profchydon proud someone
@ewuoso welcome back, I missed you
@onos I miss you
@bollutech ~ shoutout to @mzajoke that sister ehn lol... I don't even know what to say. But I love her.
@ewuoso that spirit drunk fellow, I really appreciate his friendship and his brotherly love all around. Such a great fellow.
To the SIN2 crew
Shoutout to all sin2 publicity crew for being awesome and a great people to work with. Greater heights I pray 👌
@trojan ~ My shout goes to all those that makes steemit worth my data usage and to the new steemians ONE STEP AT A TIME
@juilietisreal ~ A big shout out to @surfyogi for making my day and thanks to @oyinoza, @phunke, @stevendion and of course @jeaniepearl for spicing it up.
It couldn't have been a day without you guys.
@surfyogi you are such a fun loving father. Thanks for finding me.
@oredebby ~ My first shout out goes to amiable @ausbitbank for the wonderful upvote on my post last week. I'm really grateful and I say a big THANK YOU. 🙏🏾
Thank you @mediahousent my new friend for being true. Knowing you has been a blessing. Lots of love 😘
@bookoons thanks for paying me a visit. You're a darling. M coming for some trouble soon too.😉
@bollutech I admire your work for SIN2. Keep the ball rolling bruv.
@ehiboss @lordjames @williams-owb @mediahousent @chiama and others I see you guys are really making sure SIN2 becomes a reality. More grease to your elbow guys.
@tojukaka THANK YOUUUUUUUUUU?😂
@dimimp you're one in a million. Just don't forget me in your kingdom.😊
@ewuoso how are you today?
@samstickkz what can I say? I used to see you from afar as a tough guy but now I know better. Keep being you.🙂
@gee1 You're a darling and I hope to hug you very soon. But what's happening to #mcm #wcw and #tbt na?? I miss your posts.
@mosunomotunde sweet 16 momah... I just love you with no reason.😍
@phait 😘😘😘😘😘
@surpassinggoogle I miss you on my blog🤦🏽‍♀. Hope you're doing great.
@surfyogi where have you been???
@zizymena @itoroarchibong love you gals😘
@jeaniepearl congrats once again on your 1 year anniversary. Let's meet at that suya place soon😁
Lastly, @olawalium love you always baby😘😘
BOTTLED MESSAGE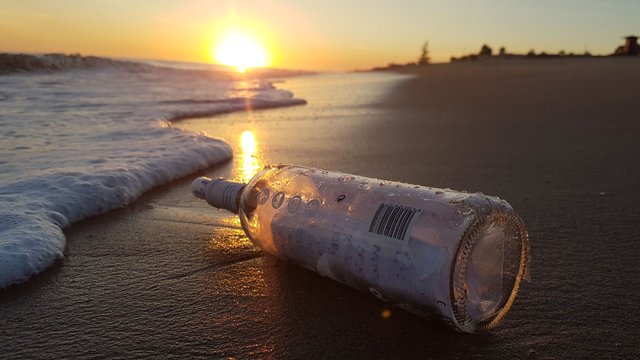 Mr Z ~ @amec and @jeaniepearl thanks so much for the blockchain and cryptocurrency free seminar,I owe you guys. I hope you continue guiding us in this journey.
Miss Z ~ @Illuminatus - it's been a while, days seems like years to me,i miss you alot. You amazing and born to sparkle,i dunno how to put it, i don't mean any harm, I have past, I've forgotten.
Thanks for being there, lol hope your psycho gf won't kill me. I promised I'm gonna break your head lol I didn't do that well. Well you need Jesus,pray for God's protection and provisions upon your life. I care about you and I wish you success in all your endeavors.
King Okikiola you rock!!!
Mr Z ~ @ewuoso. I know the death of Onos really affected you but don't relent keep steeming and keep sharing the Love
Miss Z ~ @mimy where are you? i miss seeing your funny and creative videos. You have been scarce here too, i hope all is well
Mr Z ~ @mediahousent so you have a girlfriend .Sin2 will be fun knowing that you won't be over my crush,move aside.
ENTERTAINMENT
*Na dem dey rush us by @michaelcj

ADVERTISEMENT
BIG GUYS MEME TREND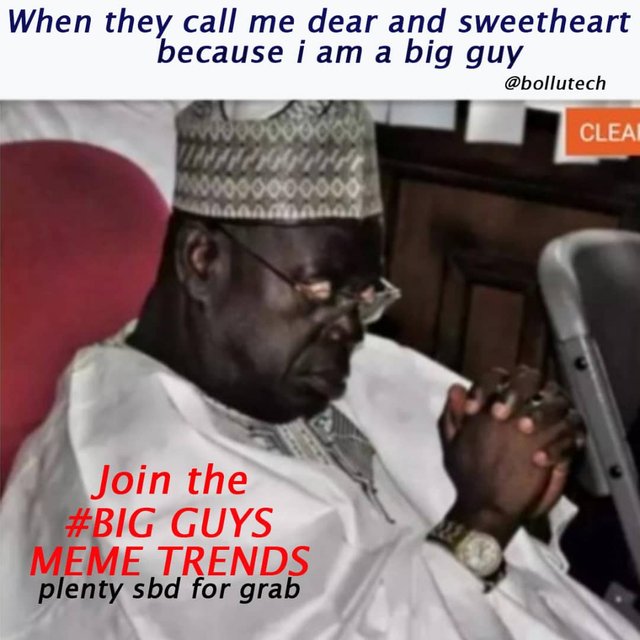 It's Friday and it's no day for dulling. Join the *BIG GUYS MEME TREND Create a meme with steemit big guys and use the sbg tag😂. You are free to create a maximum of 3 MEME and it should be in one post. There would be mouth watering giveaway......have fun while at it.
RULES
Maximum MEME permitted is 3 and should be in one post.
Use Nigeria ,sbg,bigwaves and any other tag of your choice.
Drop the link to your post as a comment on this post(TGIF WITH @jeaniepearl)
Include the rules to the trend challenge on your post so everyone will do it right.
BROUGHT TO YOU BY @fisteganos AND OTHER BIG GUYS
STEEMIT IN NIGERIA 2(SIN2)
video by @vheobong

TOPIC FOR BRAINSTORM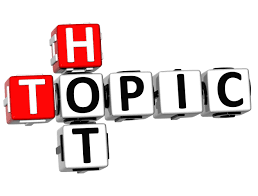 Is cryptocurrency on it's way to it's grave? is this the end or is there a bright future ahead?
Best 2 contribution on this topic gets 0.5 SBD each.
STAR OF THE WEEK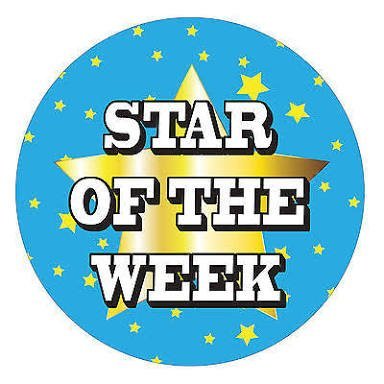 He is a Nigerian studying abroad, today is his birthday and he was involved in the BIG GUYS talk. First to comment with the username of the star of the week gets 0.5 SBD and the star will receive 0.5 SBD.
END NOTE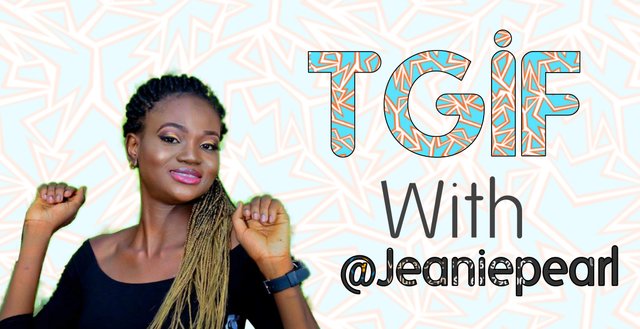 Thanks to all my loyal fans and participants of TGIF WITH @jeaniepearl....kisses to you all,no amount of thank you can be enough, I get inspired everyweek to keep this running, you all are amazing, your shoutouts, bottled messages,comments, upvote,resteem.....I appreciate them all,thanks thanks thanks kisses
For your adverts,shoutout, bottled message,talent display,you can reach me via
Steemitchat ~ jeaniepearl
WhatsApp ~ +2347069670702
Discord ~ jeaniepearl
Telegram ~ jeaniepearl
Email ~ maryjanemadubuobi@gmail.com
To add more fun to this show and keep it going, you can support by sending a donation of STEEM or SBD to @jeaniepearl,comment,resteem or upvote
non self images from google.com