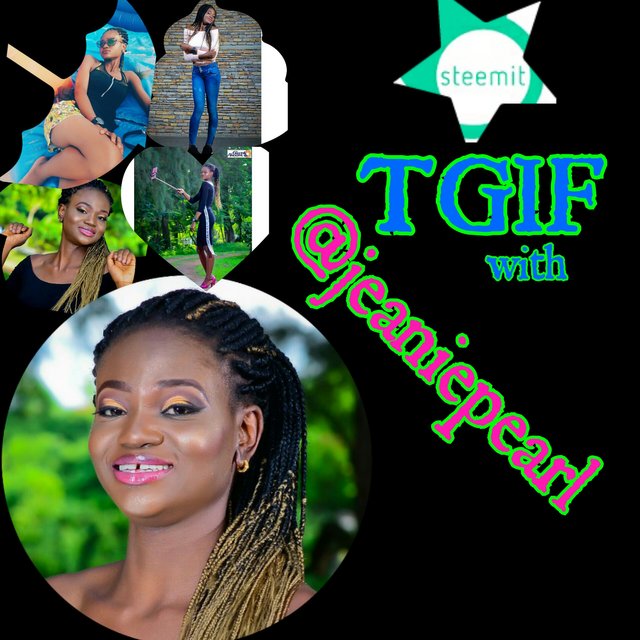 Hello Steemians.......
You are all welcome to the 19th episode of TGIF WITH @jeaniepearl, God bless you for tuning in. Your beloved host is kinda sick but "Hey sickness!!!! We gat to do this." I have here with me a very amazing personality, she has been giving me positive vibes ,I kind of forgot how I feel inside. She is no other person but the beautiful and energetic @zizymena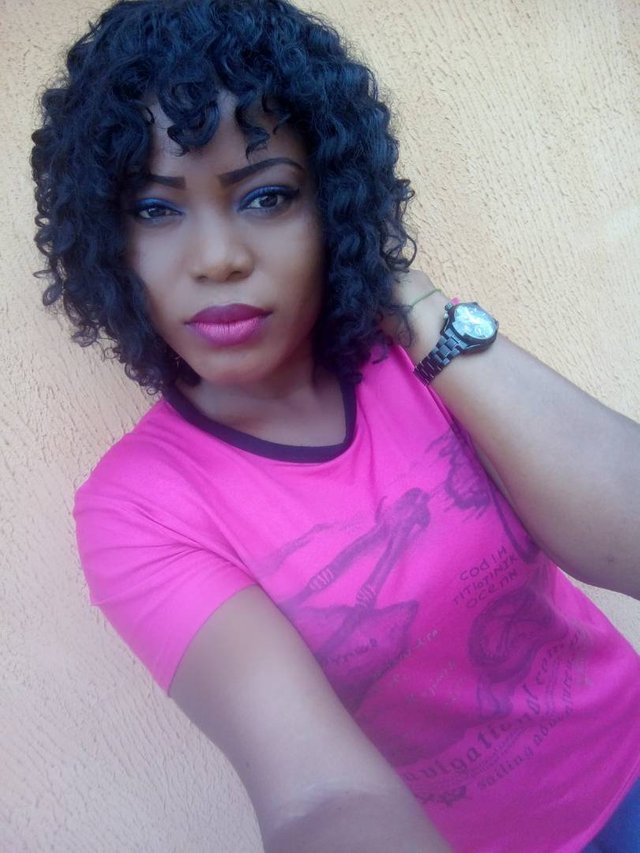 rings bell yeah....yeah....let's roll.
@jeaniepearl ~ How did you get to know about Steemit, what convinced you to join and what were your expectations?
@zizymena ~ I got to know about steemit from my colleague @webclick. Apparently his sister @adore-eu has introduced him to the platform and he figured I was a good candidate also for the platform. What convinced me to join? Hehehe, an alert of 3,000 naira he got on his phone after selling some SBD. Don't blame me, I needed to be sure it wasn't another MMM. I came in with the expectations of making it big on steemit you know but well I have a better orientation now.
@jeaniepearl ~ How has the journey so far been?
@zizymena ~ So far so good I would say. I have had my share of good days and bad days but greater days lieth ahead.
@jeaniepearl ~ About your show SATURDAY NIGHT WITH ZIZY. What inspired you to bring it on? Are you a relationship consultant outside Steemit?
@zizymena ~ My show, okay I discovered overtime that people feel comfortable talking to me about their relationship problems and being someone who has been in quite a good number of relationships, I believe I have first hand experience in handling this issues. This made me grow a passion for relationship topics and I started reading and writing a lot about it on Facebook. I progressed to Twitter and then to IG. Yeah on Instagram I have a relationship blog where people send in their stories and I have my followers give responses. Something similar to what I do on steemit but it's bigger on IG. I have more than 2000 followers and I also do hookups with clients outside the country but then I found steemit and I couldn't cope with running the two and I ended up choosing steemit but of cos I have plans to revive my blog on IG again. My followers have been sending lots of emails and dms.
@jeaniepearl ~ hmmmm....interesting finding. You are usually raw and not shy with some words that most ladies shy away from like sex,kiss,and those naughty stuffs. laughs out loud.Tell us how you became this way,an experience you probably had or what shaped you like this. Are you also that open in reality?
@zizymena ~ Hehehe, lol. @jeaniepearl wow. I wasn't expecting this. Well, first of all I am an officer and if you have stayed with officers, you know how raw we can be. Secondly, I am not one that pretends. With me what you see is what you get because I believe what you say doesn't define how modest or refined you are inside. Most people don't say these words but do worst you know but I won't judge. I try to be me. In reality, I'm the most blunt human you may ever meet. Like I said earlier, I'm not diplomatic. I say it the way it is.
@jeaniepearl ~ if I am not wrong, you are one of the pioneers of @naijapidgin. Tell us more about @naijapidgin, it's activities, the journey so far.
@zizymena ~ Naijapidgin. Yeah @naijapidgin was created by @ogoowinner to give Nigerians the opportunity to express themselves in a language they are comfortable in. Also, she wanted to find a solution to cheetah visiting nigerian's blog. Cheetah no Sabi pidgin now so plagiarism no dey there....hehehe. So yeah she recruited an 8 man team to keep the platform afloat and I must say we are doing great exploits. We not too long ago got a delegation from @ejemai and we have been using it judiciously to curate posts of anyone who uses our tags and makes great posts. Every Monday we give a curation report for the past week. Now we have our discord server with lots of amazing shows. Just last we had @surpassinggoogle on our hotseat and you needed to have heard him speak pidgin. It was so hilarious. Naijapidgin has gone beyond steemit. Soon we would unveil the other things we are doing. Just watch out for @naijapidgin. We are soaring so high and we are taking the world by force.
@jeaniepearl ~ What is your most memorable day on Steemit.
@zizymena ~ Oh my goodness. My most memorable night yes night cos it was at night it happened was when @infovore visited my blog and upvoted 7 posts at a go. I almost had an heart attack. I can't even explain it. It was ethereal. I can't forget that night so soon and that was the night I got my highest pay on a post, $40.
@jeaniepearl ~ Name 5 steemians you see as role models and 5 steemians that has the most positive impact in your Steemit journey.
@zizymena ~ 5 Steemians I see as role model are of cos @ogoowinner, @jeaniepearl, @gloglo, @eurogee, and @samest. I have learnt so much from these wonderful steemians and I am still learning a lot.
5 Steemians that has the most impact in my steemit journey would be @ogoowinner, she picked me up from my introduction post without knowing me from anywhere and she is still by my side till date. I owe her every of my success on steemit. @infovore and @surfyogi, they have been very very supportive and I'm so indebted to them. @eurogee, he pushes me and wouldn't listen to my tired pleas. He's an angel. @samest, I have learned so much from him. I have so much to mention, it's not fair I just have to mention 5.
Abeg o jare, @smyle, my personal editor, @ehiboss, @illuminatus, @drigwe-eu, @gloglo, @adore-eu, @preciousimo maybe I should stop now before you chase me outta here.
@jeaniepearl ~ From your experience, advice new and struggling Steemians on how to have a better ground on Steemit.
@zizymena ~ I would simply say visit my blog, I have lots of advice for you there well detailed. Here I would say keep pushing, consistency surely pays off.
@jeaniepearl ~ What is @zizymena coined from?
@zizymena ~ Zizymena is from my middle name Orezimena without the "Ore" and then then "Zi" doubled to "Zizy"
@jeaniepearl ~ What changes would you like to be made on Steemit.
@zizymena ~ I would love to change the mentality that steemit is gender biased. Some people have held on to this belief and have given up trying especially the guys and the ladies are using it to do great exploits and again it saddens my heart when I see minnows that are great writers constantly putting up great posts but gets very poor payout at the end of the day. I wish there were no bots and that curation is actually based on originality and quality and not on whose ass you can lick or who you know or who has more SP.
@jeaniepearl ~ Imagine I am @ned, convince me to delegate 60k Sp to you.
@zizymena ~ @ned just give me the 60k SP and see steemit flooding with thousands of Nigerians the next day. Lord knows @ned will chase me away from steemit because the way I will upvote minnows eh, he won't know what hit him. I don't need to write an essay on why I deserve the 60k SP.
@jeaniepearl ~ Here are two tickets to spend the weekend in any country of your choice with a male steemian. What country will you pick and who will you go with?
@zizymena ~ Oh wow, two tickets yaay. I have always wanted to go to Spain. So yeah Spain it would be and the male Steemian would be @eurogee. He needs to unwind.
@jeaniepearl ~ Shoutout to your fans
@zizymena ~ To all my fans out there, y'all are so many and I wouldn't want to mention names so as not to leave anyone out but know this, I truly love you all. I wish I can do so much for you all. Thanks for your loyalty especially every Saturday night on my blog and on discord. Words ain't enough to express how grateful I am. Just know that I'm humbled and I will keep giving my best. This is a promise
SHOUT OUT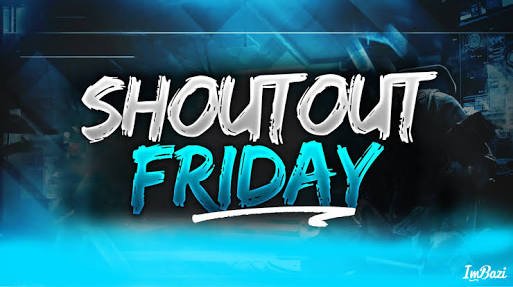 @paradise-found ~
A Gratefulvibes shout out!!
Happy Birthday to @cherylsonty from Papa Bear @paradise-found
@uche-nna ~ Shout out to @jacobite, you really a friend and I do appreciate everything. God bless you.
@preciousimo ~ My shout out goes to the amazing people that make steemit more than a social media platform and fill it with love and care
@ogoowinner: You have been of amzing support and care from day one! You are amazing!
@ehiboss: thanks for being a good leader. Please let my probabtion end
@illuminatus: I'm just tired of you. But i cannot let you go. Correct person
@zizymena: my amazing zizy, radio goddess and friend. You know you would always be in my heart.
One day you go make me proud. Love love.
I will write epistle if i continue like this.
@surpassinggoogle: From my heart, Thank you. Words won't do the job, but you're loved.
To all my amazing people on my show, i celebrate you. Much love.@preciousimo
@itoroarchibong ~ @zizymena See how beautiful you are So jovial, charismatic, full of happiness and displaying the best when it comes to being helpful and assisting someone. @zizymena my shout out goes to you. You're a special lady and destined for greatness. I love you
@gee1 ~ Shout out to @ogochukwu... You are the real MVP. Shout out to @fisteganos, I haven't disturbed you in a while. @Ewuoso my realest niggur, keep winning. Shout out to @ejemai,exemplary leader. Shout out to @ogoowinner, keep dishing out wisdom on a daily.Shout out to @Amec. God bless your beautiful heart
Shout out to @vheobong, @adejoke16, @jeaniepearl, @Winniesamuels, @the.chiomz I love you all 😘😘😘
@alisonudeme ~ Shoutout to @ewuoso- we have gone through a lot together. And I know what's going on right now is putting you under so much pressure but I want you to know that I'll always be here for you, because I love you. Stag awesome dear.
@ubongj- My nigga😎
@annieben- mi loff😍
@gutzygwin - Am STEE waiting for you..
@fisteganos - we have beef o, serious one
@amec - Daddy yo! Loff u scarra..
@jeaniepearl- Creativity winch😂
@vheobong - Mtcheww..
And everyone who made VOCALLY #1 a blast, I love y'all.. VOCALLY #2 is steaming hot... You don't want to miss this one
BOTTLED MESSAGE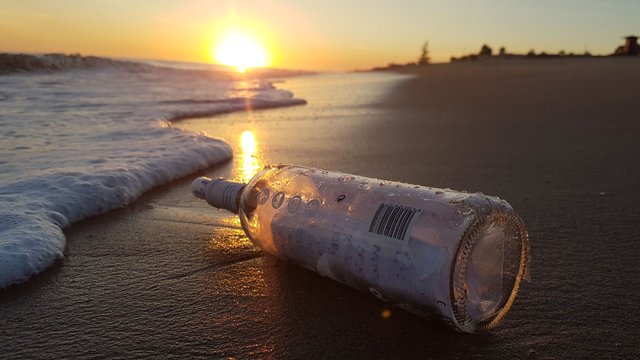 Mr Z ~ @jblsignature Be strong the lord is your strength.
I bet you would come out of this stronger.
I love you more with each passing day sweet.
Get well soon.
Miss Z ~ @imbigdee you are gonna make a very jealous husband when you get married. Do you believe in blind dates? Well, I used to but not anymore. Sorry I have to tell you this way... But that shit doesn't work for me. 🤣🤣🤣
Sorry Bro but I love you still. 😍😋🤣
OK too many emojis... Now you know who's talking.. 🏃🏼‍♀🏃🏼‍♀🏃🏼‍♀
Miss Z ~ @onos Thanks for what you are to me,
you mean a lot to me.
Sorry if I always made you feel like you are not a priority in my life.
You mean the world to me.
I can't unloved you baby, even if I try.
Miss Z ~ @samstikkz Thank you for being an amazing individual.. For being my one phone call if I were in need.. Thank you for never getting tired of my excesses. Thank you for being a reliable bestie... I love you dearie. I wish you success in life... That God will always show up for you and that all the plans he has set in place will be fruitful.
ENTERTAINMENT
pop special by @gutzygwin

@lilastar is having fun with her dance and bold enough to share

ADVERTISEMENT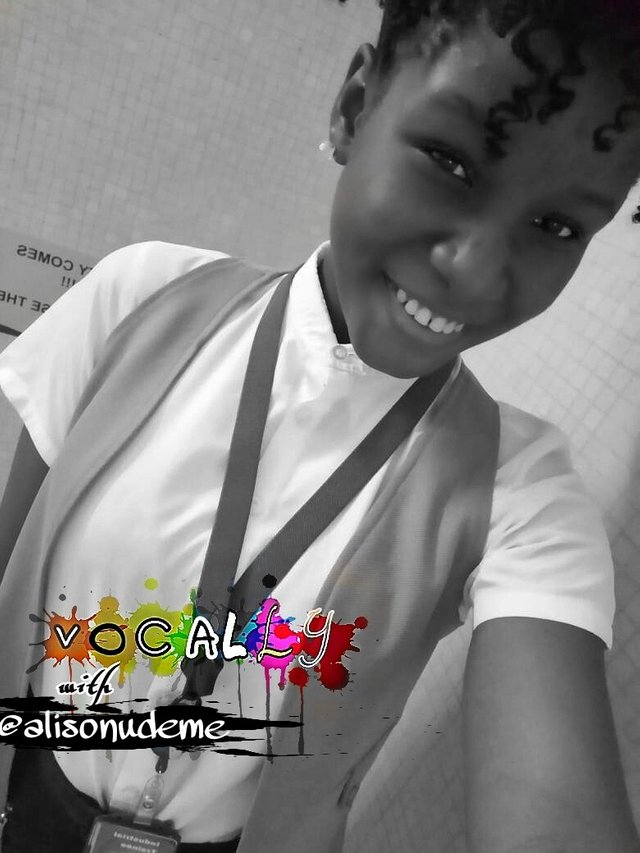 Sing your way to 5SBD.... #VOCALLY2 is on and booming!!! let's support our home girl @alisonudeme by participating. The genre for this week is HIP-HOP no dulling,flood into her page.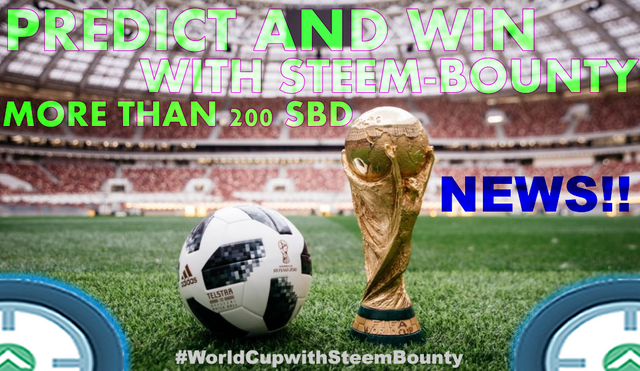 @steem-bounty World cup prediction is where you want to be. predict scores for the world cup match and stand a chance of winning a huge sum of SBD. You surely dont want to miss this. click here to find out more.
TOPIC FOR BRAINSTORM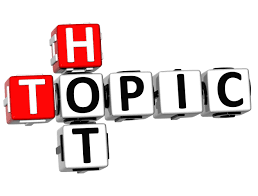 Who am I to deviate our mind from the world cup going on. Tell us your best player so far and why he deserves it then predict the score for today's match between Nigeria and Iceland. First two to predict right wins 0.2 SBD each.
STAR OF THE WEEK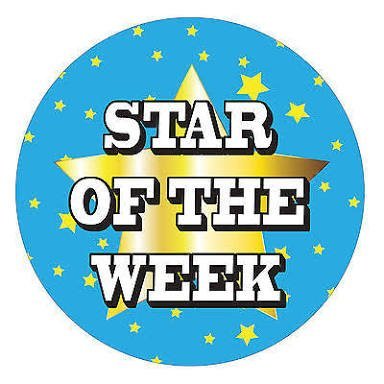 He is on rep 66. His articles are written boldly, he makes use of @steemhunt tag often and has been on it for a long while. Tip: purple wall.
First to comment his username wins 0.2SBD and the star 0.5SBD
END NOTE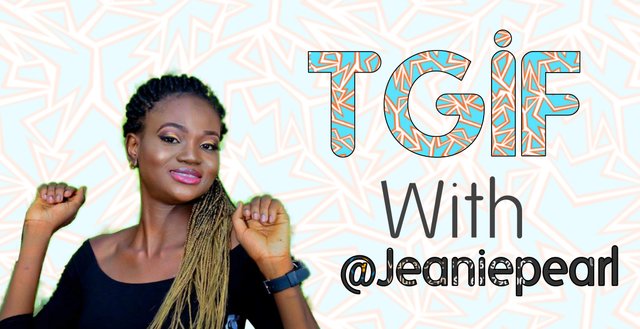 Thanks to all my loyal fans and participants of TGIF WITH @jeaniepearl. No amount of thank you can be enough, I get inspired everyweek to keep this running, you all are amazing, your shoutouts, bottled messages,comments, upvote,resteem.....I appreciate them all,thanks thanks thanks kisses
For your adverts,shoutout, bottled message,talent display,you can reach me via
Steemitchat ~ jeaniepearl
WhatsApp ~ +2347069670702
Discord ~ jeaniepearl
Telegram ~ jeaniepearl
Email ~ [email protected]
To add more fun to this show and keep it going, you can support by sending a donation of STEEM or SBD to @jeaniepearl,comment,resteem or upvote
non self images from google.com