My son Timmy and I just finished celebrating Star Wars day. For the uninitiated, May the 4th has become a holiday for geeks like my son and me. Many years ago, someone far wiser and geekier than I figured out that "May the 4th" sounded an awful lot like "May the Force". In recent years, the day has become an excuse for fans to flaunt their favorite Star Wars apparel while businesses create promotions in an attempt to squeeze some credits out of fanboys and girls.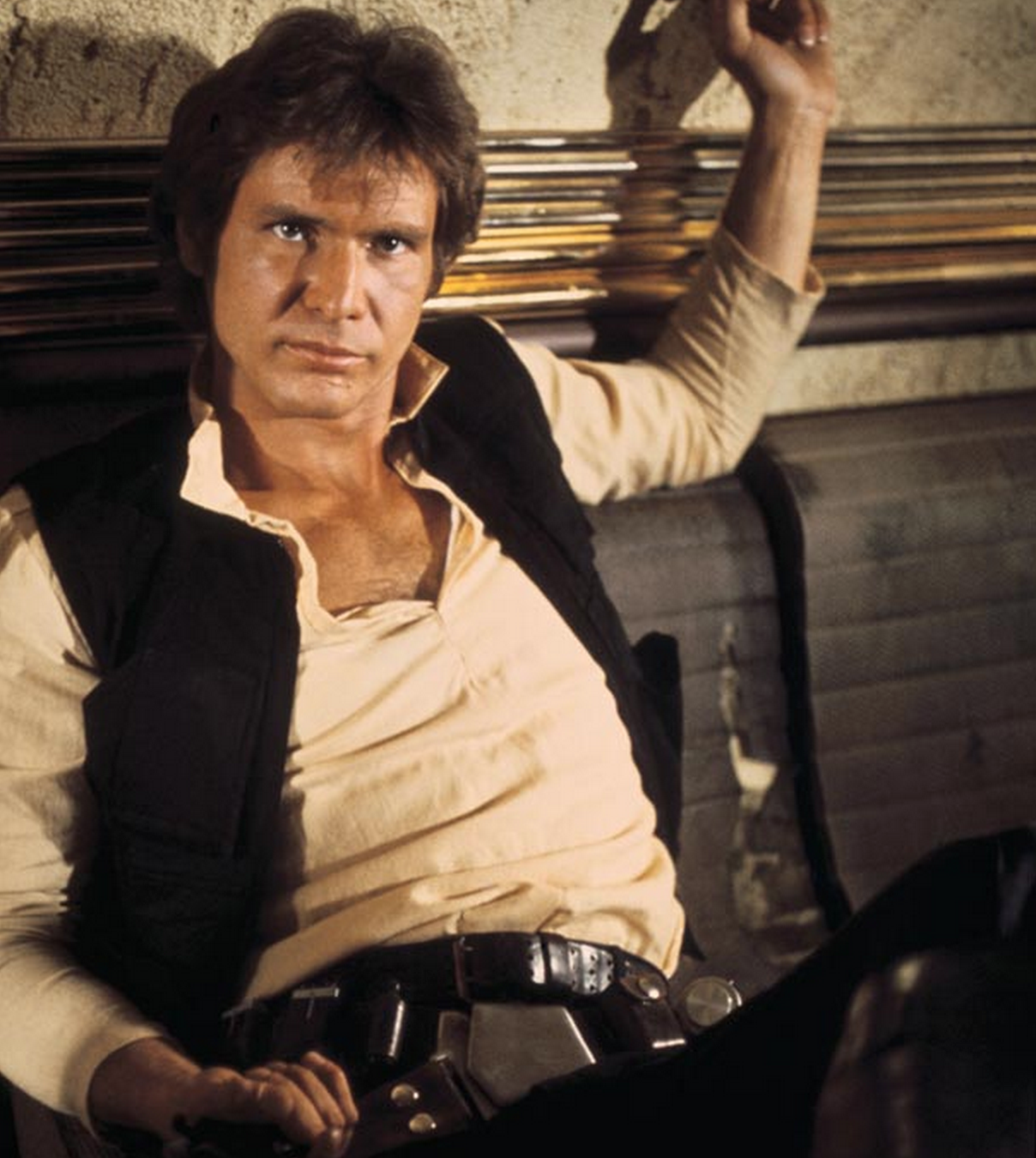 I'm nice men.
Our celebration concluded with a viewing of The Force Awakens. I steered us toward this one because lately I have had Han Solo on the brain. Not only did I buy my tickets for the Han Solo movie that opens in 3 short weeks (OMG!!!) but a really cool steemian named @steemmatt did a post about my name on steemit.. This of course reminded me of a post I wrote two years ago concerning why I had chosen this name.
Therefore, in preparation for Solo: A Star Wars Story, I decided to watch the film I consider to be a love letter to my favorite character of all time: Han Solo. Not only did The Force Awakens give old fans like me one last hurrah with that scruffy looking nerf herder, it contains one of my favorite scenes of any movie I have ever seen.
Oddly enough, the same scene is my son's least favorite ever.
Of course, I am referring to Han Solo's death at the hands of his son Kylo Ren Ben Solo.
I will never forget that scene for as long as I live.
Neither will my son.
If you don't remember it, here it is:
As Han Solo walked out onto that bridge, I looked at my 10 year old son Timmy who was sitting next to me in the theater. I could tell he had no idea what was about to happen. But I did. I slowly wrapped my hand around his and tried to brace him for the most heartbreaking scene he had ever witnessed in his short life. It didn't help. As the shadow fell over Kylo Ren's face and he thrust his glowing lightsaber into Han's torso, Timmy squeezed my hand. Then he slipped his hand out of mine and placed it firmly in the pocket of his hoodie. His right hand soon joined the left. Next, he pulled his hood over his head, slumped in his chair, dropped his chin to his chest and began shaking his head from side to side as he mumbled, "I don't like this movie. I never want to see this movie again." Although the action sequences that followed distracted him enough to stop the head shaking and the mumbling, he never removed his hands from his pockets or fully raised his head.
He was heartbroken.
For a moment, so was I.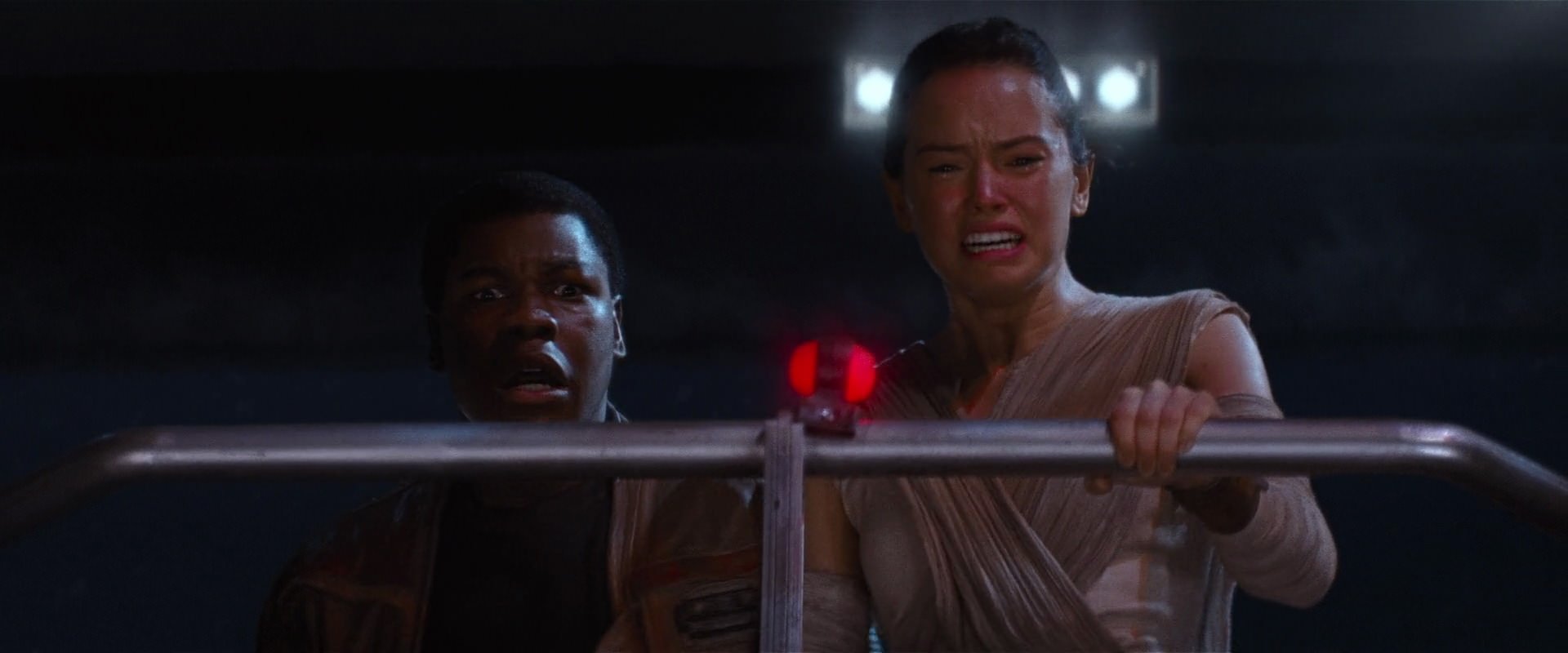 Noooooooooo!
I am a notorious movie crier. In fact, I still get teary eyed when I think of Rey saying "The garbage will do" as the camera pans to the Millenium Falcon. Therefore, it was no surprise that my eyes began to swell with tears as I sat next to my inconsolable son.
But then no tears came. Instead I smiled and thought to myself, "Holy Shit. That was the most heroic death scene I have ever seen. That is a perfect way for Han to go out. Perfect."
I was in awe.
I had grown up loving Han Solo. I saw him shoot Greedo (first), get frozen in carbonite, and nearly get eaten by Ewoks at least 200 times as a kid. I read comic books and novels featuring that scoundrel. Heck I even repeatedly watched him wish Chewbaca and his family a happy Life day. I felt like I really knew Han Solo. That is how Han Solo deserved to say goodbye to his old friends like me.
It was the most heroic death scene I had ever scene.
Why?
Here's the thing I love about Han: he pretends to be incredibly tough. He pretends to only care about himself. He wants everyone to think he is only interested in money and saving his own skin. He spends a great deal of time trying to convince others of his selfish nature. For example, in A New Hope, he shows absolutely no interest in saving the damsel in distress until Luke reminds him that... "She's rich".
Later, after he has done about 8 heroic things, Han reminds Leia, "Look, I ain't in this for your revolution, and I'm not in it for you, princess. I expect to be well paid. I'm in it for the money."
Who is he trying to convince? Leia or himself?
And of course, as the rebels are preparing to fly into certain death in an unlikely attempt to destroy the Death Star, Han is packing his credits and preparing to run away. That is what scoundrels do you know.
But heroes fly in at the last second and save the kid who is going to save the day.
Han continues to fight his heroic nature in The Empire Strikes Back. Again, Han is trying to leave. And again he stays to save the Princess.
In Return of the Jedi, Han makes fun of Lando for being crazy enough to lead the attack on the second Death Star. Han plays it off like there is no way he would ever be that dumb (heroic). One minute later, we learn that Han has volunteered to lead an even more dangerous ground assault.
Han spends three movies convincing every one he is not a hero.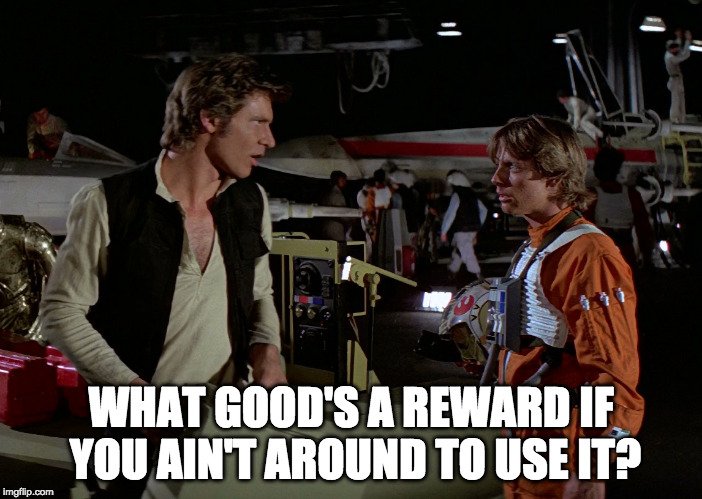 You keep telling yourself that you scruffy looking nerf herder.
In the Force Awakens, in the span of 4 short minutes, Han Solo proves to everyone (including himself) that he is indeed The Hero. Actually I think everyone else already knew that. But Han never embraced it until the moment he shouted, "Ben".
Han Solo is a gunslinger. His blaster is his security blanket. He knows how to use it and is fearless as long as it is in his hand. And yet, when he sees Kylo Ren, he never draws it. He leaves it dangling at his hip never readying it for a possible battle. For there will be no battle. This gambler pushed all of his credits into the middle of the table for one last all or nothing play. Han walks out on that bridge completely vulnerable and exposed. He strides toward this danger with one goal in mind: save my son or die trying.
Drawing his blaster might make him feel safe. It might save his own life. But his life is unimportant. He must save his son. His only hope is to use words and emotion to compel his son to save himself. Those are not Han's strengths. If you want proof, tell him that you love him. Never mind, he knows.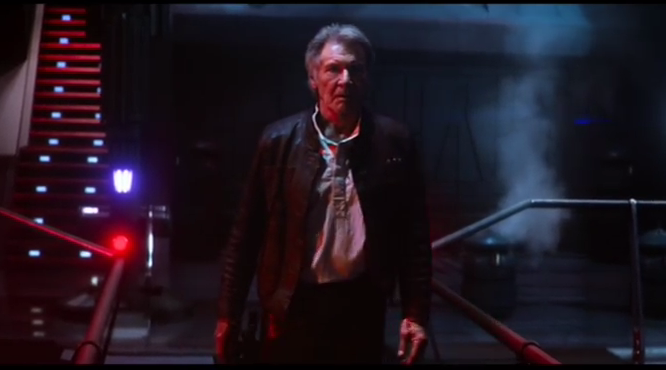 A gunslinger refusing to hide behind his blaster. That is courage.
Han will do anything to save his son including getting out of his comfort zone and risking his life for one last chance to rescue his son.
He never gave up hope that his son would return. He does not believe he has been destroyed.
"My son is alive."
Han must save his son from being used and crushed by Snoke.
A blaster won't save his son. It might save himself... but at the cost of his son.
Heroes don't sacrifice their sons.
Heroes help their sons.
And when the son asks for help.
The hero promises to do...
"Anything."
And he means it.
Han Solo died fighting to save his son. He tried until his very last breath. He never gave up. He fought with his blaster in its holster and his heart on his sleeve. The vision of the empty handed gunslinger pleading for the life of his boy was more powerful than if he had jumped in front of his son during an epic gun battle. It was more heroic than crashing a freighter-class capital ship into a Star Destroyer. It was more heroic than anything every done in the Star Wars universe.
In a recent trailer for Solo: A Star Wars Story, a character says about solo, "I might be the only person who knows what you really are."