DINING WITH @oredebby
Music playing
Good morning beautiful people, welcome to your favorite show on the block chain; Saturday dining with @adoore-eu.. Thanks for joining us today. How do you all do?
Today's show is going to be all fun. Like I announced here we are introducing a new segment to our kitchen, Steemians and non steemians alike will be coming in here to "cook" or show what they can cook. Their food will be featured and from there you learn about food from different tribes and languages, food from different guests not only from my cooking. Interesting, isn't it. Watch out.
Would you want to watch today's guest cook practically in the kitchen? Haha, stay glued to your device and don't go away.
music playing*
WELCOME BACK.
Welcome once again to our kitchen. Today's episode is titled: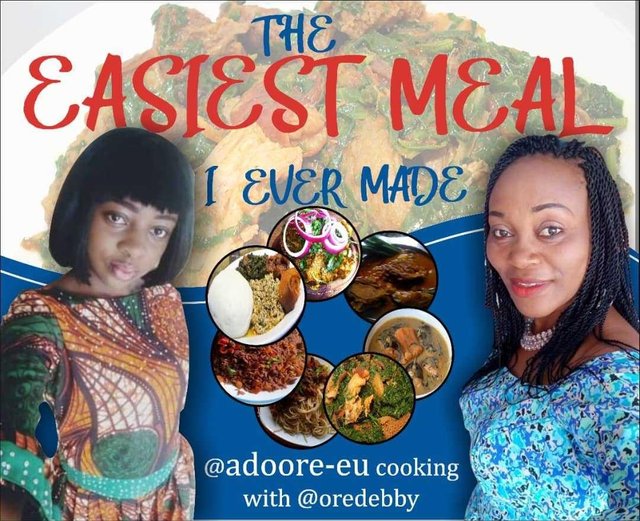 With me in the kitchen is a beautiful , cheerful, dazzling, young lady. Viewers join me in welcoming @oredebby.
music playing with @oredebby dancing in*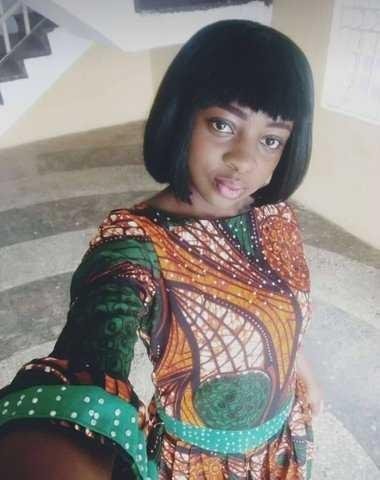 @adoore-eu~ She is such a great dancer, wouldn't you say? Welcome @oredebby. (Ladies hugging*)
@oredebby~ So great to be in this kitchen. I am honoured.
@adoore-eu~ I am more honoured you could come even with your tight schedule.
@oredebby~ Why? We should be there to support one another.
@adoore-eu~ So thoughtful of you. Sit down pls. So how is the film show coming?
@oredebby~Great. I have been able to build a company of regular friends who come around especially for the discord show.
@adoore-eu~ That's true. Though I haven't visited much but I hear its fun.
@oredebby~ ah, try o. Its always on Fridays and so far, its cool.
@adoore-eu~ That's OK. Please can we meet you? Some friends of this program watching or reading right now will love to meet you.
@oredebby~ Oh, ok . Well... My name is Oreoluwa Deborah, Oredebby on Steemit with rep 59. I'm from Oyo state, Ibadan to be precise and I'm the second born of 3 ladies. I love to sing, dance, cook and make friends.
@adoore-eu~ You are a beautiful Lady with lots of friends. What part of you attract people to you?
@oredebby~ Aww, thanks so much. Well, I think my smile majorly. Lots of people compliment me on that and also my diastema.
@adoore-eu~ I agree with them, you know how to laugh a lot and you are friendly too.
@oredebby~ I guess that laughing part is my calling. Hahahahaahha
@adoore-eu~ You are really gifted in it. So tell me about growing up and kitchen. Were you allowed to cook?
@oredebbyWow... Well like I said earlier, I'm the second born and growing up, I always had to be in the kitchen and also know much about cooking. My elder sis was always showing seniority and my younger sis was always doing baby baby. So I was always being pushed to cook and do kitchen stuffs. It was like punishment then, but now I appreciate it.
@adoore-eu~ Yes, it's good you had that training. So can you tell me your first cooking experience?
@oredebby~ Oopsss... Can I really remember that? Hmmm let me see 🤔🤔
Okay, am not too sure if this was the first but I remember there was a day I made rice and was to boil egg for the rice. With all the happiness in me that I was cooking, I went to fry the egg instead of boiling it. Hahahahahaaha😁😁
Woo... We ate the friend egg with the white rice like that o... But my mum gave me the history of my life that day. Lol. I hope you can relate that. Lol
@adoore-eu~ Hahahahaha. Thank God you are a better cook now. What's the best meal you ever made?
@oredebby~Best meal.... Hmmm randomly, let's say Fried rice and Jollof.
@adoore-eu~ Wow, is that your best food?
@oredebby~ Nah... my favorite meal is Pounded yam with Efo riro(Vegetable soup).😉
@adoore-eu~ Hmm, its my Hubby's favourite too. But do you find it challenging to make?
@oredebby~ Not at all. The only meal I find challenging is Semovita
@adoore-eu~ Really? Why do you find it challenging?
@oredebby~First of all, if I mix it in cold water first, I'm always scared it might be too soft, and also if I dnt mix it in cold water and pour it in hot water directly, I'm scared of it having lumps. 🤦🏽‍♀
@adoore-eu~ Hahaha
@oredebby~ Though I make good ones sometimes, but I run from making it. I prefer to make Amala, Wheat, Poundo, Plantain poundo and all, than to make Semo.
@adoore-eu~ So I can say any of the above with vegetables are easy to make by you, right?
@oredebby~ Very easy. I could make it any time any time. Hahaha
@adoore-eu~ Hmm, I love wheat. You know, am famished. Now that you are here, come shake up something right now in the kitchen and let's eat, p-l-e-a-s-e.
@oredebby~ Yippyyyy💃🏽💃🏽💃🏽😁
facing the audience
@adoore-eu~ Guys, lets watch @oredebby cook
@oredebby~ This is the easiest meal I ever made. Join me.
Recipe
Wheat and Vegetable soup(Ugu)
Palm Oil
Tomato
Pepper(Rodo)
Onion
Locust beans(Iru)
Crayfish(Ede)
Ponmo
Fish
Ugu
Curry
Maggi
Salt to taste
@adoore-eu~Ok. Am not helping out, am just going to watch o.
both ladies laughing
Hahahahaha.
@oredebby~ Viewers please, I have washed my ponmo and cut it, I washed the crayfish, the fish after cutting, the locust beans and also the Ugu leaves after been chopped. And then I blended my rodo, tomato and onion together. See them below.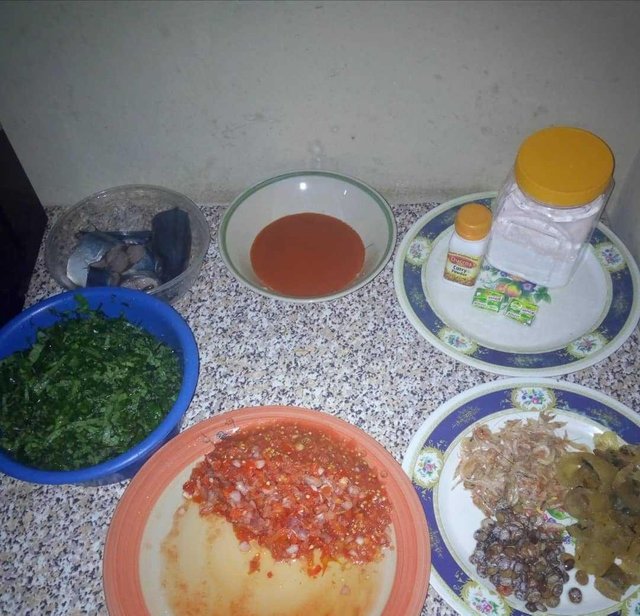 Its now time to start the cooking. Please watch.
Source- From @oredebby
@adoore-eu~ Wow, see as the kitchen dey scent. This aroma is killing o
@oredebby~ Hahahahahahahah eewooo... See me laughing anyhow. Lol
@adoore-eu~ Well. Haha. Well done eh? Let's see what you made I beg.
@oredebby~ 🙈🙈🙈🙈
@adoore-eu~ Don't be shy. Let's see.
@oredebby, here they are.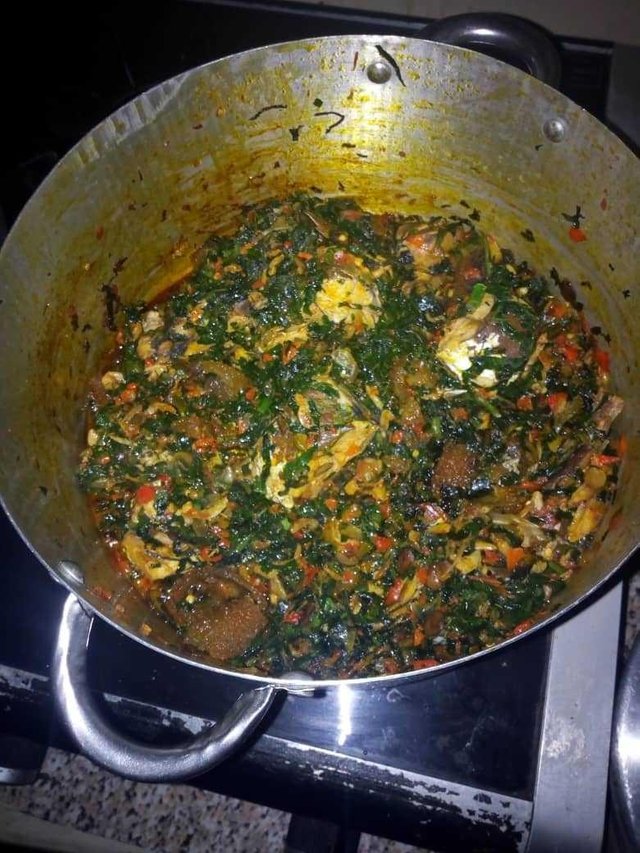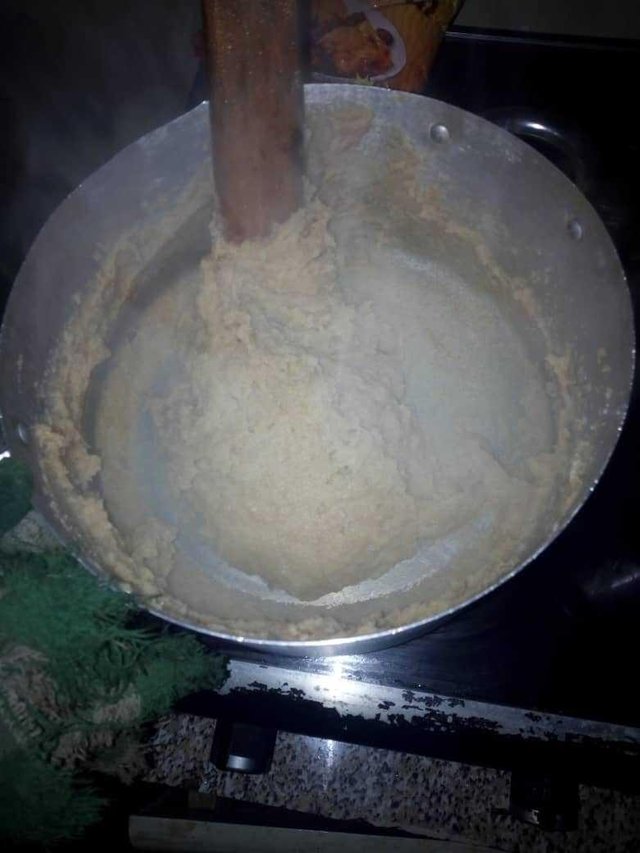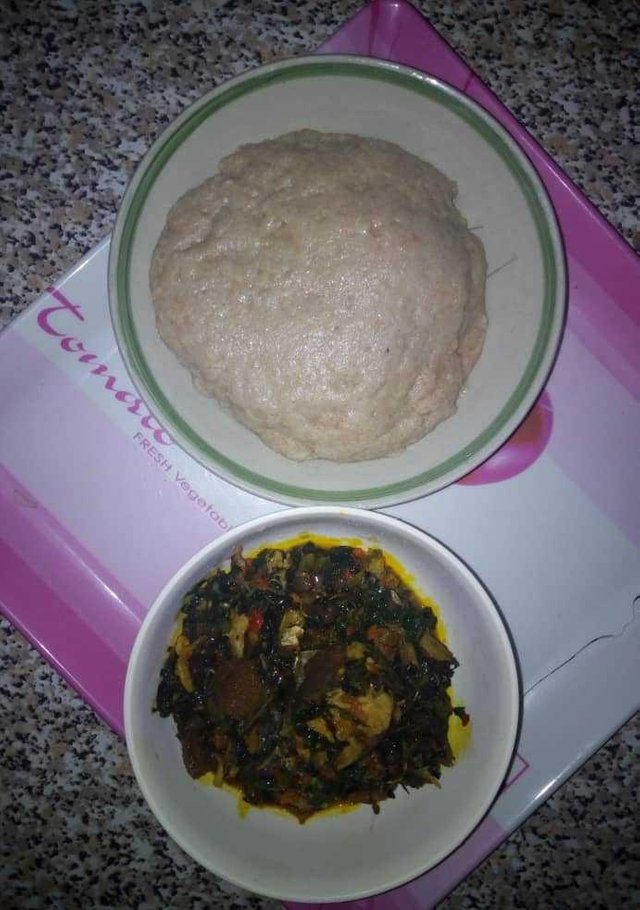 @adoore-eu~ (Savouring the aroma): hmmmmmmm. This smells nice, let's taste it together , can we?
@oredebby~ Sure. Thank you for the compliment.
@adoore-eu~ Why did you pick this as the easiest meal you ever made?
@oredebby~ Errmmm.. Well, there's really nothing special there when you have your ingredients on standby. It doesn't take much time too.
@adoore-eu~ Its quite nutritious too. No wonder you glitter
@oredebby~ Awwwnnn I'm blushing brown😊😊😊
Thanks so much ma'am. I'm just trying to be like you ooo.
@adoore-eu~ Me? Hahaha. Thanks anyways. Tell me something else. What food would you never combine to eat?
@oredebby ~Indomie and Beans😩😩 Iyama... I'll never combine that.
@adoore-eu~ Hahaha.. Ok o. Please, what effect has my kitchen had on you or anyone you know.
@oredebby~ Wow... It has added a lot, It teaches a lot of people new types of food and ways of making them including myself. I remember I tried making your spaghetti bolognese or pepperoni something that day you showed us... And I'll still love to make it again. It has really made positive impact.
@adoore-eu~ Oh dear. Hahaha. That bolognese made for @hopehuggs has been one of the most challenging meals I made so far on the block chain, along with the Kare Kare made for @surpassinggoogle. They are continiental dishes.Thank you so much
Lastly, if you are to run a restaurant on the block chain, what would you do different from me?
@oredebby~ Hmmm... Let's see🤔🤔
I'll like to add learning videos or steps on how to make snacks and small chops. You never can tell who might be interested in such too.
@adoore-eu~ Wow, great thought. I will look into that aspect. Thank you so much @oredebby for coming and for going extra mile with a video for me, God bless you.
shaking hands
@oredebby~ I'm really grateful and honoured too ma'am. Thanks so much for having me. Love you loads.
@adoore-eu~Its been wonderful chatting and dining with you this beautiful Saturday morning. Do have a nice day, please.
@oredebby ~Its my pleasure. Bye for now.
Turning to the audience
@adoore-eu~ That was @oredebby, a rep 59 steemian. Follow her on her blog and view recent movies and have fun with her and other movie fans on @stach discord channel every Friday night. She is a pleasant personality.
Thank you viewers and readers for being a part of our World this morning. You will agree it has been all fun. Can you cook? Cook and give your cooking a snapshot or video and allow me create fun with your cooking. Hahaha.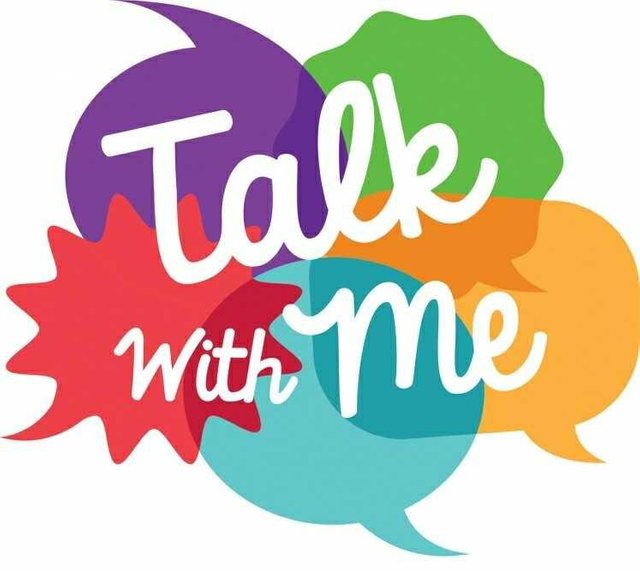 Source
SHOULD A MAN COOK WHILE HIS FIANCEE OR WIFE WATCHES FILM WITH HER FRIENDS?
Is it true that a woman should cook all the time ? Can she at one time have fun watching films with friends visiting while her husband cooks? What do you think,? Here are some views.
@antigenx~ Lol, there is no hard and fast rule on who does the cooking.
Cooking was not designed to be a feminine role. (I do cook while my girlfriend watches her film)
I think there is no hard and fast rule. If the film is interesting for the guy, she may have to do without his help.
@harbysco
To the question of the day
I will say it depends on a number of factors . Factors like, the beliefs of the man, The kind of relationship and level of understanding between the man and woman.
In the part of the world where I come from, a woman should always do the cooking while her husband graciously eats her food. It is our norm and culture so you shouldn't blame a man for not being able to cook for her woman while she gists with her friends as the fact is layed down on his grassroots beliefs.
@dayjee~ Hmmm As for me Yes on the condition that the man is trying to relief his wife.... in this kind of situation she can watch and chat with friends. But then it will make more sense if she stands and watch him
@iconnelly~ For me, I will cook and serve them but I think it is fun to cook as a couple.
@theheralds~ I see nothing wrong if it is done by mutual consent not under duress nor being obligated to do so. Me I cook for my wife once in a while. Men, you will buy your wife's heart if you cook for her sometimes
@adoore-eu~ Hmm, you have seen two sides to the question. You have the right to decide what you want but as far as it depends on you , be peaceable .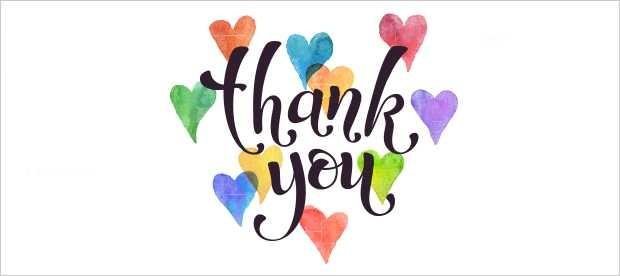 Source
How do I say thank you,?
To my guest @oredebby, I say thank you. Thanks to the contributors to today,'s question on talk with me. Thanks to my wiewers, readers, upvoteds, resteemers and those who give generous comments or criticism. I appreciate you all.
To my fonayors @nairadaddy, @eurogee, @jeline and @jeaniepearl, I say thank and God bless.
Did you like this week episode? Give us a big clap. Support us in every way and let's make yge kitchen show much interesting.
REQUEST
If you feel you have a special delicacy unique to a tribe or nation and not a common food which you like us to feature, some day soon, please DM me with. 08034625048 on WhatsApp or email me with [email protected] Steemit is very large that I cannot locate or know what everyone has to offer. Its our kitchen, be part of us
Thanks.
I adore you.
Yours, @adoore-eu
Block chain chef