Udało mi się zrobić nowy rysunek, z którego jestem całkiem zadowolona :D
Oczywiście nadal muszę popracować nad kilkoma rzeczami, zwłaszcza dłońmi, ale chyba idzie mi coraz lepiej. - Więc się pochwalę :)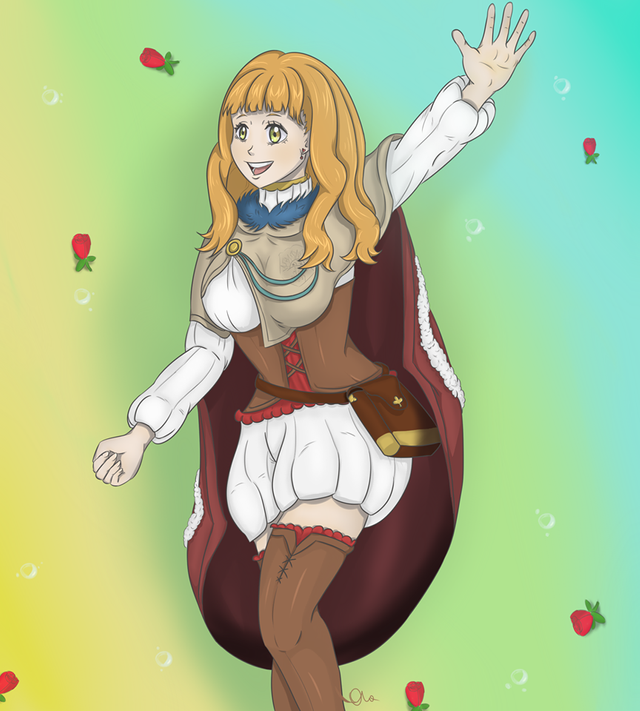 Rysunek przedstawia Mimose Vermillion z anime "Black Clover". Jest to moja ulubiona żeńska postać z tego uniwesum. Jest chyba jedyną osobą z rodziny królewskiej, która nie traktuje innych z góry, ale pomaga każdemu i jest miła. W dodatku jest healerem :D. A jej magia kwiatów jest bardzo fajna.
Rysunek mi zajął troooochę czasu. Kilkanaście godzin na pewno pękło :P
Mimosa jest w dość "niezwyczajnej" pozycji. Ma podniesioną jedną rękę, a nogi lekko skrzyżowane. Nie chciałam jej rysować w pozycji jak np. do paszportu, ponieważ chcę ćwiczyć rysowanie postawy itp. i myślę, że to jest dobre ćwiczenie. Tło jakieś super ekstra nie jest - nie chcę poświęcać mu za dużo czasu, wolę się skupić na głównej postaci, ale tutaj jest kolorowe tło z bombelkami (xd) i z kwiatuszkami. Żywe kolory dodają uroku :3
Tak czy siak, biorę po opini i słucham Państwa. (Tz. możecie napisać co wam się podoba lub co wam się nie podoba.)
---
Originally posted on Ręczne robótki. Steem blog powered by DBLOG.