Spanish potato omelet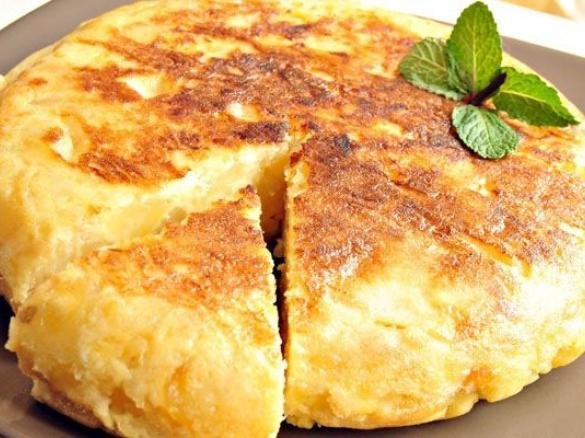 Ingredients
Ingredients for 4 people: 4 medium potatoes, 4 or 5 eggs, 1 medium onion, ¼ l olive oil and salt.
Preparation
Peel, wash and dry the potatoes. Cut them into thin slices and place them in a deep frying pan with the olive oil on medium heat so that they cook slowly. Add the finely chopped onion. Fry it slowly with the potatoes until they are soft and start to brown. It is advisable to stir with the skimmer and cut the ingredients with it. After about 10 minutes the oil drains off. Whisk the eggs in a bowl with a little salt. Add the potato mixture with the onion. Put the frying pan back with a little of the drained oil and add the whole mixture. Cover the frying pan over a low heat for 5 to 10 minutes, until browned on the bottom. Turn the tortilla over on itself with the help of a lid and drop it on the other side into the pan until it sets slowly. It must be golden on both sides.
Presentation
Serve on a round dish, hot or cold. If you want to take it on a hike or cut it into cubes, you have to bring more potato, so that it is denser and easier to transport and cut up. In this case it is consumed cold.