My Actionable Plan to Kill the Federal Reserve / IMF World Bank System
How to End the Financial Enslavement of Central Banks World Wide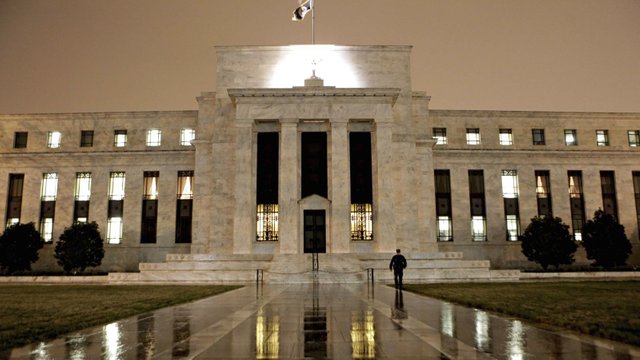 The Central Banking system has become the glaringly obvious elephant in the room that needs to be addressed. As the current "Powers that Shouldn't Be" have used financial despotism carried out by a central banking scheme globally. The only way to take the power back from the Central Bankers is to kill their economic system. So, what we need is a well thought out plan of action, that can be implemented in order to do so. The Central Bankers make their plans in secret because they require secrecy to control the masses, however as the masses we do not require secrecy as our plans are for the benefit of everyone not just ourselves. So we can lay our plans down in plain sight, and as long as they are well thought out enough, they can't be stopped.
The power of open source. We have the numbers on our side, we built the systems the bankers have used to control us. So if we wanted we could easily take the systems back over and use them against the bankers. The Internet is their greatest weapon against us, but it is also our greatest weapon against the elite. I believe if people review my plan, offer alterations in the comment section, we as an open source community could come up with a definitive and actionable plan to accomplish what we all basically want, an end to the debt monetary system created for and by central banksters.
Taking Away the Banksters Military, Step 1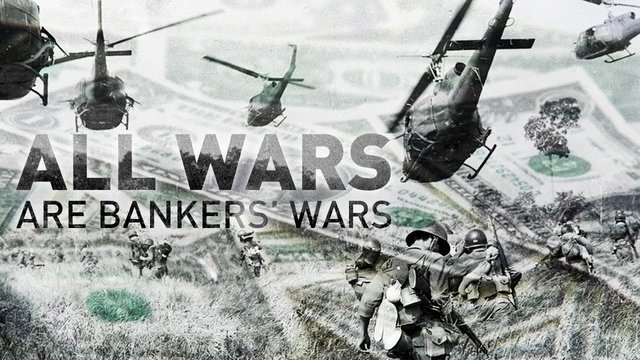 The United States has become the Military Arm of this global Central Banking Nightmare. It was already that before 9/11, but 9/11 amplified their control to inconceivable levels. Since the 9/11 False Flag attack on America, the Central Bankers have been using the United States Military to conduct their foreign wars to install central banks. The Iraq War was for the benefit of the globalist bankers, the Afghanistan War, the current situation in Syria. It all benefits the bankers who loan money to Governments so governments can conduct warfare. It is literally that simple. If we did not have these central bankers using their politicians & puppets in the media corporations they control, we would not have wars. As wars do not benefit anyone but these bankers. So, how do we stop this from continuing? We take back America; the heart of their Military, because with the people controlling the American Military not the banksters, there is no other foreign Nation the banskters could use to come back in and take America over. They did this exact thing in 1812 by forcing us into debt with a British invasion. In the modern era the United States Military is the British Empire, and whoever controls it controls the world. Right now the bankers control the military but we could easily kick the bankers out of America and then use the military they created to start a campaign of wiping out central banking from the planet. So how do we take back the US Military?
Create a Critical Mass Awakening to the Solution: Article 5 of the Constitution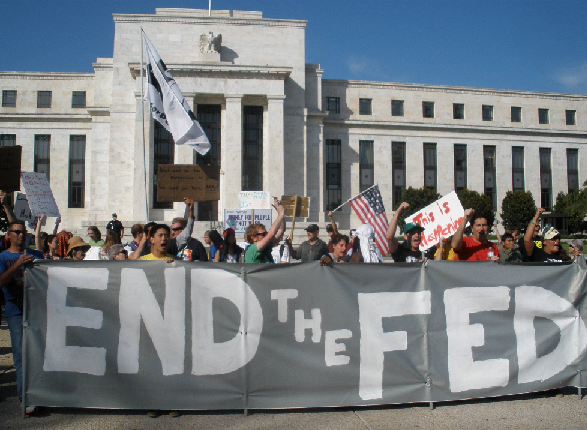 The Federal Reserve is an unconstitutional monopoly, and Congress has no power or authority to divest their responsibilities to create and regulate a currency to a private bank. The Fed being unconstitutional means, that we the people have the legal right and authority to call for enactment of Article V of the US Constitution to call forth a Constitutional Convention during which the Private Federal Reserve could be removed from existence and monetary creation and policy could be returned to Congress, therefore the people. During this convention I would highly recommend a complete clean sweep of all corrupt politicians in the federal government and all laws that are 100% unconstitutional such as the prohibition of Marijuana which is not legal under the Constitution. They required an amendment to ban alcohol, there is no amendment banning cannabis. All we need to do is create a "Critical Mass", about 5% of the population, in America roughly 16 Million People that are awake and actively raising awareness about using Article 5 to End The Fed and we will be able to pull it off.
How to Create Awareness Effectively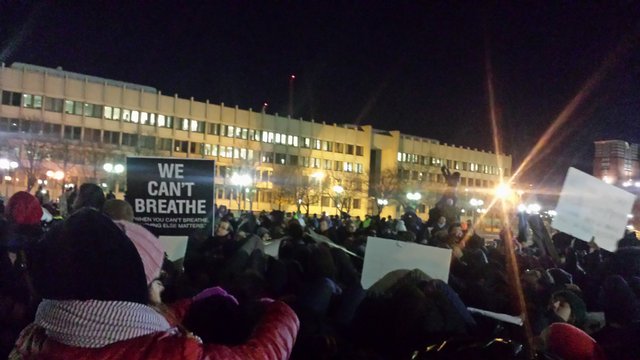 Protesting for protesting sake is meaningless. You need to have an identifiable goal and an easy to grasp message. Protesting is still a viable form of raising awareness. The message has to be simple, but it also has to be meaningful. Chanting "We are the 99%" is completely meaningless and accomplishes nothing, which is why so often government agents; generally take over protests and steer them into chanting nothing but meaningless common sense statements. "We are the 99%" is common fucking sense, chant that all day long; the bankers don't care who you are. They know you are the 99% before you left your couch. This is why Occupy Wall street failed, because government agents took it over and ran it into the ground, the movement had no discernible goals, other than "We want more money", which makes you sound like whiny Bernie Sanders type libtards. So since we need a "chant able message" that actually means something I think "End the Fed" suits just fine. At protests this should be the chant, don't let government cointelpro agents shift it to something else like "we are the 99%". End the Fed is something everyone who is the 99% should be in support of. We need to get the message out by the following means to raise awareness:
Protesting
Using Social Media, all forms of it
Creating Articles
Creating YouTube Videos
Furthering this plan with your own ideas
Hactivism
Creating Alternatives and Using Them
Using Independent Wealth to Fight Back
Fear of Independent Wealth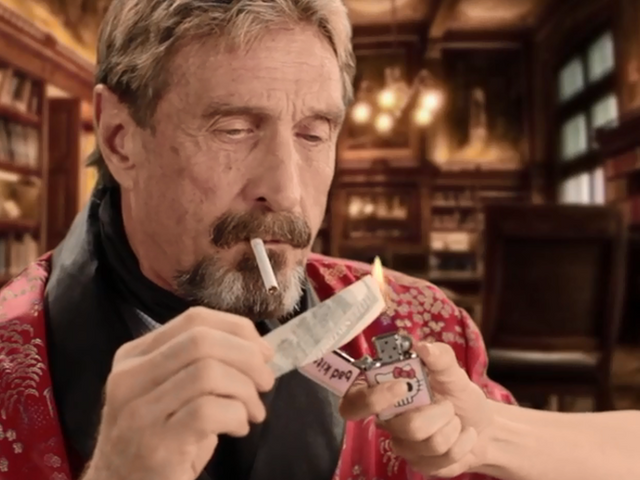 The powers that shouldn't be use finances to control everything, thus by accumulating and then using money against them you can break the matrix of information control. John McAfee is an example of someone the power system was afraid of. So they created the Showtime Movie "The Gringo" and used ad hominems to attack him because his political plan was not something the elite could accept. He wanted to End the Fed, and use crypto-currencies instead of Federal Reserve Notes. This is a viable plan, and because McAfee had wealth he was able to get his message out there and even get on National TV a few times. Someone with more wealth or, if we collectively pooled some resources to create an advertisement campaign we could use their financial control against them. Running End the Federal Reserve ads on tv, or on YouTube channels that are considered mainstream could really wake a lot of people up. We just need some finances in order to do it. People like John McAfee who have independent wealth are massive threats to the system because they could single handed use their own finances to spread their ideas throughout society by paying for advertisements, and boost promotions etc. They have the power to break through the information matrix and affect real change with their wallets is the main point. So we really need some business leaders in society to come forward and support this type of an action to End the Federal Reserve. I mean can you imagine if someone independent or we collectively got the money together to run an ad during the Super Bowl for example about ending the Federal Reserve, how many people that would wake up?
Using America's Military Power to Crush the Central Bankers Globally, Step 2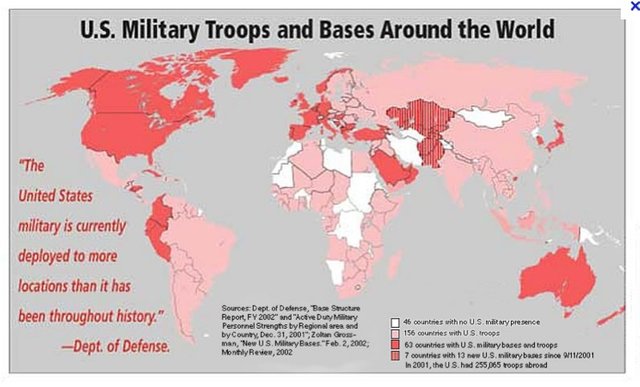 The Central Bankers if kicked out of America would likely claim we still owe them the National Debt. Well I say at this point we tell them "Good Luck collecting it". If we have taken back over America and our Military, then we can ensure America is never put back under the Central Bankers hold. Setting an example for every other nation why central banking is not for them. We could also support any nation that required our help to free themselves from the banksters control. Eventually debt monetary central banking systems could be eradicated from the planet. The US Military as you can see above is already deployed globally to accomplish this. Use the bankers own system of Military oppression against them. They put America into trillions of dollars of debt to create this Global Police state but they forgot, we are the soldiers and we have the law on our side not them, all the bankers have is fake money and their illegal private banks. If we just woke everyone up, this nightmare could easily end.
Or we could just let them start WW3 and sit on our coaches until we are vaporized by the very militaries that are supposed to protect "we the people", not "we the government agents in underground bunkers".
Once the Bankers are Gone Globally we can Talk about Creating an Anarcho-Capitalist Society - Final Step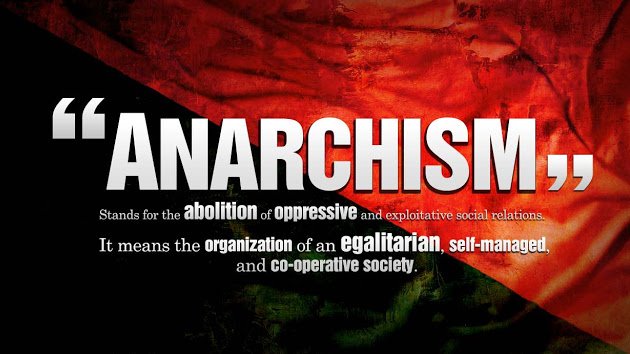 I know people reading this are like, you can't use violence if you are an anarchist and blah blah blah. Well guess what is going to happen if you go full voluntaryism without getting rid of central bankers? One day they will roll into your little camp with their military police and put you all back to work for the bankers. Or they will start WW3, and the weapons of war they created will wipe you out by accident. If we do not fight back, the system will continue to grow until there is no more "voluntary societies left". You can withdraw from the system now and go to some hippy dippy anarchist society in the hills, but that won't stop the bombs from flying, that won't end the situation we face. As far as I can tell that is shirking your responsibility and running away from the problems we all face. At some point we have to decide enough is enough and take the system back or burn it to the ground. Only once the Bankers no longer control other Governments and their Militaries can we be sure it is safe to disable our own defenses against their controlled nations. So if we want an anarcho- capitalist society, we must be willing to fight fire with fire until there is no more need to fight because we won the war. The bankers are not going to go away quietly, and even if they lose they will try again at some point in the future. Central Banking must be 100% eradicated from the Earth and their debt banking practices should never be allowed to be implemented again. We can replace them with whatever we want, be that crypto-currencies or some other form of non debt based monetary system. Then we can try to have an anarchistic society and not have any military or war. Rather spend our money on reaching the stars and feeding the homeless, and being good stewards of the planet we inhabit.
So come out and join us this Saturday for the Million Mask March and bring your "End the Fed" sign, let's get the ball rolling and start a national critical mass of awakened Patriots. Let's take the first step in the long hard process of creating the global voluntary society we all seem to want by raising awareness with all the means we have.
Please Sign up for Steemit, so you can comment on this post and offer your solutions.
Image Credit
Federal Reserve Image 1
All Wars are Banker's Wars Image 2
End the Fed Protest Image 3
My Photo From an Eric Garner Protest
John McAfee Image 5
US Military Around the Globe Image 6
Anarchism Image 7
FYI All votes for this post are for 100% SP powering up. I have only re-invested in this steemit platform, I have never cashed out. It's all about waking people up, not making money. SP is basically just voting power, which I use to push truthful posts up.
Thanks for checking out my blog post and watching my video! Don't forget to vote and follow me @TitusFrost for more hard hitting and sometimes just for fun posts!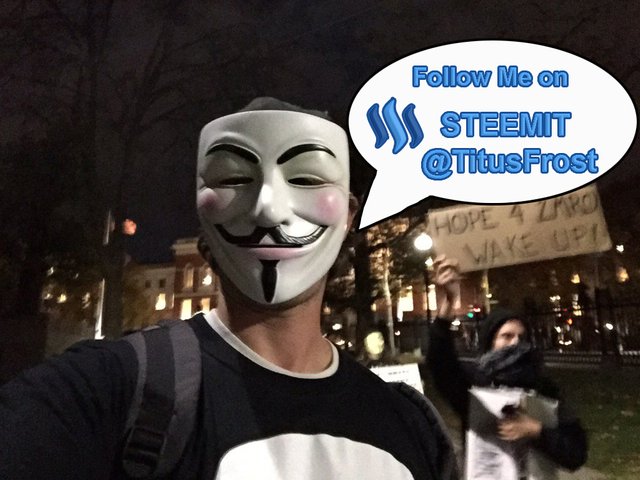 You can also connect with me on: