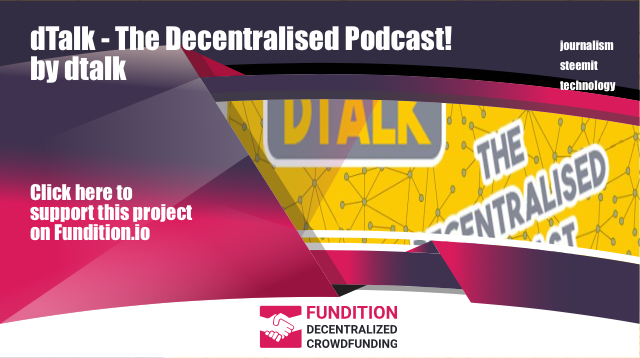 Support this project on Fundition.io

Hey Steemians!
Allow me to introduce DTalk the decentralised podcast.

Okay… so here's a little back story.
Podcast's are vastly taking over my life and I consume more podcast content week by week, maybe even day by day. I've always been a talker (ask anyone who knows me, I don't shut up haha) and struggle with writing.... So bare with me here.
I've been itching to start a podcast and played with the idea in my head for some time now. I'm finally taking the plunge! Wish me luck!
This leads me to the 'd' in dTalk. Decentralisation.
What is decentralisation?
A question that I cannot answer by myself. A question I cannot even pretend to know the answer to. Follow my journey in understanding decentralisation and everything that comes with it, here on the podcast.
I will be talking to all sorts of great people on and off the Steem blockchain to help me gather a better understanding of decentralisation. Hopefully I learn a lot on the way and you do to.
Other than educating myself and others around decentralisation my other main focus is
STEEM PROMOTION
My plan is to publish the podcast over all the popular places: Spotify, Apple, Google etc… I want to help raise awareness of the Steem blockchain and by showcasing decentralisation with some of Steems great users I could achieve this.

So why the Fundition you may ask?
I'm looking for some support, I would ideally like to host the show not only on the Steem blockchain but off the blockchain. I believe it could become a great gateway for the non Steem muggles to come and see what great things the Steem blockchain has to offer.
Some better equipment would be a great help too in order to allow a constant improvement in quality content. I hope to raise or save enough to purchase a Zoom recorder. This will be great for those in-person on the go interviews, I see you Steemfest3 ;)
Any support would mean the world to me and will help me in pursuing in my decentralised journey.

The DTalk podcast has no relation to DTube's new DTalk section. This was just mere coincidence and the account @dtalk was created in March and has been in the works for some time now.

Thanks
Keiran