Some of you who have been following my account for awhile know that I am a volunteer EMT. Well, those days are about to come to an end. This post is me laying out how I arrived at the decision that it was time to quit.
But first, a tangent
Oh, happy 2019 everyone. I guess part of the reason I'm quitting the ambulance service I volunteer with goes hand in hand with the reason I've scaled back drastically on my Steem writing. Those reasons are time and attitude.
First and foremost is the attitude portion of it. I'll get more into the EMT specifics later on, but as far as writing goes (and other things in life in general), I just feel like my heart isn't in it. It doesn't excite me as much as it used to, I don't look forward to writing, and I don't have the energy or desire to participate. And make no mistake, if there's one thing I learned about being "successful" on Steem it's that you have to actively participate. Comment on other's people's posts, join contests, etc. I just don't have the mental stamina to keep doing that day after day, and part of the reason why is that my heart just isn't it. I have too much else going on in my life to devote even a small sliver of my emotional capital into connecting with strangers on the internet. So that's why I've been a bit scarce.
Right alongside attitude is time. I work a full time job, and I have two kids, both under the age of 3. I just don't feel like I have the time to write, comment, and connect. I felt like I was always sacrificing something else last year when I took the time to put out a post or write a few thoughtful comments. Most of the time, that sacrifice was time spent with my wife or time spent on myself relaxing, since I would do all of my writing after putting the kids to bed. I realized that I need some me time, and as much as I wish writing on Steem would recharge my batteries like Netflix or the other Steam does, it's a net drain.
So there, that's where I've been in case you were wondering.
So why even even bother coming back, you ask? Well, I am going to refocus my blog on a more personal diary style of writing. I always had the thought in the back of my mind that my writings here were primarily for my children to read one day and get a glimpse into what their father was like around the time they were born. Even if I'm around and part of their lives for decades to come, there is still value in preserving my thoughts in the moment. For this post in particular, I'm sure time will dull the memory of why I ever stopped being an EMT, and so I think there is a case to be made for documenting those reasons in real time and saving them to the blockchain.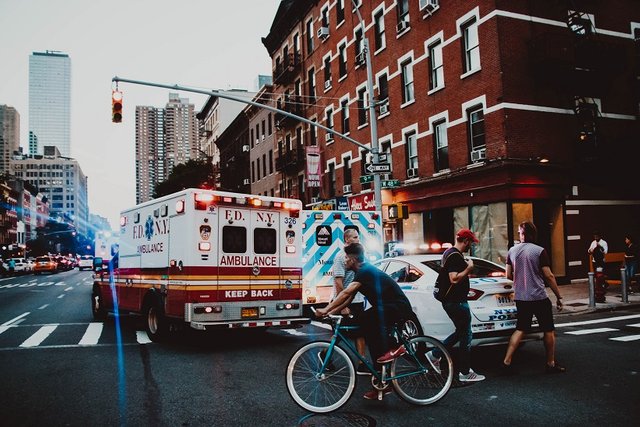 By unsplash-logoBenjamin Voros via Unsplash

So long, EMT
In hindsight, the decision to quit began building up for months before the thought itself popped into my mind. As I said, the biggest reason is attitude. I came to the realization last December that I like saying I'm a volunteer EMT much more than I actually like being a volunteer EMT. This is no good for anyone.
Attitude
Part of the reason why I'm quitting is that my ambulance service (which is a part of the town government) is extremely political. They have monthly meetings where the ambulance "president" calls the meeting to order with a gavel. The meeting is conducted in a very traditional "old business, new business, motion to proceed, do I have a second for the motion, all in favor say aye, all opposed say nay" kind of 19th century format. And people get passionate about some of the things they talk about. It's incredible to me that some of the other volunteers can get that worked up over the stupidest details, like who is allowed to vote in our "elections", where the money came from to pay for alcohol at their annual banquet, or other petty things. I started to dread going to the meetings, because they were just full of petty squabbling wrapped in archaic procedure.
Here's a better example of my poor attitude though. We were at an event over the summer last year at the fire station. It was a public relations thing, were the town could all show up and look inside fire trucks and there was going to be a demonstration later where they set an actual shed on fire in the parking lot and stuff like that. Anyway, I was on the ambulance that came over to support the day, and as we pulled up to the building, the driver put the ambulance in reverse and started to back up to the building. Since I was in the back of the rig, he asked me to stand by the back door and look out the window to let him know if anything was behind him. I dutifully stared at the ground behind him as he very slowly and safely backed into the parking spot. When we all got out of the ambulance, one of the captains from the fire department stormed over. "Where was your ground guide!?" she basically screamed at us. "Do you know how unsafe that was?! I can't believe…" and on and on she went, absolutely tearing into us. I was so disgusted that she just dialed it up to 10 like that. After she walked away, I said to the other EMTs something like "someone should remind her that we're volunteers and I can go home right now and never come back if she's going to treat people like that. She needs to watch how she treats people who are here only out of generosity." In hindsight, I realized that this is kind of a toxic attitude to have. Just because you're a volunteer doesn't mean you can break rules. But even having made that realization about the attitude itself, I can't say I feel any differently. I'm just aware of it. So I think it's probably best if I move on if that's how I feel.
Experience
On a more personal note, one of the reasons why I'm quitting is because I am not getting out of the experience what I thought I would get out of it. Namely, experience. I have been doing this now for almost exactly a year, and in that time I have had precisely 21 calls. Not a single one of those calls was serious. Not a single one of those calls had me doing anything that even remotely resembled "saving a life". But still, 21 calls over a year. That's crazy low. Part of the reason for this is because I volunteer the bare minimum number of hours (30) each month (also, see: attitude). Another contributing factor is because I exclusively work the night shift, which is significantly slower than the day. But still. Twenty-one calls.
Because of this, I feel like I'm probably just as bad of an EMT skill-wise as I was the day I started, if not even worse. Each shift I dread the thought of getting a serious call that I won't know what to do. I don't mind the thought of frequently getting calls like that – if I did I would have never signed up in the first place. But I thought I would have gotten a few of them by now, gotten them "out of the way", built my confidence, and be ready for more at this point. The fact that I haven't gotten a single serious call over an entire year is wonderful for the citizens of the town, but terrible for my own experience and self-confidence. Theoretically speaking, I want to have a few rough calls, but I have been dreading the first one for months. That's no way to show up to shift after shift after shift.
Time
Moving into more practical reasons, we come to time. As I said, the minimum number of hours you have to volunteer each month is 30. To put that in perspective, most months I work my full time job for about 180 hours. So that's 1/6th of a full time job, in addition to my day job. On top of the ride time, you are also expected to be at the monthly meeting (2 more hours a month) as well as standbys for special events (like the event at the fire house) or marching in parades from time to time. All in all, this is not a minor time commitment. And it's time that I feel I just don't have to spare if I want to do everything else in my life that I want to do.
Another practical reason – my certification is expiring soon and I need to take the refresher course if I want to keep doing this. In other words, I need to spend even more time. This was actually the catalyst for my decision to quite, because I was looking at how on earth I was going to fit in a recert class.
But think of the … taxpayers?
The only argument I thought I could make in favor of continuing to volunteer was the service aspect of it. After all, I'm volunteering, a noble and necessary part of any civil society. Except that it's really not like that. During weekdays, the town I volunteer with had paid EMTs that work the day shift. The volunteers only work nights and weekends. Oftentimes, they will not have enough volunteers to staff every shift. So what do they do? They have a staffing agency fill the shift with a paid EMT. So my volunteering is not like showing up to a soup kitchen to make a pot of soup. Where if I don't show up one day, a bunch of people go hungry because no one was there volunteering to make soup. No, if I don't show up, not only does the town maintain emergency services, but a fellow citizen actually gets paid to do it. Each time I show up, in other words, I take money out of the pocket of someone who needs it and is doing this for an actual living, while saving the taxpayers of the town some cash. And I don't even live in that town, so it's not even me benefitting. The "volunteer" argument thus falls apart.
Conclusion
And that's where I am. I have two more shifts left this month to get my 30 hours, and then I'll put in my letter of resignation. What will I do with all my newfound free time? Probably just sleep, play video games, or watch movies with my wife. But I really think it's the best decision in light of all the reasons I've laid out, and I am at peace with my choice. Maybe one day I will do this again, but it'll have to be in a busier department and during a time in my life where I feel like I have the capacity to spare.
---
View this post on Steeve, an AI-powered Steem interface