Women Empowerment – Three Engineering Girls
we have started living in a world where people say "Boys" and "Girls" or "Men" and "Women" are at the same capacity. But the question is do we believe in what we say? We keep on promoting women empowerment but is it growing at its best celerity? Some will say "Yes" while others will have a thought.Whosoever is saying yes, give it a second thought.
It is an experience that I would like to share about three talented girls who were in a search for good job and wanted to make their parents proud after successfully completing their graduation in electrical engineering.
First day, they entered to the college with a hope that they will learn so many new things in four years of their course. They were in an urge for the acquisition of knowledge and skills. Additionally, they were dignified and proud to be the students of engineering field. The days passed and they were eagerly waiting to complete their graduation after clearing around 40 engineering subjects, all the assignments, projects and much more.
And yes three of them finally graduated as an Engineer after completing four years of their journey. Now they were going to the next and more difficult phase of life where they have to build themselves in this "beautiful" world. Three of them were ready and excited for contributing their skills and knowledge towards the nation. They started looking for the jobs and simultaneously preparing for the interview. They were confident and capable of getting a good job in their related field. Finally they got an opportunity to get themselves a job in a job fair held in their city. So they were waiting for the day.
Interview day: So finally the day came when the three girls were going to face their first interview. They all were confident, excited and bit nervous. They put their formal dresses on, took blessing from their parents and mentors and were ready for the interview. Everything was well set and prepared. They knew that they can crack the interview because they trust their abilities and dedication.
As they reached the venue a sort of happiness and smile was seen on their faces because it was their dream to work in engineering field. As they move further, they saw lots of other students (boys and girls) were standing in the queue for the interview. There were number of companies who came to pick up the smart candidates and offer them jobs with good salary.
Three girls finally took a stand in the queue and waiting for their turn to give the interview. There were number of boys standing before them and giving interview, some of them were selected while unfortunately some faced rejection. The first question been asked to every boy was "Tell me about yourself?", and boys were answering smartly and generously.
Finally, all the boys standing before them gave the interview and now it was their turn to face the interview. First girl out of the three was called and had to give her interview so she went towards the interview room; her two friends wished her good luck.
Surprisingly, as she entered the room the interviewers kept quiet for a while and were simple talking among them. The girl was also sitting patiently on the chair and was ready to face the interviewer's question.
So the interview started, not with a question but with a statement and the statement was "Sorry we don't hire girls in our company", listening to this the girl was completely blank at that moment and had no idea what so say. She was completely shocked by the statement that interviewer stated. She looked at other interviewers with a hope but everyone's facial expression was giving the same answer.
The girl was completely disheartened and said "Okay" to the interviewers and went out off the interview room. When she came out of the room with sadness on her face, her friends asked, "How was your interview?" And when she gave the same interviewers statement, the other two girls were completely shocked as well. Three of them couldn't believe to the statement.
After listening to this terrible statement and having huge disappointment, three of them decided that they will go and talk to the interviewer's altogether. They went to the interview room and politely asked the interviewer that, why a girl can't be a part of your company? Interviewer wasn't expecting this to happen but he has to answer the question and the reply he gave was "Working Environment of the company is not suitable for the girls" and asked the girls to simply exit from the room (same situation was in most of the companies). Girls had no other choice and had to come out of the room with a disgrace.
All of three had tears in their eyes and started feeling that everything for them is shattered and the reason being "They were Girls". All of their studies, skills and abilities seemed to be useless to them just because they were girls. Their hopes, dreams and goals were murdered by the statement, they felt. They started remembering all the things they have done to make themselves a good engineer. Blessings from their parents and mentors were going nowhere.
But as the Girls are well known for their Resilience, Fearless, Patience and mental strength, they did not allow such stupid statements to ruin their path to success. They are still fighting hard and trying to bring the change in this world so that in future other girls doesn't have to listen same unworthy statements.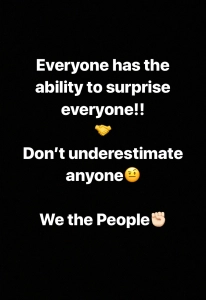 Don't just say that "Men" and "Women" are equal, mean it. If she can give birth to Men, it means she can do everything that men can do.