Emercoin and BDA of Latvia signed a partnership
11:35 AM - 09 AUG 2018
Emercoin continues to establish relations with global blockchain community. The company signed a cooperation agreement with Blockchain development Association of Latvia. It is a non-governmental organization, creating a favorable environment for blockchain oriented companies in Latvia. Both parties expect to have fruitful and mutually beneficial cooperation.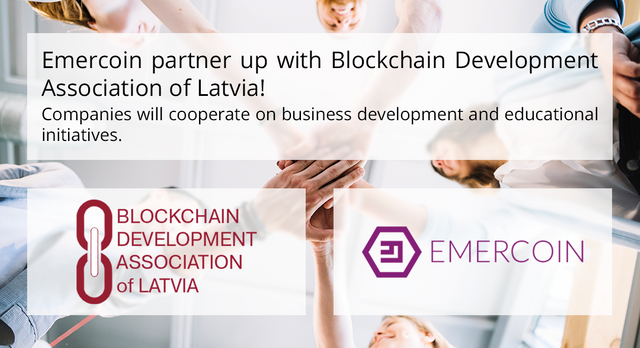 "We are thrilled to be partners with such a great organization as BDA of Latvia. We hope that this partnership will result in many interesting blockchain projects and concentrate our efforts on business development, enhancement of blockchain community and co-organization of educational events. Emercoin team is impressed with BDA's initiative and is happy to be one step closer to Latvia"
, said MP of Emercoin Kostiantyn Bigus.
Within the cooperation, companies intend to develop the field of blockchain implementation in business solutions, co-host educational events dedicated to the implementation of blockchain and create new innovative projects. Emercoin, as a provider of distributed blockchain services and dSDKs, has a broad knowledge of blockchain and is ready to share it with others. Together with BDA of Latvia, it will consult companies on blockchain and how its use can make a business a transparent, safe and reliable one.
"Emercoin is a great platform, and we are looking forward to working with them. We believe that Emercoin technology can provide significant benefits both to the public and private sectors. Latvia has all essential ingredients to become a recognized blockchain hub due to developed IT industry, numerous skilled professionals, supportive and easy to reach government officials and innovation-oriented society",
said board member of BDA of Latvia Lev Bass.
With the help of BDA of Latvia, Emercoin will be able to establish close relations with Latvian blockchain community. Association has considerable experience in legal and administrative processes in the country and believes that liberal legislation is attractive to companies, which intend to develop business in the country.
About BDA of Latvia
Blockchain Development Association of Latvia is a Non-Governmental Organization focused on creating a favorable environment in Latvia for Blockchain oriented companies and protecting their interests.
The association organizes educational events about blockchain, contributes to developing an understanding between private companies, developing blockchain projects and government officials, and consults business and municipalities on the implementation of blockchain and how they can benefit from it.