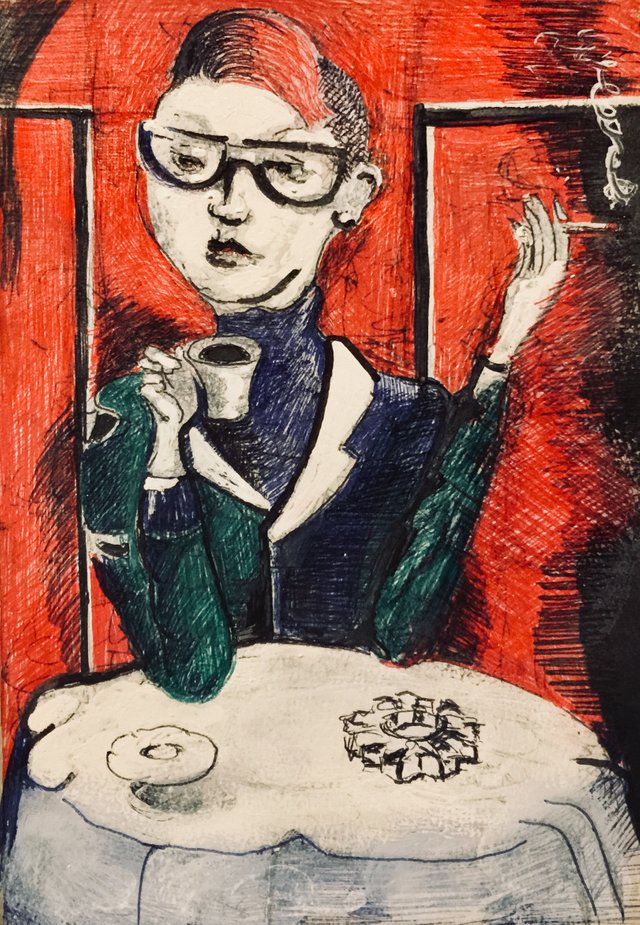 [JPN]
今日は、町内会の敬老の日の贈り物を買いに大丸へ行く。
夜なら、嵐山まで割と平気で歩く。
それも往復である。
合計14キロくらい歩いた。
でも昼はダメ。
1キロと歩かない。
タクシー乗車。
贈り物は恒例では、お菓子だそうだ。
予算は一人あたり1200円。
結構あるね。
1200円出してお菓子買ったらかなりたくさんになるか、結構高級になる。
高級なお菓子にしても良いかなと思ったが、良いものが見つからなかった。
和菓子の専門店など行けば、良いと思ったが面倒なので大丸の中で見つけることにした。
何が良いって、考えた。
お菓子はダメだ。
血糖値を気にしていたら?
一人で食べられる量は?
他にあげられる人がいなかったら?
など考えた結果、お菓子を却下した。
昔話で聞いたことがある。
落語でも聞いたかな。
米、酒、味噌。
これがあれば、一番嬉しいのだそうだ。
正月にお地蔵さんが運んできたのも、米、酒、味噌である。
米は、地蔵盆の時に福引で出した。
なので、酒と味噌にしよう。
酒も呑む酒では困る人もいるかもしれないと思ったので、料理酒にした。
保存もきく。
遠方に送るのでも良いだろう。
75歳以上に贈られるものである。
ご夫婦で75歳以上という世帯も数軒ある。
その場合は、お酒と味噌。
単身世帯には、どちらか選んでもらう。
数に限りがございます。
会長の配り方にもよるけれど、選べない世帯もあるかもしれませんが、ご了承ください。
買い物のあと、せっかく大丸に来たのだからと、ウィーンの森という喫茶店に来た。
残念ながらタバコは吸えないが、雰囲気が良い。
自動演奏のグランドピアノが置いてある。
少々音量が大き目なのが良い。
混み合っていても、他人の会話が気になならない。
アミコがいないので、一人での喫茶である。
一人であったが、スケッチブックに出て来てくれた。
これもデートである。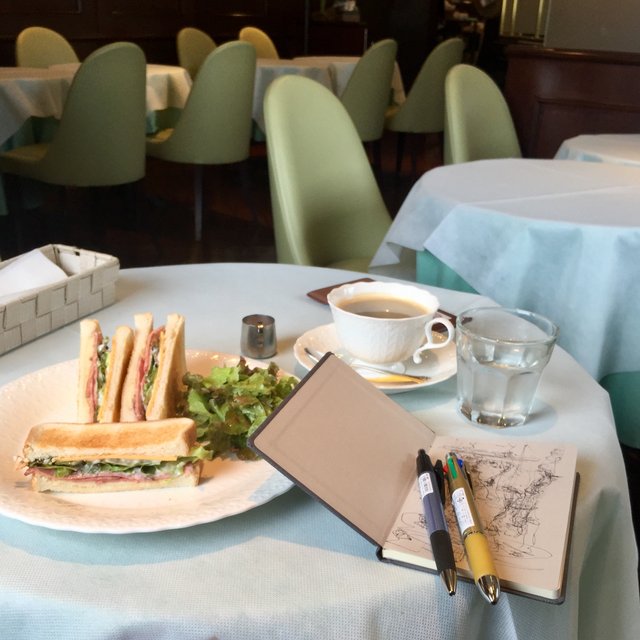 [ENG]
Today, I go to Daimaru to buy the gifts of the senior citizen's day at the neighborhood association.
If it is night, walk to Arashiyama in peace.
It is also a round-trip.
I walked 14 kilometers in total.
But I can not do noon.
Do not walk as 1 km.
Take a taxi.
The annual gift is a sweet.
The budget is 1200 yen per person.
There are plenty.
If I bought 1200 yen and bought some sweets it would be quite luxurious if it would be quite a lot.
I thought that it would be fine for pretty sweets, but I could not find a good one.
I decided to find it in Daimaru because I thought it would be nice if I go to a specialty shop of Japanese sweets etc but it is troublesome.
I thought what was good.
Candy is not good.
What if I care about my blood glucose?
How much can I eat alone?
Why would not anyone else be mentioned?
As a result of thinking, I dismissed the sweets.
I have heard it in an old tale.
I heard even Rakugo.
Rice, sake, miso.
It seems to be the most happy if there is this.
In the New Year, Jizo also brought in rice, sake, and miso.
Rice was exported at the time of Jizo Bon.
So let 's make sake and miso.
Because I thought that some people may have trouble with liquor drinking, I made cooking alcohol.
I also can save it.
It might be good to send it far.
It is a gift to over 75 years old.
There are also a couple and a few households that are over 75 years old.
In that case, sake and miso.
Single-person households will choose either.
The number is limited.
Although it depends on how the chairman is distributed, there may be households that can not be selected, but please understand.
After shopping, I came to a coffee shop named Vienna Woods because I came to Daimaru at a great price.
Unfortunately I can not smoke, but the atmosphere is good.
There is an automatic playing grand piano.
It is good that the volume is slightly larger.
Even if they are crowded, you do not mind conversations of others.
Because there is no amico, it is coffee alone.
I was alone, but it came out in the sketchbook.
This is also a date.