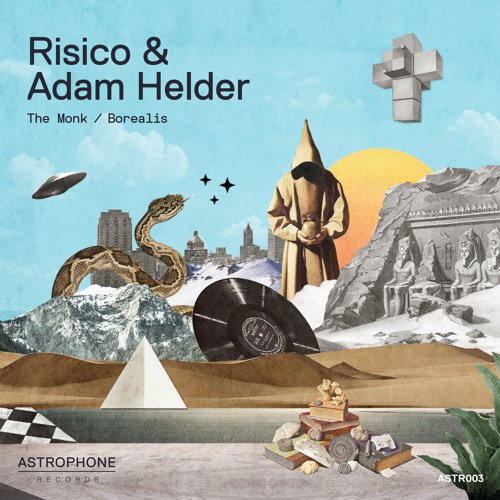 Association of distinctive artistic mediums is on full display with the dreamy and evolving Borealis, starting with a instantly mysterious title, curious cover art and further extending into the track itself. It is not a direct connection of tune full of snakes, monks, pyramids and glossy vinyl but rather the atmosphere created while listening that makes you question the inspiration within.
An immediate case of no cold-cut genre, the track takes thoughts from a huge variety of places bringing together a crisp House beat, progressive and Trance influenced arps, ghostly vocal snippets both vintage and fresh, delicate analog synths and peeks of acid throughout the fluctuations.
It is on the grounds of all the intricate elements presented that this track truly shines as an introspective piece yearning to be deciphered fantasizing about the distant lands it evokes visions of, the peculiar cover art and the significance of it on the aural aspect of the composition and listener's own thoughts and ideas that come alive while taking the journey with Borealis being the soundtrack.
There is an ever elusive feeling of something so familiar, warm and known that some tracks have a magical way of creating and such is the case with today's Tune of the Day - it makes you feel at home right away, seducing with it's approachability and charm.
What is Tune of the Day?
Something that I do for my rising revelations series is search for new music daily. So it is only natural that I should be sharing some of the daily highlights as too often the tracks are amazing but they don't make it into a final episode as they might not fit that week's mood or concept.
More than anything, the reasoning behind the series was always sharing new exciting music by artists that are longing to be heard so any extra exposure is a good thing.
All artists featured on the blog are contacted and notified of the post, and get a gentle nudge to join this incredible community.
I love putting my feelings about music into writing so each post will also have a couple of my own words on why I love that particular track and how I perceive it, a mini-review of sorts.
As an added bonus all tracks featured are available for a free download, generously provided by the artists. Please enjoy them in your music players, DJ sets and shared playlists and endorse hard work of some talented people.
Please support the artists and this blog, vote, follow, resteem!