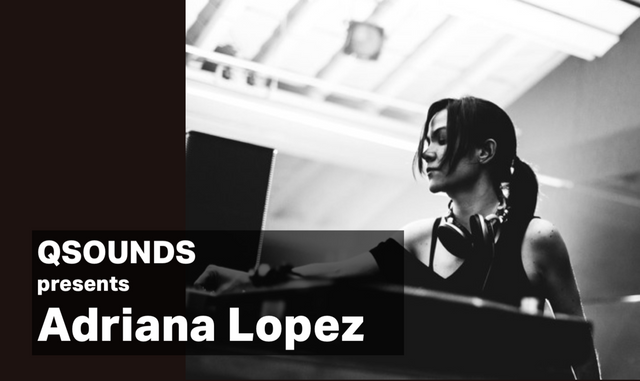 Sometimes I hear the Techno scene is dominated by men, and this is probably true. But that doesn't mean there are no female artists/producers around? Earlier this week I already posted about Lanouche (here); A techno Lady who produces and plays such beautiful atmospheric deep techno! Today I like to introduce you to Adriana Lopez, a young lady from Colombia, with her home-base in Spain.
It must already be two years ago when I walked in to the best club in the world, Berghain, for another round of ecstatic pleasure. I already heard some interesting sounds coming from the floor above the entrance when going through the protocols at the door and cloakroom. It was early afternoon on Sunday - the best time for the Berghain experience - most tourist home at sleep and too early for the young kids - hence, only real techno fans around. And this Berghain episode, also an absolute FANTASTIC artist behind the decks! While writing this post I get goosebumps all over again, caused by the recording I'm listening to as I'm writing and the memories to this Berghain event when hearing Adriana for the first time.
The sounds Adriana produced and moved through the best indoor sound system I know, was in perfect harmony with my inner self...WOW...what an amazing set I was hearing! I could hardly move, so deep I was drown into the music! Adriana is one of the very few female techno artists who understands what Deep and Minimal Techno is! At least one of the few I know of.
Artist: Adriana Lopez
Set: Deep Space Helsinki
Style: Deep Minimal Techno
Year: 2016
In my list of real quality, she propelled herself straight to the top! And she is just starting her career! So more; Much more to look out for!
But long story short, I think you have to listen for yourself to make up your mind about how good (or not) Adriana is!
Oh, and did I tell you she is also very pretty?

Adriana Lopez - Deep Space Helsinki (2016)


...and a bonus, 4 snippets from here last EP in one recording...
Adriana Lopez - Percepciones EP (2016)
note: skip the first minute or two

Music
Spotify: click here
YouTube: click here
Soundcloud: click here
Mixcloud: click here
Discography
Discogs: click here
Gigs
Gigatools: click here
Resident Advisor: click here

sources [1][2]