Hello all,
You know that @lindahas shared our plan to fundraise a school printer in her latest fundraising post. But In the meantime, I had a chat with one of our school supporters from the UK who recently visited our school. She is coming again in May. She asked me if anything she can bring for kids. Veronica and Stewart wanted to donate any school materials for @SchoolForSDG4.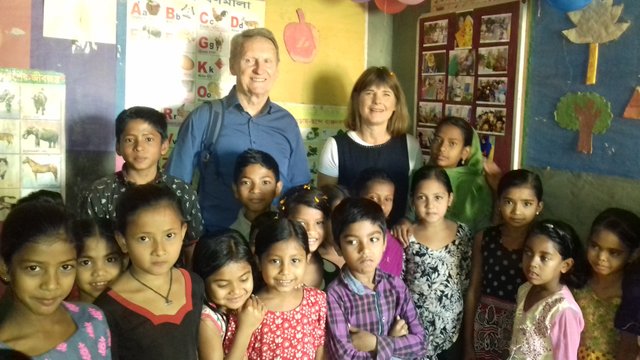 Veronica and Stewart with our kids on 13th February 2019.

So I think I don't have to fundraise for the school printer. I will focus on other things. I heard printer is cheaper in terms of ink. We will keep it going in our country and it will increase our operational cost but will decrease our overall cost I hope.
Phoenix school is coming in May again to work with their project. I will see if anyway I can help with their project but I need to work more with my projects as one of the school teachers left school already. It is good news to share that we will get a printer in May. @girlbeforemirror already informed me that she also wants to make it possible if we don't get it from UK. I hope everything will go okay. So we have alternatives already. So waiting for may and let's see how it goes.
N.B: By upvoting this post you are supporting me @Azizbd personally, not my charity @SchoolForSDG4
Please contact me @Azizbd for any information https://steem.chat/direct/azizbd .
---
Adsactly is a Autonomous Decentralized Society Acting Cooperatively to Leverage You.
|| Twitter || Discord || Steemit ||