It's all about perspectives in life - And a story about my new hero(s)
Hello my dear Steemian friends,
All week I've been wanting to write a post here and life/work/stuff got in the way. I've been working hard on making plans for the future (my family's) and also looking at if the travel plans I have in mind are possible. Of course I am still planning to work towards our big move away from the Emerald Isle, and I've been working and gone through some of the training for my new job. I haven't even started the job yet, and already there's lack of time. Argh...the story of my life. Anyway, I am not here to make any excuses for myself. But I would love to tell you the story of an amazing woman that I met recently. She inspired me immensely. Inspiration is not even the right word for it. But let me just get to it, so you will understand what I mean.
The Irish superwoman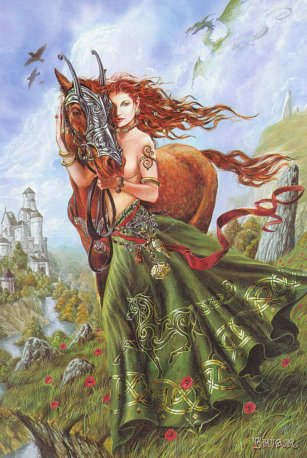 source Áine, the Celtic Goddess of Summer and Wealth. She represents the sun, love and fertility.
Last week I had a day of training in the field for the job I am (hopefully) starting soon. The job requires some home visits with people. Nothing scary, I am not there to pry in their lives, and it doesn't really matter what I do. I will get to that some other time.
Anyway, my colleague and I visited one house in the middle of nowhere. My colleague told me I would like this woman and when I turned my head to wait for her to tell me more, she said: "You'll see."
As soon as we got out of the car, the front door swung open and a lovely woman with typical Irish looks (yup, red hair...trust me, even here we don't see it very often) greeted us with a big welcome and she asked us to come in and please have a seat. It was her eldest son we were supposed to meet, but he wasn't home from work yet. The usual tea was offered. In the background two dogs were yapping and scratching at the door, eager to greet us too. The woman, Louise, as she introduced herself, led us into the living room where her 8-year old son was playing. He looked up from what he was doing and tried to grab my colleagues' phone. Louise gave him hers and turned to me to explain that Liam, her son, had autism, and several health issues. I asked her if he was non-verbal, and explained that my nephew has autism too and that he's almost 18 but doesn't talk.
The dogs were scratching at the door and Louise said that they open doors, but usually didn't open the kitchen door. She had just said it when the door flew open and a black Labrador and a German Shepard came bouncing into the room. Two big dogs on my lap later made me really feel at home. My dogs think they're lapdogs too.
Louise walked around the room to tidy up some things and then picked up a music box that had been playing. She turned it off and said: "He's not listening to that now, because he has the phone. But usually, that is on all day."
The woman didn't lose the smile from her face as she told me that Liam was born very prematurely, at only 23 weeks. 23 weeks!!! She went on and said: "They told us that he had one day to live. And look at him now. They were wrong. Liam had other plans." Yes, her son was undoubtedly a fighter, but I could see where he got it. There was such positive power, love, and warmth radiating from that woman, and even though I just met her, I knew there was nothing superficial or fake about her. Everything about her was 100% genuine.
While we were waiting for her older son to arrive, we were all happily chatting away like we were old friends. Liam was pressing the touch screen of the phone and played videos on repeat, and every few minutes he showed it to us. Louise told us proudly that he made all those videos and no one ever taught him how to do it. She moved a wheelchair into the room and asked Liam to get into it so she could give him some food. It was only then that I noticed that the boy only had one leg.
"He wasn't born like that," Louise said, pointing at his missing leg, "He was so tiny, and they needed to put a needle into his leg, but because his arteries were so small, even the smallest needle did some damage and it blocked the blood flow to the leg. They had to amputate it." At this stage, my mouth was wide open at the horror this little boy and his family had been through. However, if there was any sadness in Louise about her son's fate, she didn't show it. All I saw was a deep love and pride for her son. Liam didn't seem to be bothered by the missing leg, he hopped around on his good one without any hassle.
Louise looked at me after hearing I used to live close to where we were now, and she asked me how long I'd been in Mayo now and if I had read anything in the paper a few years ago because she and her son were in it. She told me the full story, about her fight to get Liam closer to home, instead of the hospital he was in at the time. I told her I did recall something like that. My colleague mentioned Louise was famous, to which she replied: "No, it was all Liam. It was him all the time. He's the famous one."
Meanwhile, Liam passed me this toy, a large ring that he had been spinning on its side. I took it and put it on the table, but he wouldn't have it, I had to spin it. After about 10 attempts I finally gave up and asked him to show me how he did that, because I couldn't make the damn thing spin at all.
"We just ran out of oil, so my son is getting some tomorrow Louise said, "I hope you're not cold." I told her I wished I had an oil heating because dragging coal and turf around the house all year round is no fun. It lost its charm for me by the second year we lived here. Louise replied that she would love a fireplace, but because Liam had issues with his lungs, they couldn't have one. She then went on to tell us that he had been on a waiting list to get a new lung in the UK. "This was supposed to happen last year, but his lungs had improved so much, it wasn't needed anymore. You see, they have been wrong a few times, and Liam has proven them wrong each time." I nodded at that. I couldn't agree more that the medical field doesn't have an all-seeing eye.
Meanwhile, her older son had come home from work and introduced himself. Louise let my colleague get on with her business, while I observed. After this, we chatted for a few more minutes and my colleague asked Louise about her plans for Christmas with her husband. She replied that they would visit him on Christmas day and then bring him to a restaurant in a hotel where her sister had made reservations. She must have noticed the puzzlement on my face because she then turned to me and explained: "My husband has early-onset dementia. He is only 56 years old." This must have been the only time when I saw some kind of sadness in her eyes. However, it wasn't sadness for her own situation, but more of a sad feeling for her husband's fate. How much shit can one family go through? I can't imagine ever being in that woman's shoes. She quickly went on, "what can you do? We'll just make the best of what we have, and I have these guys here to be thankful for."
We talked for a few more minutes, and then it was time for us to go.
We said our good-byes and I told Louise and her sons that it had been a pleasure to meet them. I meant it from deep within my heart. Louise shook my hand and said the same with the same warmth as when she greeted us.
Back in the car, I told my colleague that this woman is Super-Woman. She laughed and said: "Yes. Every time I am having a bad day, I think of Louise and how she goes through life with a big smile on her face, no matter what life throws at her, and I instantly feel better. She's one hell of a woman." Yes, she sure is...
And even now when I think of Louise, my heart feels warm and I feel love and awe for a woman I barely know.
Not because I feel sad or sorry for her, but because she has taught me that no matter what life throws at us, it is always better to smile and love than to feel sorry for yourself.
Thank you for reading!