ecoTrain QOTW: What would I like to do differently this year? My resolute non-New Year's resolutions
This week's Ecotrain Question of the Week couldn't come at a better time for me. I felt I was a bit out of inspiration to write anything. That's not true actually. I have enough inspiration, but my mind is bubbling over and because of that none of my ideas come out in my blog. I call it my 'diversified' mind. It wants to do so much, and then nothing gets done. Or at least not all I want to do.
So what would I like to do differently this year? Let's find out!


source
Resolutely making no New Year's resolutions
There is a very good reason for this. I have never made any New Year's resolutions. Never...Ever.
Maybe it's my inner rebel that has always tried to go against the grain of everything 'normal' or 'common', or it's because I don't see the point. Maybe a bit of both. Whenever I hear people say: 'My New Year's resolutions are...' I feel like slapping them around the ears with their last year's resolutions, and remind them that they probably gave up on most of them before the month of January came to an end. I call 'Bah Humbug' on NY resolutions! Just like I am not the fondest of Christmas, I am quite the grinch when it comes to all those resolutions that pass by just before the 1st of January.
But I'm not just an evil dream zapper. No. There is a very good reason why I think the way I do.
Resolutions can lead to disappointments
I am not speaking for everyone. Just myself. The thing is, I live in Ireland. The winter, and especially the months of December and January are the least productive for me. Why? Because I seem to have the least energy in those months.
Don't get me wrong: I keep going and do what I need to do. However, I usually don't take on anything crazy complicated, or physically challenging because I just don't have the energy. Some animals hibernate, and I would love to be one of them. If I could just go to sleep somewhere just before Christmas and wake up right before February, that would be great. Sometimes we're lucky and we get a little ray of sunshine during the winter here and that's the time when you can find me outdoors to get the soil ready for planting, put up some fences, or chop some wood. When the sun is gone, I preferably hide inside the house. In that state, if I would make any kind of New Year's resolutions, chances are that I will give up on them by the end of the month, or not even start them at all. So I just don't make them. No disappointments or feelings of failure.
I like to try to be the best of myself most of the time
Take away December and January but the rest of the year I try to be just that. I want to be able to say: I am going to be outdoors more, do more fun things, help others, or meditate more all year round. Not just in January. I feel I would limit myself too much if I'd do that. However, just like most other people, I do make plans at times, and set goals for myself. But I try to keep these as loose as possible, without too strict finish lines, because I am one of those who doesn't like to be told to do things, even when it's me telling myself. Funny how that works.
Going with the flow of things has always worked best for me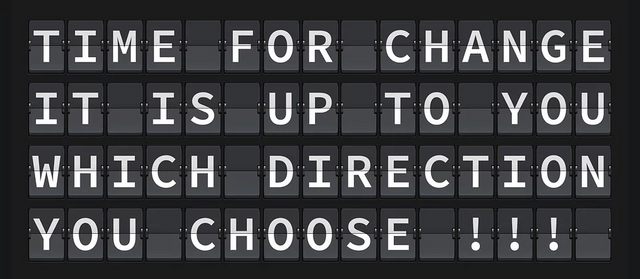 source
This year, and the coming years I think, it will be more evident that going with the flow of things and building on inspiration is really the best we all can do. We're slowly moving more into the age of Aquarius, and the year 2020 is what some believe the real start of that. I don't think it's a coincidence that it's the year 2020 either. 2020 is perfect vision after all, and I can feel it in every fiber of my body that this will be the year of more and greater awakenings. People are going to see clearer and together we're moving into a higher consciousness at an accelerated pace. Some of us have been experiencing this all around us in the last few years, and those who haven't, well, let's say: we're all in for a wild ride. There are already several ongoing events now that will have people scratching their heads if they hadn't before. And I am positive that we will see this more than ever in the year 2020. So my motto will definitely be to go with the flow and see where we land.
But...
Yup, there's a but. With all that's going on in the world right now, and the speed of things, we're all being forced to speed up our tempo too. So in my case, I've set myself a few goals and following through with that. When inspiration hits, I will take it on as it comes and not sit back and wait or procrastinate. That time has passed.
Another thing I want to do is spend more time on things I really love, one being here, writing and writing in general.
I've even been working on my own book more already this year, than in the 10 years before this.
The past year has been busy and I have the feeling sometimes that all I've been doing is working. This year will be a time of great changes in that respect. I will still be working hard, however, it will be on things I love doing and not just for money. I am also dropping odd jobs, from different companies I was working with, because even though they gave me some sort of financial stability, I really don't feel I should diversify my mind the way that has been causing it to do. Aside from dropping those jobs, I've also started to drop other things that no longer serve me, as well as toxic people.
I've banished two of those people from our lives lately, and I have to say: it hurt a bit to let go, but now I'm much better for it. I was putting too much effort and energy into the relationship with those people, and would only get drama and crap in return so this was the best I could have done in this situation.
Looking at all of the above: I'm much better off just doing my own thing, the things I enjoy, and spend more time with the kiddos.
My eldest will be 18 this month, and I'd like to spend as much time with her as possible before she spreads her wings and flies the nest.
Then, last but not least, I am working on curating more here on Steem. Something I've been slacking with for some time. Now, I try to check the introduction posts more often in a week, as well as those of the people I know. I'm not quite there yet...but baby steps.
I think I've come to the end of my post, but I would love to hear from others what they'd change or already have changed this year.
Thank you for reading!