A delegation and voting bot to fund eco-building workshops and sustainable communities based on blockchain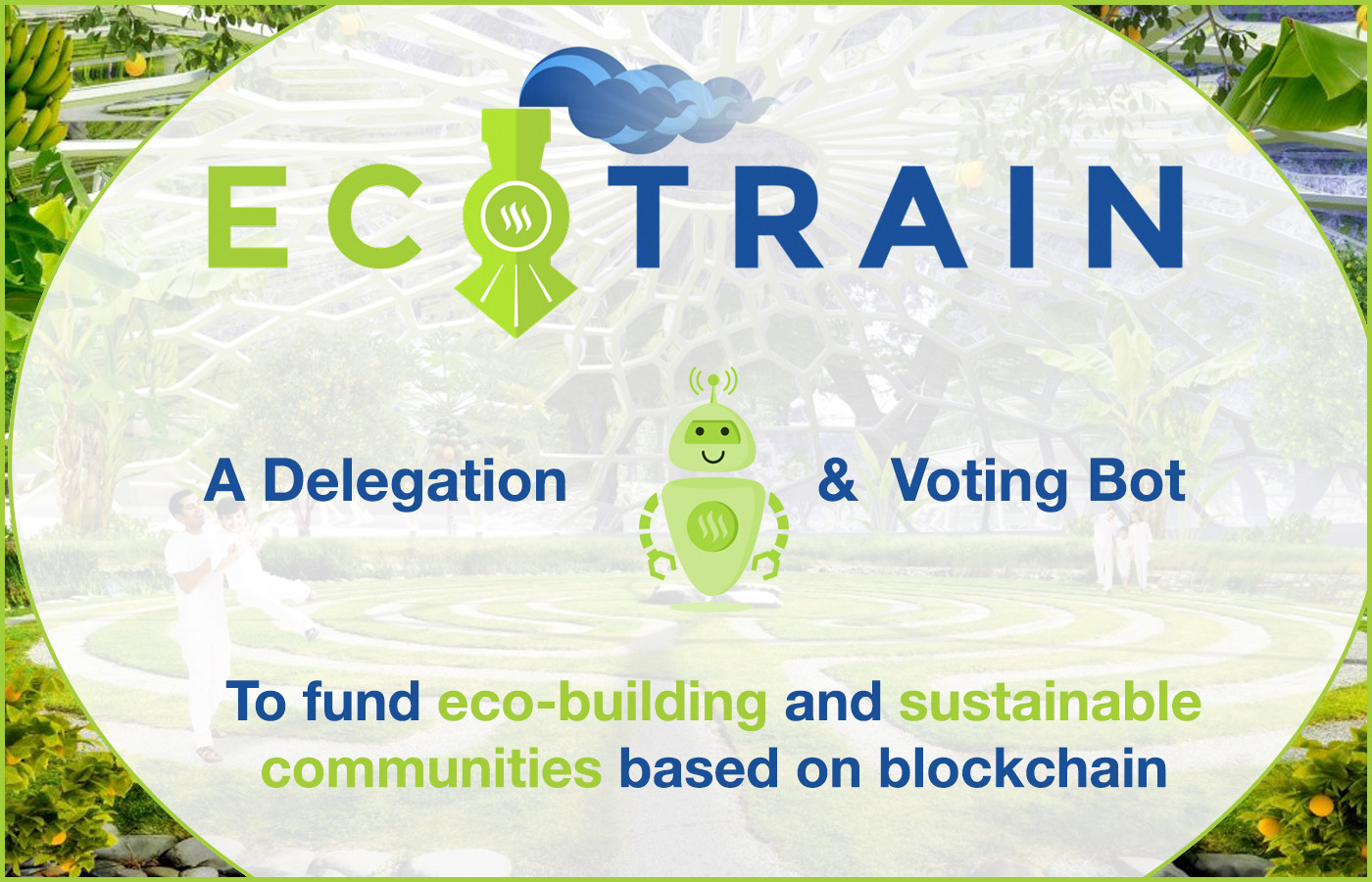 It is my great pleasure to introduce you to the @ecoTrain delegation and voting bot that is now up and running! It has several far reaching benefits and I hope you will read this and be inspired to use it for both delegation as well as for voting. What makes this bot very special is that it will lead to fantastic real life eco-build workshops and even communities around the world. I am very excited to start this initiative and invite you to earn 65% rewards on your delegation, whilst also supporting real world eco-building and community initiatives.

Some Great Reasons To Delegate to @ecoTrain
Delegators will receive 65% of the bids received each day.
Your rewards are automatically calculated by the bot and paid to your account every day. Whilst you can earn higher rewards using other bots, they do not support projects. When you delegate to @ecoTrain you are balancing profit making with altruism by supporting innovative projects that will help make the world a much better place. More about that below!
Encouraging high value posts and great authors
A very important part of the @ecoTrain ethos is that we should add value to Steem with our posts. The @ecoTrain Voting Bot is no different and I will encourage and reward ecoTrain passengers and others who post great content to use it. I will discourage low value posts by banning users who use the bot to promote them. I will personally be curating this, and will do my best to ensure that the @ecoTrain bot is used in a way that is beneficial to all. I will encourage high value posts with 'bonus' votes from my personal account.
Check out an @ecoTrain magazine post.
https://steemit.com/ecotrain/@eco-alex/the-ecotrain-magazine-highlights-of-this-weeks-posts-from-our-passengers

About ecoTrain:
https://steemit.com/steemit/@ecotrain/what-is-the-ecotrain-in-a-nut-shell

Initiating real World eco-building projects!
I will use some of the funds for a real world eco-building initiative! I expect to build in Holland or Europe, and am currently considering holding a small eco-building workshop for a small community that includes home-schooled children in Holland.
I am innovating my own design of a very affordable but beautiful, high performing, self-sufficient eco-home. With several workshops and 15 years of experimenting under my belt I am confident that I can build very successfully whilst also demonstrating a model for others to learn from.
If you support sustainable development and want to see some action on the ground then please delegate to this bot and support this cause. There is SO little eco building happening, and I am working hard to change that!
It will be a very exciting day when I can write about my first workshop funded by Steem!


One of my first eco-building workshops. Incredibly we had the roof on within 2 weeks!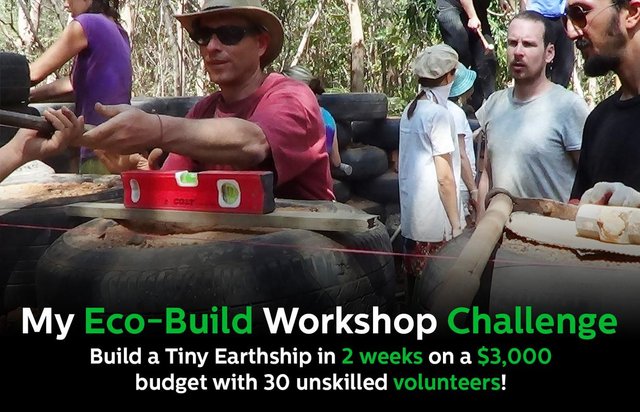 My Eco-Building Blogs:
https://steemit.com/earthship/@eco-alex/a-compilation-of-all-my-eco-building-and-workshop-posts-on-steemit
Earthship Karuna – The first fully off-grid Earthship Home in India:

www.earthshipkaruna.net
A new paradigm in eco-building and community living. A blockchain based ecoVillage Coin.
There is a global crisis in affordable and functional housing, as well as a cultural and community breakdown happening in most of the world. People are sucked into a lifetime of overwhelming debt so that they can own a home and try to find security. The problem is that when you can't repay the loan, you have lost your security and just about everything you had. The knock on effects of having to live and work just to pay the loans and bills is a big part of our current global crisis. The stress and competitiveness of our current free markets have stretched the average person to breaking point, and people are desperately looking for a way out. With the demise of the family unit, people are more vulnerable than ever as they get older.
ecoVillage coin gives us an incredible alternative of life-long and affordable security, and at the same time a solution to our planet's environmental crisis.
We have to turn this tide and start finding ways to provide real security and a sense of community and support for each other. I have been promoting eco-building for 15 years, and I meet people almost daily who deeply desire to get off-grid and be self sufficient. The story is ALWAYS the same with everyone I meet, and I can totally understand why almost none of them will likely go on to self-build. Most people are not going to be able, or even want to self build, and even if they could they likely don't have the money to proceed on their own.
This is a long term project that could change the entire paradigm of off-grid communities, home ownership and life-long security. If successful, it would be the greatest gift I could leave to this world and the people who inherit it. As a very wise man once said:
"The greatest form of gift or charity is to make someone self sufficient"
My Vision For Blockchain Based Communities Worldwide.
https://steemit.com/budget/@eco-alex/the-ecovillage-coin-a-new-approach-for-off-grid-and-sustainable-communities-my-vision-for-blockchain-based-communities-worldwide



More about me and my work
I have been promoting sustainable building and living since 2001. I co-initiated, co-led and fundraised the first domestic Earthship build in the UK (Earthship Brighton). Earthship Brighton has won ten awards and commendations including:
- South East Renewable Sustainable Energy Awards 2005.
- Environment Agency's Water Efficiency Awards 2006.
- Sustain Magazine's Construction and Renovation category.
- Green Apple Awards 2007 for the Built Environment and Architectural Heritage.
- Green Apple Awards 2007 – National Gold Winner for Business.
- South East Low Carbon Awards 2007.
- National Energy Efficiency Awards 2007.
- The Argus Eco Award 2010 – Winner of Greenest Building in Sussex.
I completed the first off-grid Earthship home in India (Earthship Karuna) in 2012. I have also led numerous workshops and have inspired thousands of people from around the world to build and live sustainably.
Green Crusader Alex Leeor: Projects Abroad (ISSUU):
https://issuu.com/maduraimessenger/docs/madurai-messenger-december-2012-lowres

Destination Green Earth:
http://www.thehindu.com/features/magazine/destination-green-earth/article3716176.ece

The Earthship Is Here:
http://www.dnaindia.com/lifestyle/report-the-earthship-is-here-1269139
A Call For Help
In the last 20 years I have spent my entire savings of over $350,000 on eco-building, subsidised workshops and outreach. I have always performed my work as service, and even today have no ownership over any of the buildings I have created. Ironically, I do not even own my own home today! That includes my biggest project Earthship Karuna, which is owned by Karuna Trust. My income since 2001 has been entirely through web development work, however, for reasons beyond my control that job has now ended. Therefore, I am unable to fund or initiate any further projects without support. I hope that by seeing the achievements I have made so far, you can be inspired to support me with your delegation so that I really can continue to make a difference in the world!
Thank You For Supporting @ecoTrain and a better world!
Your delegation will go a long way with @ecoTrain. Thank you for even a very small delegation, because every bit really does count.

You can delegate in 2 minutes using this simple tool. You can also remove your delegation at any time. Many thanks to @yabapmatt for all his incredible tools and services!
https://steembottracker.com/delegation.html

If you can't delegate, I hope you will use our bot voting service.
You can find us at: https://www.steembottracker.com/

WOULD YOU LIKE TO CHAT WITH ME?
Please find me on Discord: eco-alex#6971
THANK YOU FOR ALL YOUR SUPPORT!