I was nominated by Alex leeor for this amazing challenge. If you'd like to read his post about it you can find it here:
https://steemit.com/ecotrain/@eco-alex/hey-gorgeous-the-self-forgiveness-challenge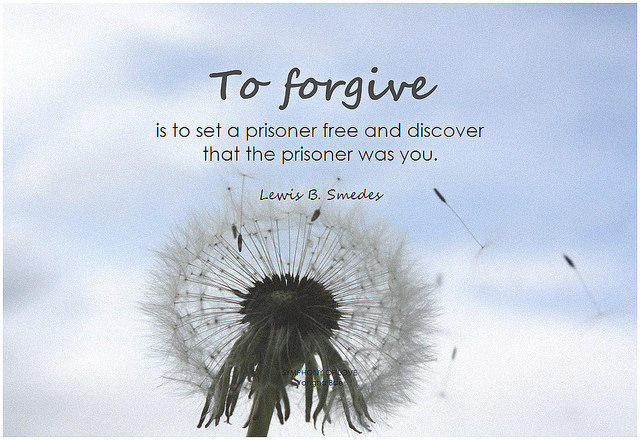 What is forgiveness to you?
To me it is re-embracing something we shut out, with love.
To do this we need to know what was shut out in the first place.
It can take a long time before we find out what it is that actually bothers us. What it is that we want to keep at a distance from our vulnerable heart. What it is that is keeping a hold on us BECAUSE we are pushing it away. We feel so threatened by it somehow that we don't even want to look at it, believing it will have more power over us then it already does when we acknowledge it.
How do we push something out of our heartspace?
I think it's blame. Wether we are blaming a part of ourselves or someone else for the pain we have, this is a sure way to push someone out of our hearts and make the pain unavailable to work with.
What does it take to forgive?
I think it is courage.
The courage in the strength of our own heart. The knowledge that we will not die when we re-embrace what or who was hurting us in to our heart. . I know this is such a challenge when something has hurt you so bad... I believe sometimes that I WILL die when I let the person I am currently holding out of my heartspace back in. I am still gathering courage.
But when we let someone back in to our hearts doesn't that mean that we can get hurt all over again?
Yes.. it does...but not in the same way. I believe the re-embracing something that was shut out of our heart with courage is a final step in the forgiveness proces that sublimates the relationship at least from your side. Which means you can't get hurt the same way. The relationship, if you chose to still have one, will have evolved because you did your inner work on it and there may be lessons to come but not the same ones. Phew, I gues sthat is some consolation.
One thing I love about Steemit is that while writing things become clear to me.
I think I have just gathered courage from my own post and I am one step closer to the final step of forgiveness of the person I have shut out of my heart.
It is my belief that our hearts are big enough to hold the whole of creation. And when we shut things out, we become vulnerable to those things because they become our blind spots.
How to take the necessary distance from something or someone that is not helping you?
We can of course take distance and we don't have to be emotionally involved with someone, but to intentionally keep our love from flowing towards that person is just hurting our selves. If we see love as life force energy it is just natural for it to flow anywhere and not be barred to do so. It creates blockages when we limit it. We limit ourselves with it. It is almost like we are creating a black hole by barring our life force it collapses onto itself and starts sucking everything in. It becomes reversed life force: pain. Life force needs to flow freely.
I think it is possible to take our distance and not be emotionally involved with someone but still have our life force flow towards them, connecting us in a neutral way, in the way that all of life is connected.
I chose love and trust again and again.
Oh dear.... I read my post again and see that I wrote it about forgiving someone else and it was meant to be about self forgiveness. I guess I haven't really found out how forgiving myself is linked to not being able to forgive another yet...
Apologies. xx
Lots of Love Clara
This was an ecotrain post, for more go to @ecotrain