The monsoonal deluge continues across Asia, and suddenly the bamboo sprouts. Shoots. Takes off in ways that have to be seen to be believed. And the Thai people have a very practical strategy for dealing with anything that comes in massive abundance (read glut) in a short space of time - they EAT it. Whether that be fruit, bugs, snakes, frogs, or bamboo shoots. They're not fussy. Add chili & lime juice, or toss it in a spicy curry.
My first brush with bamboo was in a hospital room in Australia eons ago, where I was a long term patient. Ironically she who could not walk at that time had her own courtyard, fringed with the most delicate bamboo. It whispered to me through long solitary days and even longer nights, when I would beg the nurses not to close the drapes so I could watch the shadows. It danced and shared its own gentle medicine, just by virtue of its form and the rustle of its leaves.

FFWD to Chiang Mai, Northern Thailand, 2018 and there is nothing delicate or romantic about bamboo here. It is best approached with a sharp machete in the garden. Springs and shoots EVERYwhere at this time of the year. Some varieties can grow up to 12 inches in a week.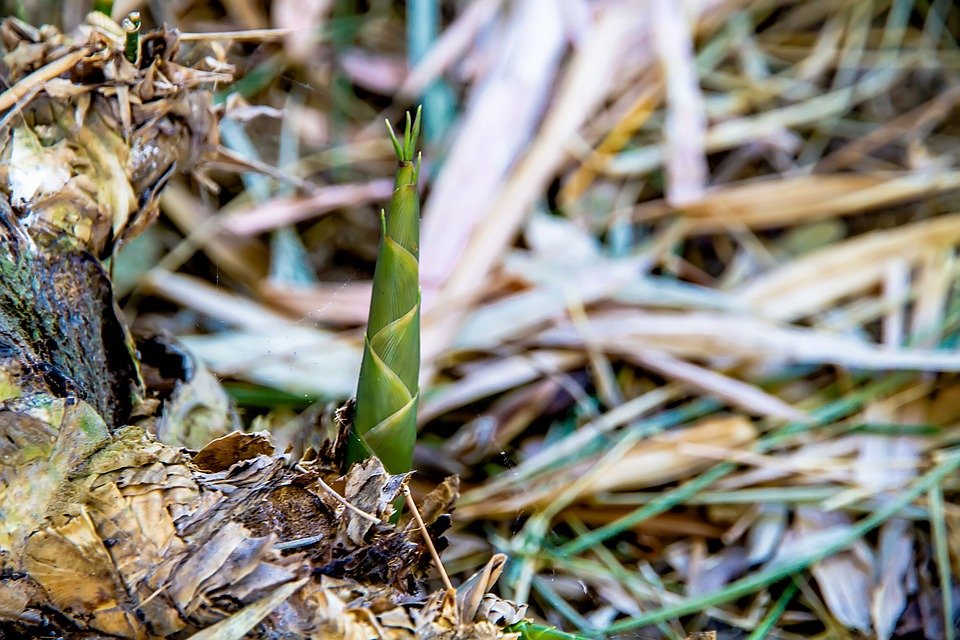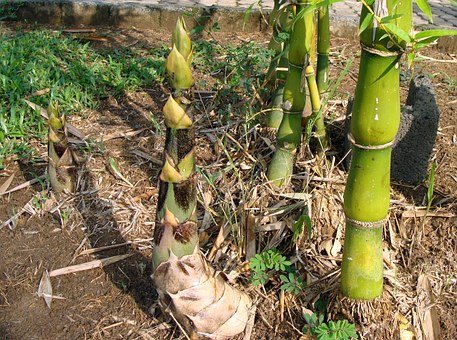 And then, it arrives in the local Thai wet markets, looking like this: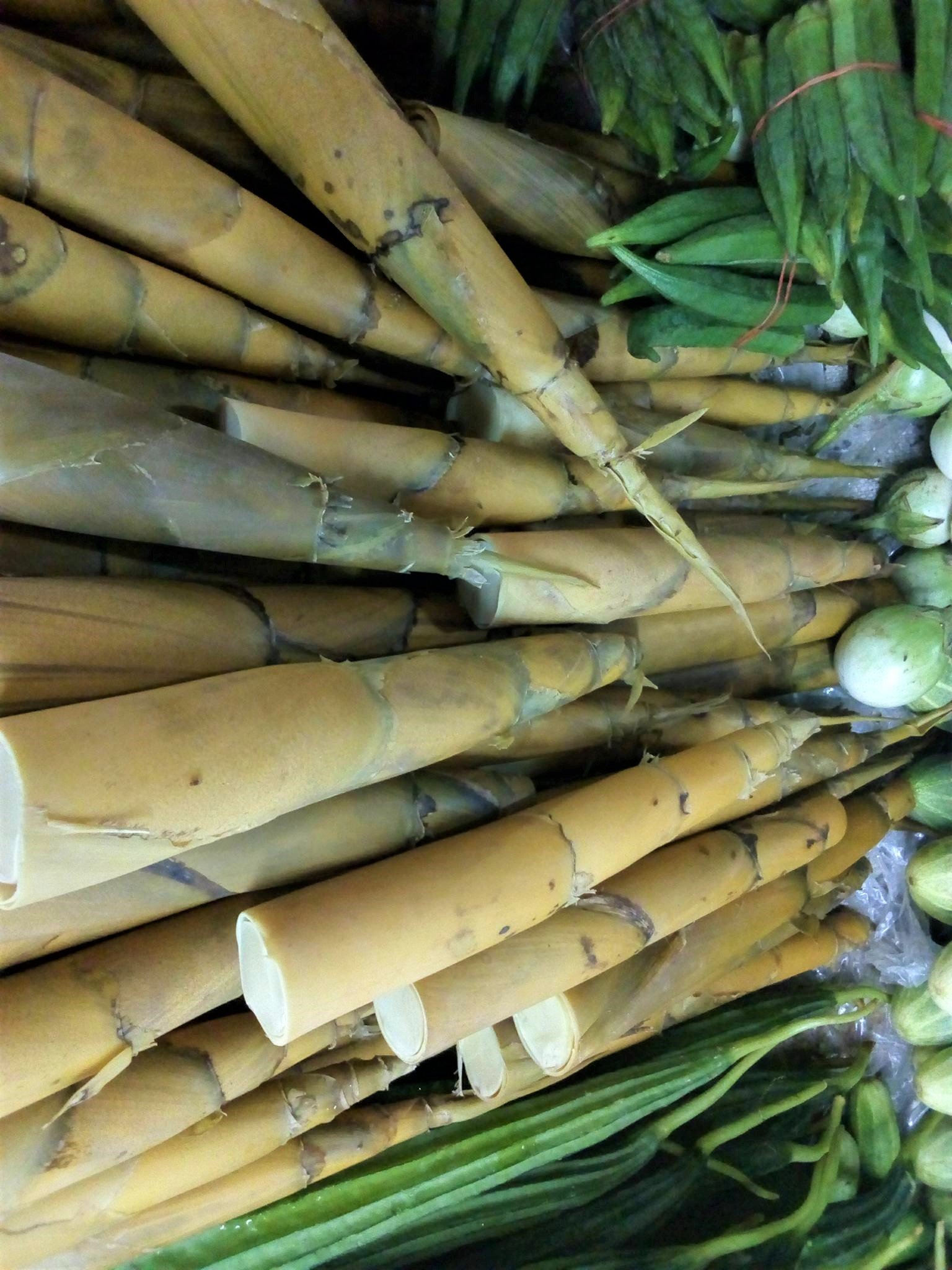 Uncooked, straight from the jungle and requiring you to boil them yourself
or like this: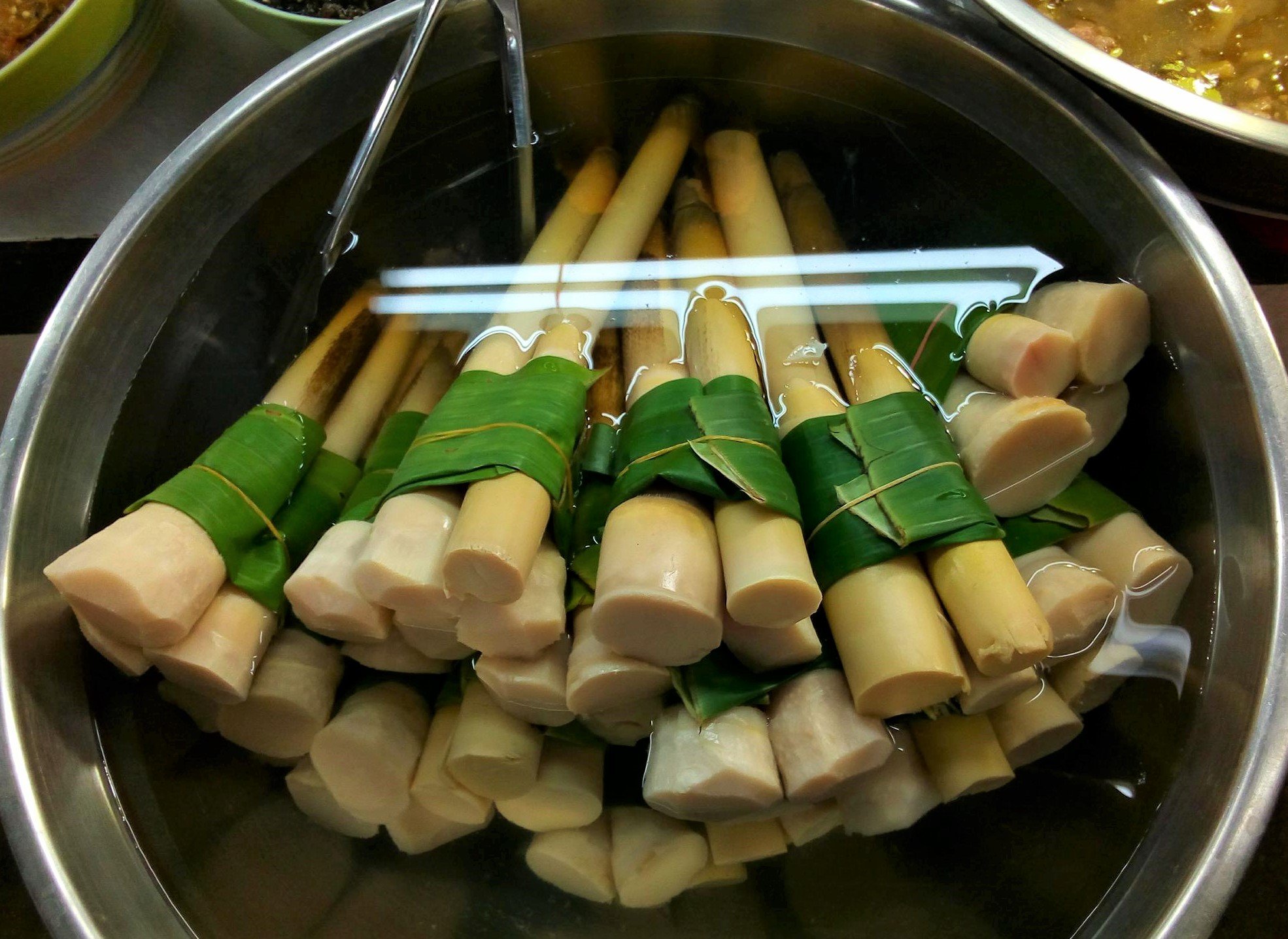 Thai fast food equivalent, where some nice grandma has done the hard work for you. Note the lovely sustainable packaging of banana leaf and compostable rubber band.
Bamboo shoots are usually chopped up and tossed in a spicy curry. They are the food of poor people - cheap, filling and abundant.
But what is SO AMAZING to me are their natural medicine qualities. Bamboo is seriously under-rated as a food, except by the old Thai grandmas, who smile and nod wisely when I ask about their shoots.
The biggest, and most surprising, natural medicine benefits:
Being very high in potassium, they help to lower and maintain blood pressure. This also makes them a great food to enjoy after heavy sweating or fever;
Ayurveda has, for thousands of years, used bamboo shoots to help the body manage the venom after snake an scorpion bites;
The boiling water from bamboo shoots mixed with honey is wonderful for respiratory conditions, colds and flu;
The juice from fresh bamboo shoots is great jungle medicine and useful for wound cleaning and tropical skin ulcers;
Internally, bamboo shoots help treat digestive orders and stomach ulcers;
Clinical studies show bamboo shoots as having properties to help manage and control blood cholesterol levels;
Bamboo shoots help crate a sense of fullness and so are wonderful for helping with weight loss.
There are other claims of anti-cancer properties, pain relief, anti-inflammation etc but the studies simply haven't been done. Arguably they are not needed, as most people in Asia already KNOW this is medicine food. But you can read more here: https://www.organicfacts.net/health-benefits/other/health-benefits-of-bamboo-shoots.html
The nutrient levels are surprising: bamboo shoots contain vitamin A, vitamin B6, vitamin E, thiamin, riboflavin, niacin, folate and pantothenic acid, calcium, magnesium, phosphorus, potassium, sodium, zinc, copper, manganese, selenium and iron. And almost no sugar and no fat.
My favourite way to eat them? a spicy Thai red northern jungle curry (water based, not coconut milk based) with fresh monsoon season mushrooms.
And so we explore and appreciate the abundance of Mother Earth, and receive her medicine. No need for western style intensive agriculture or chemicals - bamboo thrives in a natural forest environment, renews itself endlessly, and is arguably one of the most sustainable & useful Asian plants. That sustainability makes it medicine to my mind, while the rustle of the early monsoonal breezes through its leaves never fails to heal and soothe my spirit.
BlissednBlessed.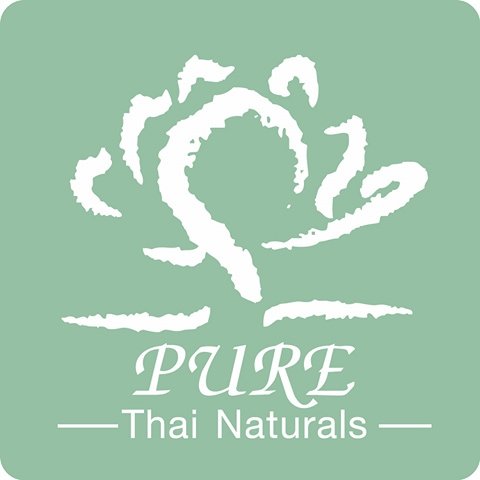 Pure Thai Naturals
@ecoTrain
Eco-Green-Sustainable content on Steemit

Supporting People Who Help Make The World A Better Place
Discover previous ecoTrain magazines at @ecoTrain or read more here: https://steemit.com/steemit/@ecotrain/what-is-the-ecotrain-in-a-nut-shell If you are new to Steemit, love to write, and would like to join the ecoTrain community as an official passenger, please email to steemit.eco.train@gmail.com


Proud member of the SMG – supporting quality steem content & cutting edge community initiatives on the blockchain. You can find us on discord

Grateful for the curation and support of @tribesteemup

Proudly contributing to @naturalmedicine

A member of the new @freedomtribe