The entwined threads of the ancient Vedic Divali festival - shining the light and finding your way home - were celebrated in a myriad of ways by an eclectic group of locals, travelers and guests here in Chiang Mai who all were drawn to the simple ethos of community, light, health, joy and Mother Earth as our shared home. There was so much gentle connection, laughter, lightness and meaning - far more than I can ever hope to share. Let it be said my daughter and I spent 9 hours fully engaged in everything from yoga to eating to our first ever traditional Indian dancing class LOL, and came home simply glowing in mind, body and spirit. Our deepest thanks to Khun Ritthee and Amaravati Welness Center, Kru Jeaw and Kru Jin, Khun Ari and all of the other amazing people who contributed.
I want to share with you ONE PART which moved me so much.
After lunch, under the guidance of Kru Jaew and Kru Jin, we collectively sat and made the flower mandala.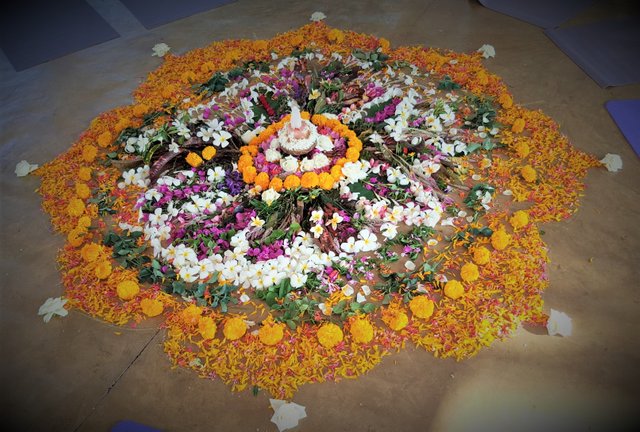 The flowers had been gathered and contributed with love and intent, and represented the joy and blessing of Mother Earth - Her abundance, beauty, fragrance, diversity and magic. There was only a very loose outline, almost no direction and we simply sat and contributed, as we felt to.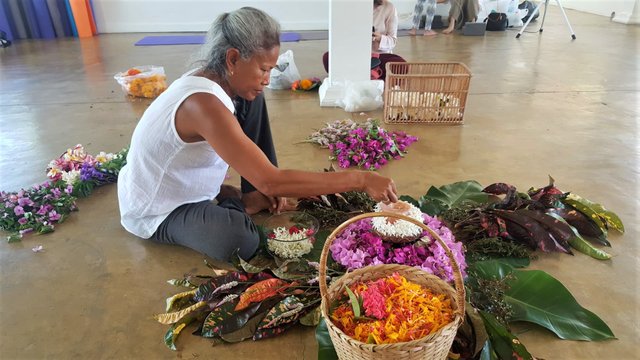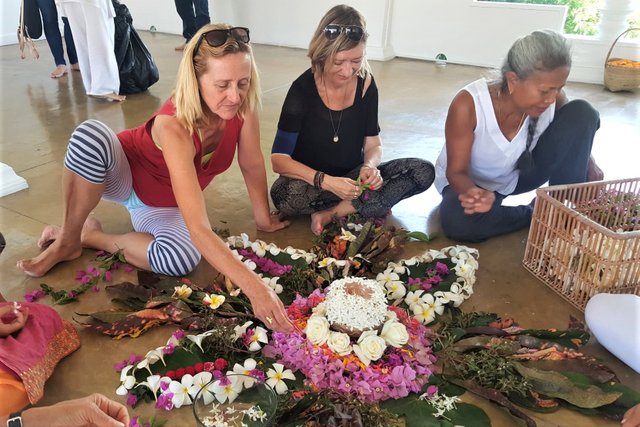 When we felt it was done, the others who had been lazing, drawing downstairs, eating and connecting over fragrant chai came back to join us, just as Khun Ari from Chiang Mai Holistic arrived with his singing bowls.
Wow and wow!! I was and remain entranced. I have no idea where my spirit wandered to during the half hour of ethereal sound healing, but I was far, far way. I came back to my body feeling very different and can only say that I will be seeking out more engagement with Khun Ari and his singing-healing-bowl magic.
It was only part of a very full day, but I felt so blessed - just experiencing the stream of light and the flow of community and connection amid the fragrance of the flowers and what felt like an echo of the deep hum of Mother Earth herself.
Thai culture and Thai Buddhism are BUILT on the ancient Vedic culture which enabled the rise and explosion of Buddhism. It felt so nice to feel the deep roots on which Thai culture draws so simply and heartfully celebrated by people from all around the globe. There was no "this is our way" or "your way is wrong". Just a harmonious, playful, casual and spirit-filled community day, with each of us mindfully sitting with the thoughts of being the light, and guiding-being-guided Home.
How did we feel after the flowers and singing bowls?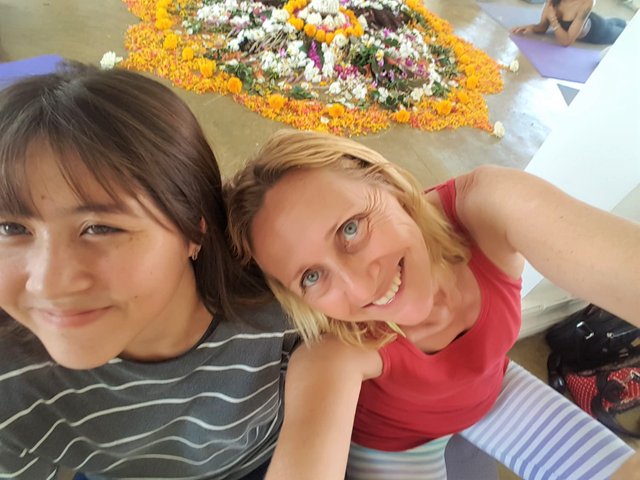 LOL. I DEFINITELY need some selfie lessons from Miss 15, but as awful as this photo is in some ways, in other ways it captured so well the clarity, playful lightness and simple joy we took away to treasure, remember and take home.
BlissednBlessed in my Thai natural world.
---
Originally posted on my own blog, My Natural Thai Life - connecting you with natural travel & natural lifestyle in Thailand.
---
Come check out my natural Thai herbal business…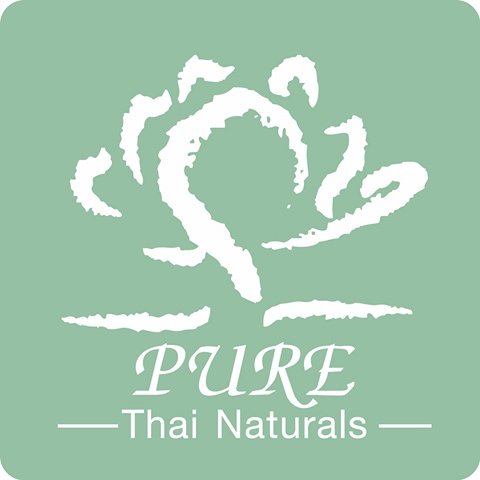 Pure Thai Naturals
@ecoTrain Quality Eco-Green-Sustainable Content on Steemit





Proudly contributing to @naturalmedicine




Grateful for the curation and support of @tribesteemup




Building a Better World with @innerblocks, Starting Within!





Celebrating and encouraging Freedom, Truth, Happiness, Life and Love with @freedomtribe