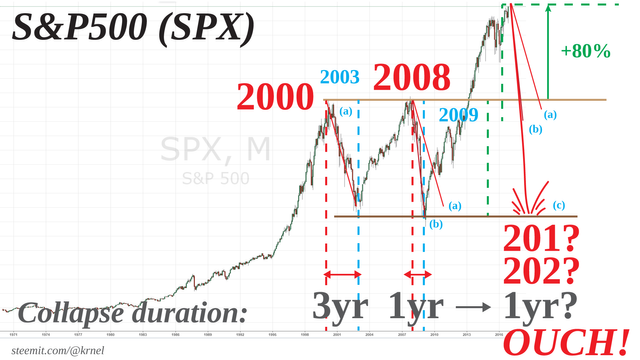 Trump was supposed to be bad for the economy. Before the election, all positive Trump news for winning sent little ripples through the markets in a negative way. Then Trump wins and it's super good for the SPX and USD at the same time. Things are great, right?
Maybe the markets are not ready to crash just yet... but maybe they are...
In 2000 there was the dot.com bubble collapse. The crash lasted under 3 years (a). Longer collapses "ease" the pain some say...
In 2008 there was the housing bubble with the subprime mortgages, CDOs and derivatives. The crash lasted for over 1 year this time (b).
In 2008 the top was the same as the previous top in 2000, and the fall was pretty much to the same bottom, but it fell slightly steeper (b).
Right now, we have gone up 80% more than the previous two tops compared to their collapse distances. Maybe we will go up a whole 100% to double the previous highs from 2000 and 2008? Or maybe we won't and it will crash, and crash HARD, in the coming years.
Taking the slopes of (a) 2000-2003 and (b) 2008-2009, and putting them at the apex where we are now at 80%, shows the previous slopes. Using the most recent and also most steep slope, continuing downward takes about 2 years. But if it crashes even harder, maybe less, maybe 1 year?
Why would it crash really hard? We never fell back to real levels in reality in 2003, nor in 2009. We just went back into artificial "recovery" mode. A real bottom has not been hit yet. We have to get back to reality of the 1970-1990 levels for things to really get corrected and not be inflated. So things could be even worse than a fall back to to bottom of 2003/2008. We could be in for a hell of a ride, with 180% drop to the partial correction of 2003/2009, or much worse with a possible 250% drop to around the levels before the modern artifical pumping started in the 90s.
---
@krnel
2013-11-24, 7:55am