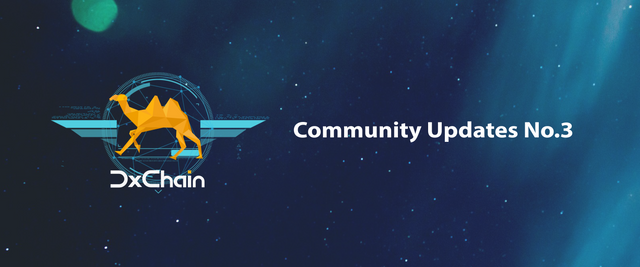 June has been an impressive month for DxChain!! And in this new update, we are so excited to share some good news with our community!👏
1. New Telegram Group
Thanks to everyone's support, currently we have nearly 100,000 members in our first community group, and we created a new group that around 26,000 people joined us and pay attention to our development. We appreciate all member's encouragement and accompany.
2. Newsletter Subscription
Welcome to add DxChain to your mailing list! We would like to provide the most valuable information and the latest updates to our supporters all over the world. So we encourage every supporter to subscribe to our newsletter.
Please also subscribe our Telegram Channel for everyday news: https://t.me/dxchainchannel
3. ETH Wallet Address
We have turned on the feature to let you set up the ETH wallet address with our bot now.
Please click the @dxchainbot and find "My Account" to set up the address.
Note: please set a ERC-20 compatible, non-exchange wallet.
4. Youtube Bounty Program
In order to let more people know about DxChain's revolutionary technical innovations, we started a Youtube Bounty Program. You can find more details here: https://steemit.com/blockchain/@jamesl/youtube-bounty-instruction
5. Chief Scientist Wei Wang's Interviews
Last week, DxChain's Co-founder and Chief Scientist Wei Wang accepted two interviews from the great cryptocurrency specialists Brad Laurie and CyptoZombie. During the interview, Wei stated that the blockchain technology has as much impact as the internet to the whole world and the grand vision of DxChain. Meanwhile, he also answered some questions about the token sale strategies. Please find some highlights of these two interview videos here:
https://www.youtube.com/channel/UCNIWZiYjMKVjF1LIY9uIslg
We are so excited about the collaboration with our supporters and would like to spread the word of DxChain. Each of you assisted us during the initial stages of the project. Thank you!
We're now moving to the next step and will announce the public sale strategy soon. Please stay tuned: https://t.me/dxchainchannel.
Follow Us:
Twitter: https://twitter.com/DxChainNetwork
Youtube: https://www.youtube.com/c/dxchain