Hello Community members,
Thank you all for your support and passion!! Last week, DxChain's Co-founder and Chief Scientist Wei Wang was invited to have deep conversations with two great cryptocurrency specialists Brad Laurie and CyptoZombie. Wei explained the major innovations and the grand vision of DxChain, and also answered some questions about the token sale strategies. Please find some highlights of these two interview videos here:
https://www.youtube.com/channel/UCNIWZiYjMKVjF1LIY9uIslg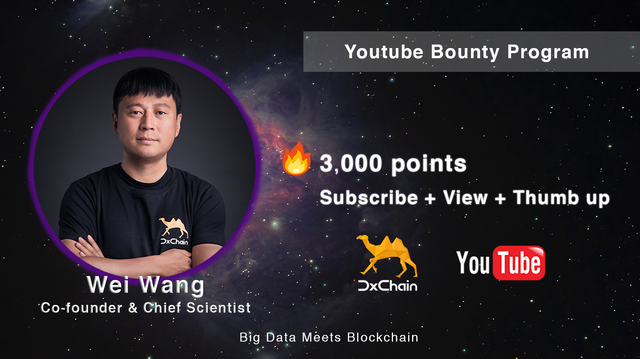 In order to let more people know about DxChain and DxChain's revolutionary technical innovations, we decided to start a Youtube Bounty Program and provide rewards to our supporters who help us spread our videos.
Earn 3,000 points by subscribing DxChain Youtube Channel, watching and clicking thumb-up for the video.
Steps to Participate:
Start @dxchainbot to join the Youtube Bounty
Subscribe to DxChain YouTube Channel
Watch and like the video
Send proof via screenshot of the whole page
(※Notice: the screenshot should contain the video, title of the video, the "subscribed" button, your thumb-up and your YouTube account.)





(Screenshot Sample for Phone)




------------





(Screenshot Sample for PC)
Instruction video for Phone:

Instruction video for PC: