Invest in Dustsweeper
Delegate and earn money from each Dustsweeper deposit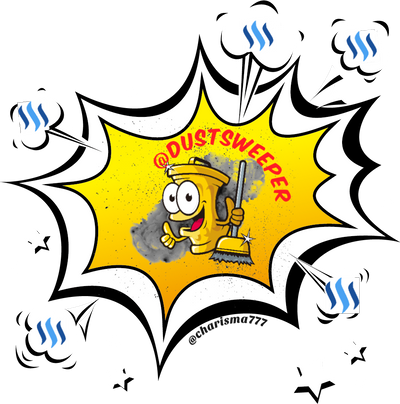 In the latest Dustsweeper update you could read about Dusty's 1 year anniversary and the new opportunity to earn money by delegating to Dustsweeper. Read more in the latest Dustsweeper Update.
In this post I will provide you with an update of this new delegation system, show you some stats and provide a run-down of the steps to get started.
What you need to know
Dustsweeper is in need of SP, a lot of SP, to be able to support users and sweep up the dust on their posts and comments. Since the beginning, Dustsweeper has grown by renting SP using the Minnowbooster delegation market. The money received from users topping up their accounts has been spent to rent SP. In addition, Dustsweeper has also been fortunate to receive a few free donations from kind users.
As Dusty needs SP, we thought it would be cool if users, investors, or kind people in general, could delegate to Dustsweeper and earn something for doing so. By delegating to Dusty you help Dusty help others. :smile: And you get paid for it!
How do I get started?
Delegate any amount to @dustsweeper. That is it!
You don't need to register and you don't need to be an existing Dustsweeper user. Just delegate SP to @dustsweeper and you will start to receive Daily payouts. 5K SP is currently the max threshold. Delegating more than 5K won't earn you any more profit.
Where is the profit coming from?
Dustsweeper users top-up their accounts with STEEM or SBD. Dustsweeper keeps track of the balance for each user and subtracts from it whenever a post/comment, that falls below the dust payout level, is voted on.
These top-ups/deposits will now be paid out to each delegator. For example, if you delegate 5K SP, out of Dusty's total 20K SP, you will receive 25% of every top-up.
How is payout working?
You will receive payouts separately for SBD and STEEM. Profits above 0.001 will be paid out daily. Smaller amounts will be accumulated and paid out as soon as it reaches 0.001.
Expected Return On Investment (ROI)
It is impossible to provide an exact ROI figure as it will fluctuate greatly. It all depends on the amounts deposited to Dustsweeper every week. But looking at the average over a number of different periods, a fair earning estimate is around 3 STEEM per week for a 1000 SP delegation.
Converting that into a yearly ROI, we are talking about roughly 16%.
Upcoming HF21
You are probably aware of the ongoing work with HF21 and the changes it will introduce. One that will have a direct impact on Dustsweeper, is the move away from a linear reward curve. The suggested convergent linear curve will drastically reduce the rewards in the beginning and then gradually converge into the current linear reward curve as profits go up. So for anyone wanting to hand out a small reward, something like $0.02, exactly what Dustsweeper is doing, a lot more power will be required.
So if everything will fly with HF21, this will probably be the end of Dustsweeper, I'm afraid...
Overall, HF21 is trying to fix the current unbalance, to encourage quality content by making curation more profitable and by making vote bots less worthwhile. The changes suggested might not be enough, but at least it is a step in the right direction.
So while you might be upset how these changes will impact Dusty, I hope you can appreciate the bigger picture and how these changes can help improve the STEEM blockchain. So just let's hope that a majority of the SP currently delegated to bid bots will be used for curation instead.
Timing of releasing this delegation service a few weeks back might not have been the best, but until HF21 is a fact please feel free to use it, to support Dustsweeper and it's users.
We will keep you up to date about HF21 and how it exactly will impact Dustsweeper users.
---
Please consider voting me as a Witness.

---