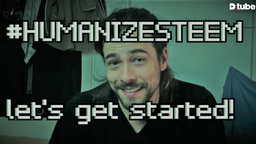 ---


Hey my friend!
@jeanlucsr brought up an important topic and I needed to record this kind of video response or sign of appreciation and agreement with his last video.
I was thinking as well about recording such a video (again) after some weeks observing the comment section of steem posts and dtube videos. Now the time is right to join @jeanlucsr on his journey to more personal connections here via the tag and new movement:
We have a big opportunity with this social network called the steem blockchain and we should use all possible methods to connect with others and sharing knowledge and our opinion on several topics. The majority of users are inactive or here to post and run away. I am glad that you are not that kind of user ;)
Feel free to share some love and follow the hashtag #HumanizeSteem and @jeanlucsr. Together we can make a big difference in engagement on this blockchain and together we can climb over that big wall of demotivation and procrastination. Let's just chat in the comments!
by the way: I now that I need to learn to color grade my videos better :P Its a learning curve and I got the first 1% of it :D
Thanks for your time to watch the video, read this post and to check out @jeanlucsr and his video:
https://steemit.com/dtube/@jeanlucsr/gkatgx34
Peace!


check out my other social media channels:
---
▶️ DTube
▶️ IPFS