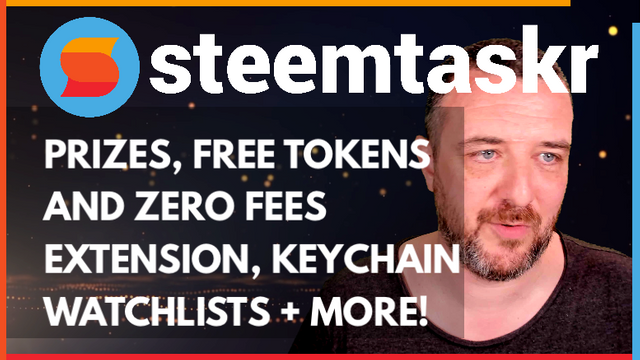 ---
I wanted to get my template all setup for this and I'm going to improve on this in the coming weeks ahead, better animations, slides and updates and maybe little video chats with people who are hiring people using the platform paying them in steem!
@revo has been super busy pushing updates to the platform so I quickly wanted to do a video about some of those things he mentioned in his latest post, https://steemit.com/steemtaskr/@steemtaskr/steemtaskr-updates-steem-monsters-tournament — don't forget if you simply share (resteem) that post you'll get some TSKR tokens which you can use AFTER may for listing things on the platform, pretty sweet deal!
If you are a steemmonsters gamer you will have probably seen the contest also to win some STEEM but also some TOKENS, a neat way to get attention and interest in your dApp by hosting on another decentralised application in the blockchain that is popular, what a great platform that you can run your own events and target other products and services in the ecosystem right?

I've been a top 10% seller on upward for a few years (dayleeo 1%) so we both know how to work/deal with clients in centralised land and we have learned a lot about the 'feed' of jobs on a daily basis of the people that want a video to go viral and the people than wanted something doing yesterday, I truly believe we can get a bit of that marketshare here on the steem blockchain with the right promotion and storytelling.
I'll be listing some @steemcasting tasks I want done (might be content or just a video response to a question) that I can use as content for the stream(s) and I'll use @steemtaskr to pay for those tasks from the people I reach out too, I could pay them directly of course but why not just also put it out to others and point them to the frontend? — I think over time we can have quite the market place of tasks here.
Check it out, list a task you want doing, even if it's just for a couple of steem and you can think of something that would save you some time, maybe even your clients? — next for me is to start to look around for friends on social networks and see what skills they can offer and around the blockchain as well, I know we have some great video, audio and animators here and they should all have a prime position on the site!
Anyway, that's it for me for now, I'll be back once I've started listing some tasks on the website and if you can think of anyone who offers a great service on the chain and accepts steem let me know! — I'm gonna ask @revisesociology to see if he can setup a job on @steemtaskr and accept me for it so he can step through the system to see how it works to get some feed back on it! (I know he has another steem task for me you see, repeat business, that's what we want right?)
Cheers,
__HUMBLE













pinterest epic wins pinboard → brand advocate for nokia, 1000heads, verisign → won vloggie for node666 (san fran 2006) → television for time team history hunters 1999 → sold me.dm to evan williams in april 2011 → went to phil campbell, alabama to help raise money after tornado (was on sky news, bbc news)→ CNN for sxsw 2013 about austin sxsw → video chat with robert scoble → music video can you spot me?


---
▶️ DTube
▶️ IPFS