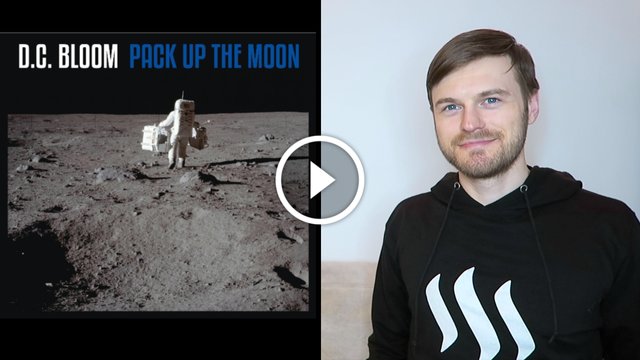 ---
In todays exclusive DTube video it's time for another episode of #Musicmonday and this time I'm looking at D.C. Bloom and his album 'Pack up The Moon'. This album takes me on a journey I didn't even know I wanted to go on! Many artists these days have no real reason to write songs or create an album, D.C. Bloom is certainly not one of those as he finished this album 2 years after suffering from a triple stroke that has left him in a wheelchair. Listen to the album here: https://www.reverbnation.com/dcbloom
I listen to tons of new music every day and I usually do other things, such as going shopping or working, but when I pressed play on the first track called 'Saint of all Lost Causes' I dropped everything as this got my full attention immediately. The quality of this track is top notch, the acoustic guitar sounds sweet, everything is mixed and mastered perfectly. All of this is nothing unusual these days, however the lyrics really set this song miles apart from 99% of the music I usually listen to. Take a look at the first verse:
My pencil's got a flat tire erasing where I've been
But there's thoughts that still need saying on this road from here to then
The past can't be forgotten and that pain won't go away
This sinner's holy water's raining down on All Saint's Day
While the lyrics are very deep and thoughtful, the instruments compliment the lyrics not by being overly sad or dramatic, but by being very hopeful and bittersweet. My favourite part of the song is the middle part where he sings the following lines:
I don't blame you for the leaving
I just need to understand
I just want what we began
The second track is called 'Braced For the Big One' and while the lyrics are once again very serious, the song itself is very upbeat and almost happy. This tune features amazing electric guitar work and the solo in the middle of the track blows me away. The chorus of this song is something that should be taught in schools; read the following lines and remember them as fate is coming for all of us:
Brace yourself against the cold hard hands of fate
Hands of fate that hold the cup
Brace yourself and try not to give up
Song number three features another amazing acoustic guitar intro similar to the first track and once again this artist shows his wisdom in the lyrics paired with perfect sounds from every single instrument that was used.
The fourth track is something that people all over the world should listen to, however Americans really need to hear this, especially this part:
There's a refuge for every refugee seeking shelter from troubled lands
There's a rock and a foundation in the midst of shifting sands
There' are home fires for the homeless on those dank and bone cold nights
There are eyes of understanding, eyes of empathy with hopeful sight
Track 5 is called 'Gone with the Texas Wind' and this is another top notch country track and it really shows that D.C. Bloom has been getting paid by the word since the Ford Administration. A former speechwriter for the FBI and the CEOs of several name brand, money grubbing corporate entities, Blooms songwriting skills are out of this world. Here is an example from track number 6:
We found our blessings in disguise just like money from the sky
Could they give both what we want and what we need?
Every book has twists and turns, lessons lived are lessons learned
Every chapter filled with blessings in disguise
Song number 7 is called 'Gospel Plow' and it features outstanding piano work, especially the solo in the middle of the track and this is a nice change from the electric guitar and shows how versatile this album is. Speaking of versatility, the next song called 'outskirts of Paris' is something that is not only that, but also very surprising since it's a very different place to Texas. However Bloom captures the vibe of that place very well and once again it sounds beautiful.
The ninth track might just be my favourite of the record as it is very serious and philosophical. A good artist can say many things with few words. D.C. Bloom is one of those; take a look at the chorus and let it sink in:
Falling down, falling down, will the message on the wall leave no sign of you at all
Standing tall then falling down
The next song is called 'Still life composition' and this is another sweet-sounding acoustic anthem that you could listen to on repeat for hours. This track gives me almost a little Spanish vibes as the acoustic guitars play a melody that takes me to a nice, sunny place and it reminds me of 'truth and light and flowers'.
Just like track number nine Bloom says it all with just a few very powerful words in this tune:
There'll be an upside to this down
'Pack Up the Moon' is a song that I think should be the anthem to people on the deathbed, I could write an entire separate review on why this song is so great but just listen to it yourself and you will understand. Here's my favourite part:
Like Neil and Buzz on that tranquil day
Just grab your stuff, cart it all away
There ain't no need to linger long
Just find your groove and sing a wistful song, uh huh
The album ends with the song 'Going, Coming Home' and I might change my previous statement about 'Pack Up the Moon' as this song is just as good and a great song to end this album. All in all I have to say this album has a serious purpose, not just for the artist himself but also for anyone who might have to deal with death. Eventually, that will be all of us, hence I can only recommend you check out D.C. Blooms album 'Pack Up The Moon'.
Here is how Lone Star Music Magazine characterises his singular stylings: "Bloom evokes a cross between musical satirist Tom Lehrer and Harry Nilsson at his most whimsical, both lyrically and musically. There's a real craftsman at work here, a poet with a genuine heart and pearls of wisdom behind the wisecracking jester."
Listen to the album here:
https://www.reverbnation.com/dcbloom

Disclaimer: This is a sponsored review, however all opinions are my own. Content of the artist used in this post were used with permission, no copyright was violated.
---
▶️ DTube
▶️ IPFS