Don't Starve - Episode 1: Wigfrid "Valhalla Awaits!!!"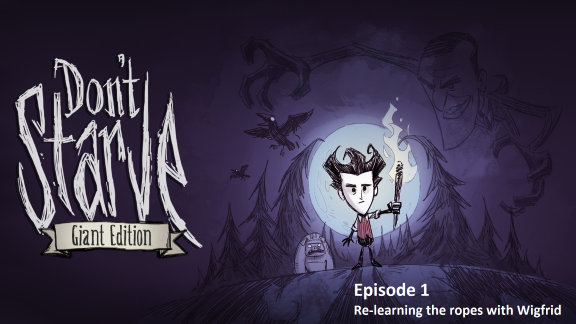 ---
This is my first ever "Let's Play" video. I was really anxious with making one as I don't have any experience with commentary while playing games. But in the end, I figure screw it, why not just give it shot, learn as I go, and have a little bit of fun along the way
My favorite part starts at 38:20 minutes.
I hope you get some entertainment value out of it. I plan on making an ongoing series here on Dtube.
Overview
Don't Starve is one of my all-time favorite indie games. It is an open-world survival based game where your sole objective is simply not to die within the tortuously world that you have been trapped in by Maxwell, the game's antagonist.
You start with almost nothing. Armed with only your wits, your objective is to scavenge the surrounding world for resources to starve off hunger, build shelter to brave the elements, and eventually find your way back home. Let me start off by saying most players never make it back home, partly because it is simply more fun to continue in the world indefinitely.
The game starts off pretty innocently, and besides for the "night-time", there are few monsters that will actively go out of their way to kill you on the first day. Provided you build a fire, you will (probably) survive your first few days. As the days goes by, the game ramps up the PAIN, and starts to periodically send waves of dogs to hunt your ass down. If you survive the onslaught, you soon realize that the dogs are the least of your problems.
The version of the game I am currently playing is Don't Starve: Reign of Giants. This DLC adds the addition of giants, which will spawn as you make it through the different seasons. Some of these giants will actively hunt you down and kill you.
I only scraped the surface here, so if you are interested in open-worlds, crafting, and get a kick out of giving the finger to death itself, than check it out.
I will be playing as Wigfrid on my very first play through. Let see how long I can last!!!
Thanks for reading
@strongerbeings
Image Source:
http://steamtradingcards.wikia.com/wiki
---
▶️ DTube
▶️ IPFS