Steve and Stella Show: Sex With Robots? Ep. 3 Stella Edit
---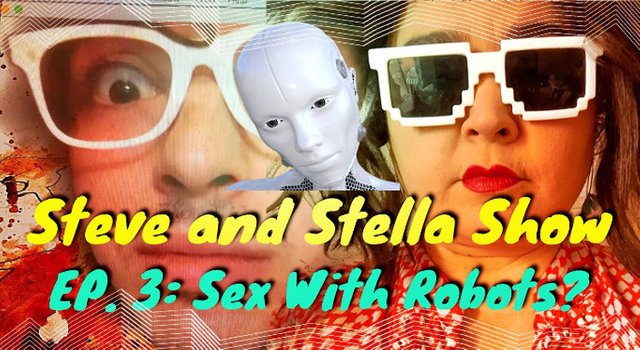 Welcome to a new episode of our show. In this one, we discuss the topic of sex with robots. Good or bad?
Steve and I did something interesting for this one, because we both edited 2 videos from the same source footage. I've always been interested in experimenting with this idea, to see how different people create unique things from the same source material.
Anyway, this is my version (Stella), which I hope you enjoy. Steve's is funnier, but I wanted to share with you what I came up with….the music in my edit is Grimes.
Go here to see Steve's crazier edit:
(he accidentally uploaded it to his personal account instead of our joint one)
Here's the YouTube version of my edit:
This post will be giving 10 SBD to a very inspirational Steemian, @steem4depoor. Go and see for yourself how amazing this person is and what he's doing to make the world a better place. Investing in people is the best investment you can make, because it not only fills their wallet, but it fills your soul in the process and changes way more lives than you can imagine. Shoutout to my boy @ackza who constantly finds these amazing shapeshifters in Planet Steem. If you don't know the amazing work of @ackza, check out his blog: https://steemit.com/@ackza
Some of you might be confused how I can walk the line between creating insane videos that one might think are "over the top" and being a person interested in "changing the world". I've thought long and hard about why vapid entertainment appeals to normies, and I have come to the conclusion that a lot of content which is "do good" and "intellectual" doesn't really interest people who are just barely making ends meet, and who do not have a lot of free time to contemplate deep topics.
I think back to when I was a corporate slave, working as a single mother, trying to support myself and my baby on a basic salary. I was so freaking tired all the time. I was either working for the man or taking care of my baby. I wasn't thinking deep thoughts. I was thinking like this: "Will I go broke?" "How will I get enough sleep tonight so I can get up in time for work tomorrow?" I certainly didn't have enough mental energy to make it through some super dense article about blockchain technology. I was worried about how my baby and I were going to eat that week.
Most people live on the edge of just barely making enough money to live. This is the current reality of where we are at as a species. I am interested in reaching as many people as possible, and so I choose the tools to reach them: comedy and over the top content that stands out. For me, I am an artist/writer first, philanthropist second. I want to explore the part of life that other people think is taboo. This has been my main deal since birth.
Having haters means that we are doing something right. Bring it on. And for all of you who criticize me, remember, I am one of the only Orcas who freely delegates my SP instead of charging to rent it out (@fulltimegeek and others who delegate freely, we love you).
And to @askmee, you're getting a shoutout in our next video. Thanks for being our loyal fan.
Keepin' The Blockchain Weird,
Steve and Stella
---
▶️ DTube
▶️ IPFS