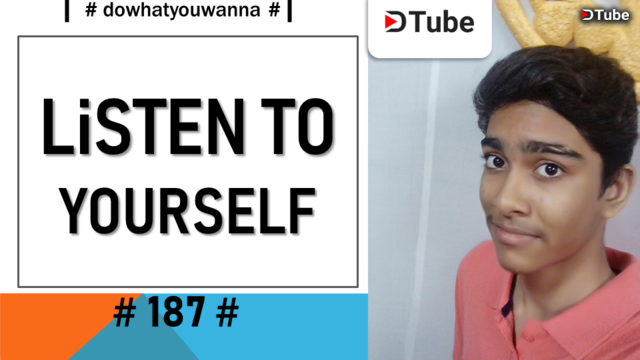 ---
Hi Guys,
I'm back here with another video for you all and the thing I've brought up is based upon the most confusive stuff that almost each person may have faced in their lives.
So it is all about taking decisions and the confusion that is caused when we're about to take a decision and we receive certain comments about it that are from the so called EXPERIENCED people and they give and explanation as they are more experienced and they have more knowledge.
So now were're in a state when we're about on a turning point where we have certain option to travel ahead.
So in this video I've described the things about how we can counter these situations and why these situations arises.
I Hope You'll Like This One ;)
Do Have a Look and Drop your opinions and questions below in the COMMENTS :D
Hope You'll Like this one..
Also Check Out -
He's a person who is willing to shower support on creators and people who deserve and educate people about crypto tech and aspired to serve a lot more to people with amazing upcoming projects
Know Him A Bit Better ~
https://steemit.com/steem/@singhcapital/hello-steem-singh-capital
Hit A FOLLOW on @singhcapital 's TWITTER Account
Also Check This Discord Group
India Crypto Alliance
AND IF YOU'RE LOOKING FOR A MOBILE #STEEM EXPERIENCE ON THE GO,
THEN DO CHECK OUT @PARTIKO
<a href="https://discord.gg/RbSPyqK%22%3E
JOIN DRISERS TODAY!!!
Meet You In The Next One ;D
Thanks A Lot For Stoppin By :D
---
▶️ DTube
▶️ IPFS