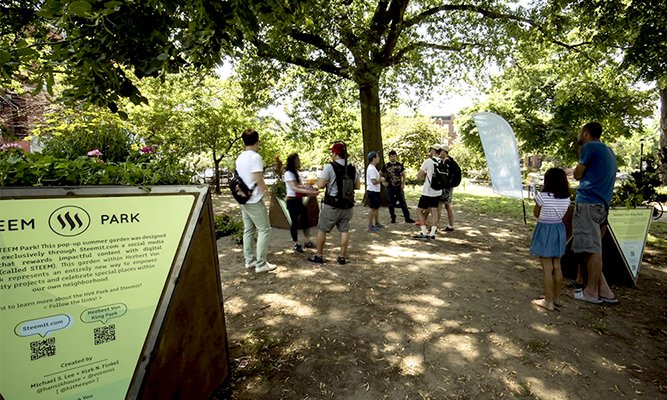 ---
The Place that STEEM Built
---
Here is a time lapse from the opening day of STEEM Park back in July. We had a blast meeting other Steemians and building this community project!
STEEM Park is a public garden designed and funded exclusively through Steemit.com, a social media website that rewards impactful content with digital currency (STEEM). This garden within Herbert von King Park represents an entirely new way to empower community projects and celebrate special places within our own neighborhoods. The project was created and executed by designers Kirk Finkel ( @voronoi ) and Michael Lee ( @hansikhouse ) of @sndbox. Learn more about this project, here.
When? : STEEM Park opened July 16th, 2017.
Where? : Herbert Von King Park in Brooklyn, New York.
A Sneak Peek Exclusively on DTube
---
Our team is so excited at the potential for DTube and exploring video-media on the blockchain. Stay tuned for more, the STEEM Park documentary is in it's final stages and should be released at the end of this month!
---

---
► Watch on DTube
► Watch Source (IPFS)