Stop No Knock Forced Entry Search Warrants NOW!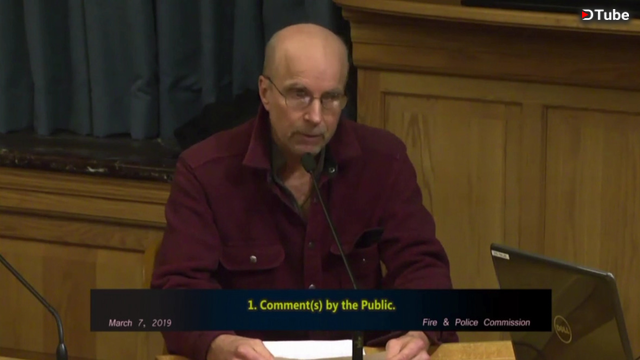 ---
Below is the statement I read during my public comments at the March 7, 2019 Milwaukee Fire and Police Commission's Regular Meeting. Because my time was limited to 2 minutes, I was not able to go into detail. I have added the additional information in parenthesis (and blockquoted) below.

Standard Operating Procedure Review and Changes are Required in Response to the death of MPD Officer Matthew Rittner
The execution of No Knock Forced Entry search warrants should be stopped immediately pending review and update of existing procedures.
(Per the example: Houston Police Ditch No Knock Warrants After Deadly Raid
Local CBS 58 News reporter David Schuman also covered this story.)
• The
Approach Considerations
and
Intervention Options
in the Use of Force SOP 460 must be carefully considered prior to the execution of a High Risk No Knock Forced Entry search warrant to guard the safety of everyone involved.
(The execution of a No Knock Forced Entry search warrant is obviosuly a "Use of Force" and therefore all possible approach considerations and intervention options should be employed. SOP 970 can have its own unique procedures or simply refer to the procedures in SOP 460 enhanced to consider search warrants.)
• Cannabis sales cannot be used in any way to justify a High Risk No Knock Forced Entry search warrant.
(I wanted to start modestly by focusing on Cannabis, but I think the War on ALL Drugs should be stopped). If the MPD's main focus was getting a dangerous gun trafficker off the streets, then why did they even bother using their confidential informant to purchase $60 worth of cannabis? Was the addition of the "Maintaining a Drug Trafficking Place" allegation required to justify the search warrant?
• The Risk level and whether or not it will be executed with a No Knock Forced Entry must be communicated to all persons involved in the Search Warrant prior to their approving it.
(Per SOP 970.25 Search Warrant Risk Assessment and Execution, the Search Warrant Risk Assessment Form (PW-3E) is completed by the Tactical Enforcement Team leader after the warrant has been approved by the Assistant District Attorney and Court Commissioner. I admit that I am not 100% sure that these "higher" authorities were not made aware that the action they were being asked to approve was considered High Risk or that it would be executed with No Knock. The Criminal Complaint against Jordan Fricke on page 3 says: "A "no knock" warrant was authorized due to the presence of firearms and the resulting threat to officer safety", but it is vague regarding "who" made this authorization. I have submitted an Open Records request with the MPD for the search warrant, which typically takes a few months to fulfill, and I will correct my mistake if necessary. And who makes the "cost/benefit" analysis to decide whether or not the action considered is worth the lives of Police members?)
• No Police member shall use a battering ram to create a hole in a door while standing in the breach when it is known or suspected that persons inside are armed.
(It is inconceivable to me that the MPD's procedures and Search Warrant Briefing Report (form PW-6E), do not consider and prevent the obvious danger to Police members of standing in the breach as they attempt to batter down a door. I have been informed that the fatal bullet that killed Officer Matthew Rittner entered his body through a seam in his bullet-proof vest. What other areas of his body were exposed?)
• If a Police member is killed or injured in the execution of a search warrant, then SOP 453 – Officer Involved Deaths and Other Critical Incidents shall apply.
(The importance of invoking this SOP is that the investigation is conducted by an outside entity. From my investigations so far, it appears that any investigation into Rittner's death will be done internally by the MPD. And it is not clear what the Standard Operating Procedures are for investigating the death or injury of a Police member in the execution of a No Knock Forced Entry search warrant. Is anyone accountable for putting a person in this grave danger?)
This SOP shall be updated to include the injury or death of a Police member during the execution of a search warrant.
(I do not see any other MPD SOP that explicitly addresses the death or injury of a Police member. On its face one would think that an SOP entitled "Officer Involved Deaths and Other Critical Incidents" would encompass the death of a Police member during the execution of a No Knock Forced Entry search warrant, but it does not. This SOP requires that the investigation be done by an outside law enforcement agency and this objective review is certainly in order in the case of a Police member who is killed while following orders.)
This SOP shall be updated to provide direction in executing a Forced Entry search warrant in conjunction with SOP 970 – Search Warrants. The Use of Force Committee shall review the execution of all Forced Entry search warrants.
(If the execution of a No Knock Forced Entry search warrant using heavily armed Police members wielding battering rams is not a "Use of Force", then what is?)
A new SOP – Confidential Informants
Standard Operating Procedures surrounding the use of confidential informants will be established to insure the truthfulness of the information gained.
(Because of the consensual nature of the transactions between sellers and buyers of controlled substances, law enforcement relies heavily on the use of confidential informants. Invariably, these individuals exchange their cooperation for a valuable consideration in the form of leniency in their own cases. In the events leading up to the death of Matthew Rittner, it is obvious that the confidential informant referenced is the "associate" of Mr. Jordan P. Fricke that purchased a gun at a trade show that somehow ended up in the hands of a felon who was caught with controlled substances. Extreme caution must be exercised in acting upon the statements of self-interested parties.)
Conclusion
MPD officers
Charles Irvine Jr.
,
Michael Michalski
and
Matthew Rittner
have died since June 2018 fighting the War on Drugs. The Government's attempt to control what people put into their bodies is causing the crime, fear and disorder that the MPD is attempting to reduce. The arbitrary criminalization of controlled substances has created an illegal market where drugs and guns proliferate. Was the death of Officer Matthew Rittner – a soldier in the Drug War – worth it? Will it stop straw purchases from being made at gun shows? Will it stop people from selling a few grams of cannabis to their friends? If we don't learn from these tragic Drug War casualties, then these MPD officers will have died in vain.
---
▶️ DTube
▶️ IPFS