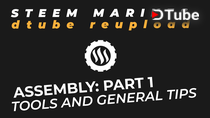 ---
My first video was uploaded but didn't actually work, it's still unknown why that video is broken. However, I have majorly compressed this video, so it should work.
Sorry for basically 2 uploads of the same thing, but It's the first time I've ever used d-tube. Using d-tube will be essential for this project, so figuring out how to successfully upload content is majorly important.
Thank you guys for being patient with me, and hopefully you can enjoy this content without any issues.
---
HEADS UP STEEM MARINES. Let's take a moment to pat ourselves on the back as we accomplish our first milestone of Steem Marine content. Our very first Video!
Now, if you're new to what STEEM MARINES are, they are a CUSTOM fictional Army based on STEEM Block chain technology. Our goal is to spread awareness of STEEM through high-quality content, high-quality paintjobs, and high-quality lore.
In this video, I walk you through on how what you need to assemble a Primaris Intercessor.
We go over the Tools, and general tips and how I go about assembling a miniature. If you folks ever wondered just how detailed or just what it takes to assemble a miniature, this will show you first hand what it's like.
I've spent about 2 hours recording the footage, and another 8-10 hours editing that footage. The fruits of my labor are 2 videos.
I hope you guys enjoy.
Also, we're still in the process of finding a Video editor, so keep in mind the next time you see footage from me, it will have a higher quality standard.
ALSO, We're still looking for fresh new recruits to come chat with us on the discord. The more people from the steemit platform the better! Come chat with us: https://discord.gg/eh5pcGJ
---
▶️ DTube
▶️ IPFS