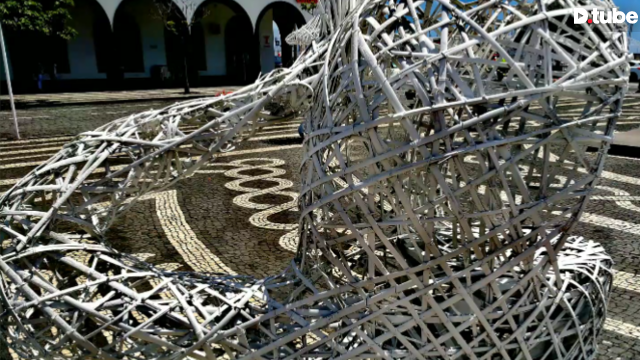 ---
white ocean
The "White Ocean" is celebrated for some years in Sao Miguel, Azores.
It is considered a hipster event and although it is about the cleanliness of the sea and nature, it is one of the dirtiest days in the small town.
The preparations run for several weeks, the streets are slowly being decorated, everywhere sea creatures hang around in the air or have been elaborately handcrafted in colossal execution.
Every year Dj's play here in the "white ocean party night" and different musicians have been booked to get the foot people to dance. You can hardly get a parking space that night, which is why I deliberately chose the word "foot people". It's much nicer to move with your two legs that night anyway. First of all, you can enjoy the visitors dressed totalo in white, because that's a rule at this one special night, and secondly you can watch how the ground is allowed to serve despite of several rubbish bins...
The "PDL White Ocean Party" is an event that takes place in the historical centre of Ponta Delgada, Portas do Mar and the Colosseum to create a kind of city within a city that shines completely in white, white should also stand here for purity. But basically, this event only invites everyone to give themselves completely to the light and music animations in a white environment and to celebrate in the best mood, to drink (in recycling cups of course!) and this with a lot of music, which is distributed on numerous stages in the city.
Charming Atlantis decorations make you dream of other times and you can admire some small circus performances. An enlightening moment, thanks to the light bulb.
Every summer Ponta Delgada dresses in white and experiences an ocean of emotions.
In 2018, despite the many rubbish bins, most of the dirt could be found on the streets. Broken bottles, glasses, empty packs, cigarette butts and a lot of puke... this year it was a little less, thanks to the repeated references to the rubbish bins, but about 200 cigarettes leftovers, in sticky liquid with puke chunks are not a more beautiful view.
I think the idea of the event is super nice, but "thanks" (irony) to the individual people there is still a lack of implementation. How can you have a fun party and not throw your dirt on the floor when the "white ocean" wants exactly the opposite?
I hope that this event will continue and that next year more conscious people will join the celebrations next to all the damn wanna-be hipsters and fashion ladies.
Video, Text and Photos made by myself. Peace
oceano branco
O "Oceano Branco" é celebrado há alguns anos em São Miguel, Açores.
É considerado um evento hipster e embora seja sobre a limpeza do mar e da natureza, é um dos dias mais sujos da pequena cidade.
Os preparativos duram várias semanas, as ruas estão a ser lentamente decoradas, por todo o lado criaturas marinhas penduradas no ar ou foram elaboradas artesanalmente com uma execução colossal.
Todos os anos a peça de Dj aqui na "noite da festa do oceano branco" e diferentes músicos têm sido agendados para levar o povo do pé a dançar. Você dificilmente consegue um lugar de estacionamento naquela noite, e é por isso que eu escolhi deliberadamente a palavra "foot people". É muito mais agradável se mover com suas duas pernas naquela noite de qualquer maneira. Primeiro de tudo, você pode desfrutar dos visitantes vestidos de totalo em branco, porque essa é uma regra nesta noite especial, e em segundo lugar, você pode ver como o chão é permitido servir apesar de várias lixeiras....
A "PDL White Ocean Party" é um evento que tem lugar no centro histórico de Ponta Delgada, nas Portas do Mar e no Coliseu para criar uma espécie de cidade dentro de uma cidade que brilha completamente em branco, o branco também deve estar aqui pela pureza. Mas, basicamente, este evento só convida a que todos se entreguem completamente às animações de luz e música num ambiente branco e a celebrar com o melhor humor, a beber (em copos de reciclagem, claro!) e isto com muita música, que é distribuída em inúmeros palcos da cidade.
As encantadoras decorações Atlantis fazem-te sonhar com outros tempos e podes admirar alguns pequenos espectáculos de circo. Um momento esclarecedor, graças à lâmpada.
Todos os Verões Ponta Delgada veste-se de branco e experimenta um oceano de emoções.
Em 2018, apesar dos muitos caixotes do lixo, a maior parte da sujidade podia ser encontrada nas ruas. Garrafas partidas, copos, maços vazios, pontas de cigarro e muito vomitado... este ano foi um pouco menos, graças às repetidas referências aos caixotes do lixo, mas cerca de 200 restos de cigarros, em líquido pegajoso com pedaços de vomitado não são uma vista mais bonita.
Eu acho que a idéia do evento é super agradável, mas "obrigado" (ironia) para as pessoas individuais ainda há uma falta de implementação. Como você pode ter uma festa divertida e não jogar sua sujeira no chão quando o "oceano branco" quer exatamente o oposto?
Espero que este evento continue e que no próximo ano pessoas mais conscientes se juntem às comemorações ao lado de todos os malditos hipsters e senhoras da moda.
Texto e fotos feitas por mim mesmo. Paz
weißes Meer...
Das "White Ocean" wird seit einigen Jahren in Sao Miguel, Azoren zelebriert.
Es gilt als Hipster Event und ist, obwohl es um die Sauberkeit des Meeres und der Natur geht, einer der dreckigsten Tage in der kleinen Stadt.
Die Vorbereitungen laufen mehrere Wochen, die Strassen werden langsam geschmückt, überall hängen Meereswesen in der Luft rum oder sind in aufwändiger Handarbeit in kolossaler Ausführung angefertigt worden.
Jedes Jahr legen Dj's hier in der "white ocean party night" auf und man hat unterschiedlichste Musiker gebucht, um das Fussvolk zum tanzen zu bewegen. Einen Parkplatz bekommt man in dieser Nacht kaum, weshalb ich mit Absicht das Wort "Fussvolk" wählte. Ist eh viel schöner in dieser Nacht mit den zwei Beinen sich fortzubewegen. Erstens darf man dann in den Genuss der weiß gekleideten Besucher kommen, denn das ist an dieser einen speziellen Nacht eine Regel, als auch zweitens man mit ansehen darf, wie trotz etlicher Mülleimer der Boden herhalten darf...
Die "PDL White Ocean Party" ist eine Veranstaltung, welche sich im historischen Zentrum von Ponta Delgada, Portas do Mar und dem Kolosseum abspielt, um eine Art Stadt in Stadt zu erschaffen, die vollständig in Weiß erstrahlt, Weiß soll hier auch für die Reinheit stehen. Doch im Grunde lädt diese Veranstaltung nur alle ein, sich in einer weißen Umgebung vollständig der Licht und Musik Animationen hinzugeben und mit bester Laune zu feiern, zu trinken (im natürlich Recycling Becher!) und dieses mit viel Musik, welche auf zahlreichen Bühnen in der Stadt verteilt ist.
Zauberhafte Atlantis Dekorationen lassen einen von anderen Zeiten träumen und man bestaunt manch eine kleine Zirkusaufführung. Ein erleuchtender Moment, dank der Glühbirne.
Ponta Delgada kleidet sich jedes Jahr im Sommer in Weiß und erlebt einen Ozean von Gefühlen.
Im Jahre 2018 war trotz der vielen Mülleimer der meiste Dreck auf den Straßen zu finden. Zerbrochene Flaschen, Gläser, leere Packungen, Zigaretten Stummel und viel Kotze... dieses Jahr war es schon etwas weniger, dank der sich immer wiederholenden Hinweise auf die Mülleimer, doch ca 200 Zigaretten Reste, in klebriger Flüssigkeit mit Kotzebrocken sind kein schönerer Anblick.
Auch wenn ich die Idee der Veranstaltung super finde, hapert es dank der einzelnen Menschen noch an der Umsetzung. Wie kann man ausgelassen feiern und seinen Dreck mir nichts dir nichts so auf den Boden schmeißen, wenn das "white ocean" doch genau das Gegenteil möchte?
Ich hoffe das dieses Event weitergeführt wird und im nächsten Jahr neben all den Möchtegern Hipsters und Fashion Ladys mehr bewußte Menschen mitfeiern.
Video, Text and Photos made by myself. Peace
other video sources: Youtube

#portugal #azores #party #streetfestival #streetphotography #impressions #photography #travel #blog #life #island #ocean #festival #cleanplanet #project #steemitblogger #steemit-austria #austria #ocd #ocd-resteem #powerhousecreatives #whiteocean #cleanocean
I hope @dtubechallenge and @travelfeed like this creative event.
---
▶️ DTube
▶️ IPFS