DTube Exclusive Video #121: Philippines VLOG!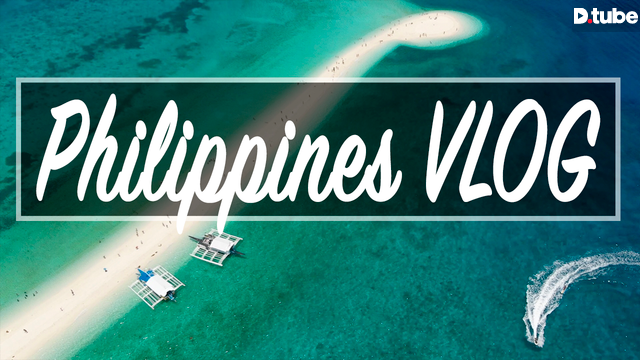 ---
Two words. Kalangamman. Island.
Mind blown.
Part II of the Southeast Asia trip VLOGS is HERE!
6 days in the Philippines was definitely not enough, but we tried to make the most of it and also have as many epic experiences as we could.
Y'all saw the highlights in the Philippines recap video, but on the vlog I wanted to show you some of the behind-the-scenes of what made visiting Kalangamman Island such an epic experience.
As we discuss in the vlog, there was a holiday going on and so there were over 500 people on the island, whereas we were told that there normally are only like 50-80 visitors per day.
But everything happens for a reason, and it led us to discover the backside of the island, which has another slightly submerged sandbar winding out into the sea. This is the one that you see Nick and I running on in the drone shots.
Travel has a funny way of showing you places you never could have imagined, even when you think you've seen all parts of a small island via the pictures online before even visiting (since Kalangamman is tiny, but has so many pictures online).
It reminded me of when I scouted out all the major spots in Mexico City before visiting, because I wanted to make sure that I got to check out as much as I could. I then went and visited all the spots, and it was amazing, but what blew my mind most wasn't any of that. It was when I was walking home one night and happened to pass an intersection that opened up to a massive marvel of architecture right before my eyes. El Palacio de Bellas Artes. The crazy thing is, that is still my favorite building in Mexico City, and it was one of the few that I never had even heard of before I stumbled upon it that night. Kind of hard to believe, since it's massive, and now I see pictures of it all the time, but it actually made it really special to see it in all it's wonder without having any reference for what awaited.
That kind is what I battle with sometimes when scouting a location, because I do want to know all the best spots to film at, but I kind of still want to be surprised and see things through fresh eyes, rather than after Google Earth searching them and then seeing 100 pictures before I even get there.
I don't have as much of an issue with doing that for natural wonders, because they always blow my mind when I see them in real life. Nature is powerful in that way. It truly inspires. And that's another reason why Kalangamman was so special. Because we saw what we expected from scouting the spot out, but it still blew our mind. And then the unplanned adventure on the other side of the island…well, let's just say it really doesn't get much better that that.
So grateful for the experience, and excited to visit more of the Philippines sometime in the future if I am given the opportunity!
-Jumpmaster
---
▶️ DTube
▶️ IPFS