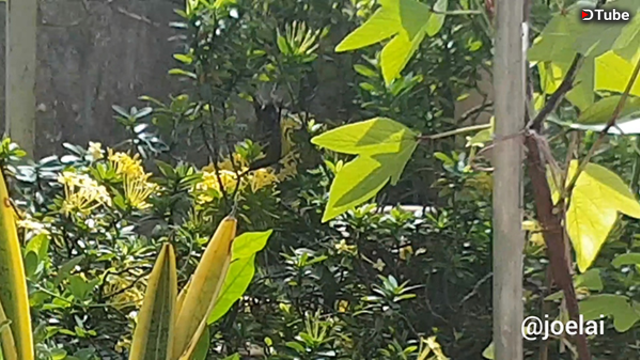 ---
Finally, I caught him on video! He is an Olive-backed Sunbird, also known as the Yellow-bellied Sunbird.
Sorry for the poor quality as I cannot get too close to him, so I have to zoom in to be able to get a larger view of this cheeky bird. He and his partner have a nest in front of our porch near the window for almost a year, by far this nest stay up there the longest compared to other nests, which they normally will tear down and rebuilt. They came back at least 3-4 times a year to make babies!
So now they have eggs and the female sunbird is sitting in the nest, and this fella is always flying around, getting food or like to go disturb the female sunbird, hahaha... This video is him going around my garden picking up food (I assumed).
I hope you guys like this video. I found this music that matched his speed and my body is shaking to this video, how about You?

Thank you for stopping by, this is a place where I can share the things I enjoy in life, art, gardening, nature, foods. This is why my divider above are filled with all the different kind of icons that I love doing. I hope you enjoy my post so far, leave me a comment if you like.
谢谢您的到访,这里是个我可以分享关于我所喜爱的生活,包括艺术,园艺,大自然,食物等等的地方。 这就是为什么我上面的页脚全都是我喜欢做的不同类型的图标。 我希望您喜欢我的帖子,如果您喜欢,不妨留下您的评语。


---
▶️ DTube
▶️ IPFS