The language of ivrit ( עברית ) Genesis 6, DTube Video #5
Welcome! We finished chapter six today
This is a milestone in our Hebrew reading & language series.
Continuing with Genesis 6:18-22
Last week we heard about the measurements of the ark and the levels that are to be built.
This week we read about a new covenant, who will be saved, and which kinds of living things will be arriving to come aboard.
And Noah did as God commanded.
I will be picking apart each word in Hebrew as we go today so please listen in.
---
Today's reading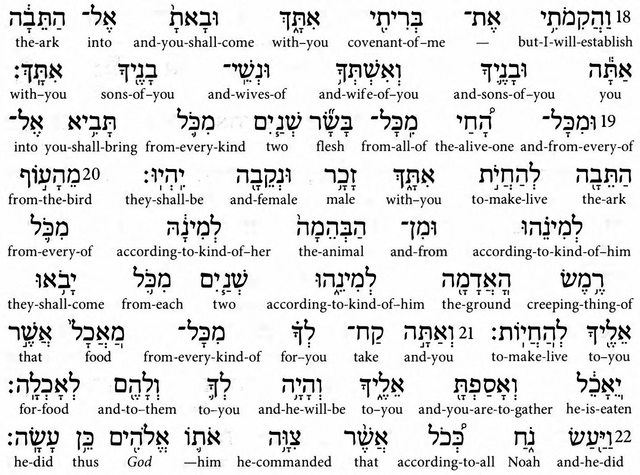 Here are the links
Please hit the DTube video link below and read the above passage with me in Hebrew.
---
▶️ DTube
▶️ IPFS
Info on each letter starting at the beginning
If you are just starting, my lessons are all here starting at Alef, adding vowels (the dots and lines) as we go, the sofit formations and numerical values. Just go to my blog and scroll to the bottom or click here
Get your Hebrew Bible now!
Click here to obtain the book we are using. It is a free download - or browser usable.
Thanks for taking the time to watch and read.
Shabbat Shalom