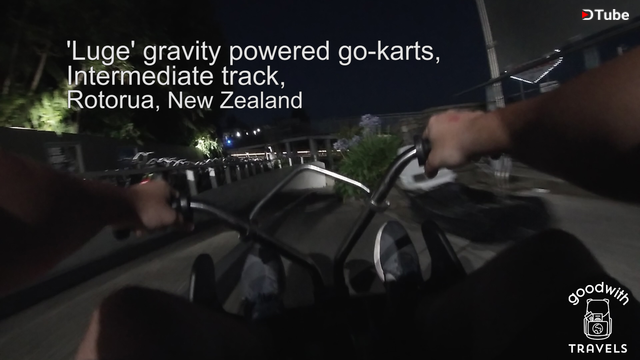 ---
I posted recently on Steemit of my trip to Rotorua's Skyline attraction, on the North Island of New Zealand.
Here, visitors can take part in a number of attractions and events, including wine tasting, a 400m zipwire, the famous 'luge' gravity go-karts, mountain biking, a giant swing and more.
Here, I've edited together one of the 6 runs I made on the luge.
This video, 2 of 3, shows the intermediate route.
For whatever reason, I decided at the time to narrate my navigation through the course, seemingly taking on an 'Alan Partridge' voice. Give him a quick look on YouTube if you've not heard of this parody character.
As you'll see in this clip, I had great fun racing down and doing my best to over-take fellow racers, as safely as possible.
These gravity go-karts are so called because they have NO power whatsoever, and they genuinely do not have a motor or power of any kind, other than the natural forces of gravity.
They're incredibly intuitive to use - simply sit inside and hold onto the lever. Pushing it forward or pulling it back will activate the brake, and momentum is reached only by holding the lever in a particular 'sweet spot.' This means if you were to let go, the brake would automatically be activated. Therefore, despite the ability to reach some quite impressive speeds down the hill, the brake and the helmet all visitors are required to wear meant that it certainly feels like a safe activity to take part in. A member of staff assured me that accidents beyond the occasional scrape are rare.
This type of power-less karting was a first for me, and one I thoroughly enjoyed. Friendly rivalry with fellow visitors combined with the beautiful scenery of New Zealand meant it was something I wanted to continue to do all day long if I could.
It was a hell of an experience, and as you can hopefully tell from the clip, one from which I took away great memories. As a result, it was most definitely an activity I'd recommend to anyone who happens to ever visit Rotorua on the North Island of New Zealand.
Peace,
Franck / @goodwithtravels
---
▶️ DTube
▶️ IPFS