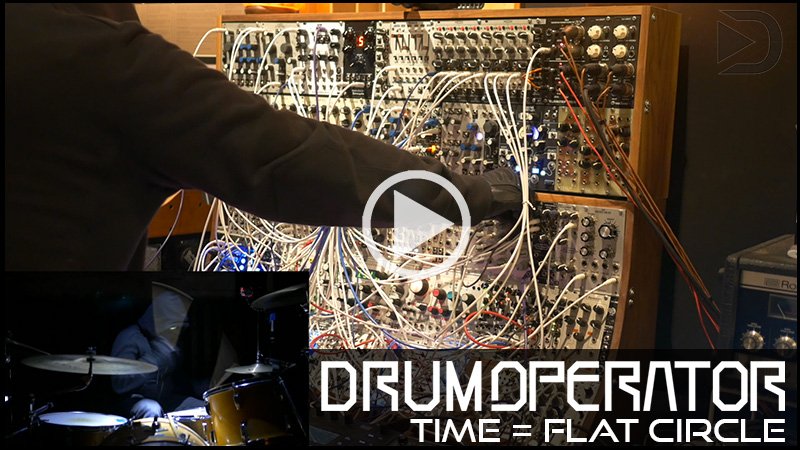 ---
Today I'm dropping a live performance (technically three concurrent live performances) of my new single, TIME = FLAT CIRCLE. What started as a series of menacing arpeggios quickly took shape after digging up one of my favorite clips of esteemed humanitarian, Rustin Cohle. I'm pretty happy with the drum capture I got, as I had put appreciable time into the drum tones tracking a session earlier in the day and wanted to snag a live take while the kit was polished up. I've wanted to do a multicam shoot like this, capturing myself laying down each part as live as possible, and I think it's my most cohesive piece I've offered yet on my Steemit music adventure. Bass was rocked onscreen, albeit awkwardly, as I've pretty much only played bass seated infront of my DAW. Hosting on the DTube this time, as I put an inordinate amount of time into trying to get the shots clean and the 720p does make a noticeable difference! I also wanted to feature their criminally underutilized goth-looking black on black logo that i've watermarked the top corner with. Cyborg approved.
For the synth heads: I took a break from hardware synthesis to get this more compositional piece down, writing and sequencing it with the Push 2 and Ableton driving the Expert Sleepers FH-1 midi-> cv converter. I did, however, still manage to work the Make Noise Rene and Trigger Riot sequencers into the patch. Ableton is sending clock o the sequencer array, and the Rene is doing a rad eight step pattern triggering specific modulations to the E352 techno super saw that comes out guns blazing when the drums enter. The Synthesis Technologies E352 is a INSANE BEAST. Every time I'm listen to half a track and am stuck on where to go with an overdub, a quick sweep of the wavetables / wavefolder / stacked oscillators on that thing and I'll find something totally unexpected. Other highlights include a bitcrushed beat i'm bringing in and out courtesy of the Doepher bitcrusher and SEM filter. The shhhhhhriek noises on the four panned hard left are courtesy the fabulously weird and inspiring Noise Engineering Loquelic Iteritas Percido ... which I am only just getting a handle on after a month or so with it in the fold.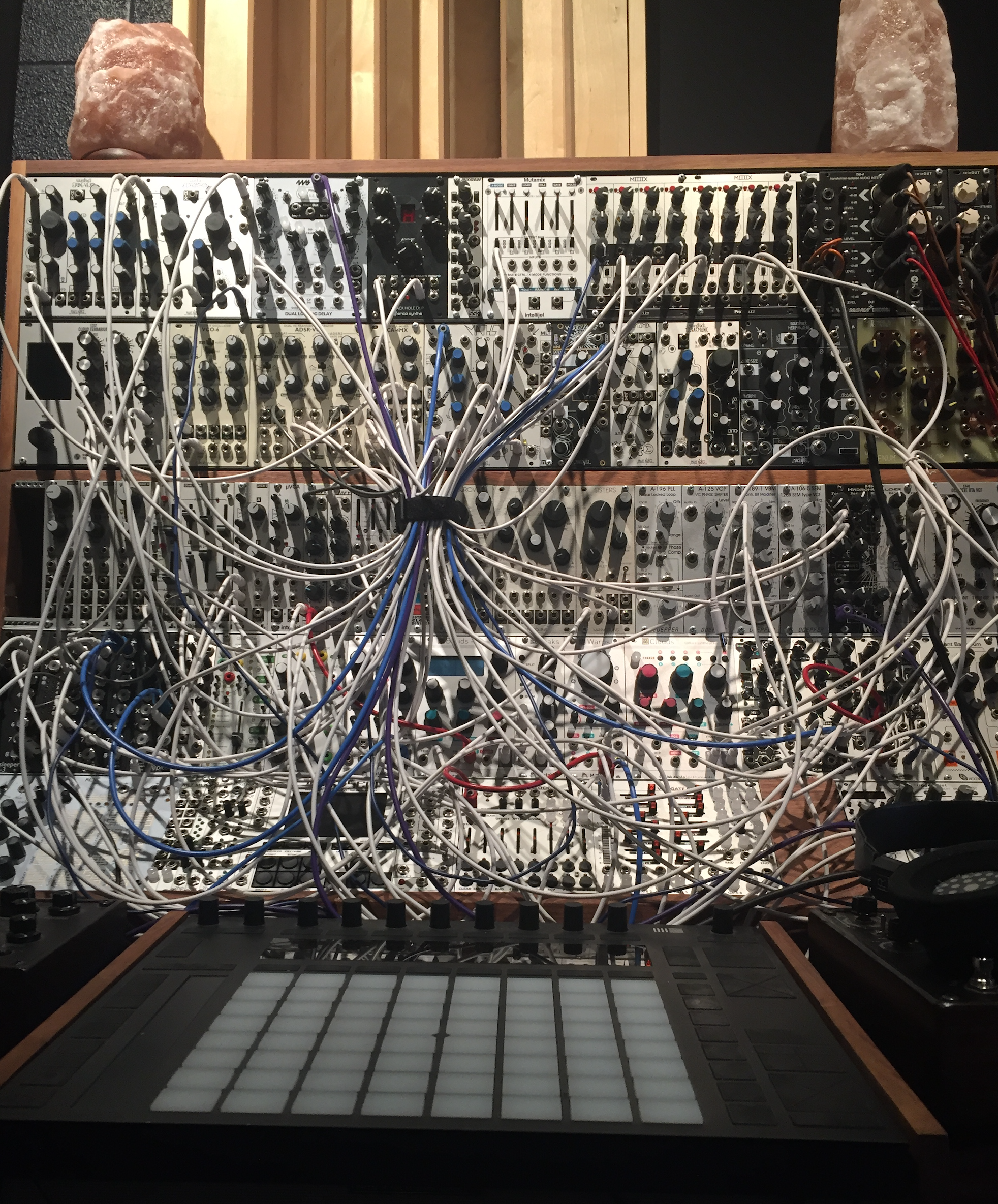 I tucked a little Rhodes into the bridge. Nobody ever notices the poor Rhodes resting under all that modular, but it's very much still accessible and gets used constantly in the studio. Going to tuck a GoPro under there next time. Enjoy, and stay tuned for some deep dive modular explorations, most likely into ambient world after all this big beat electronica madness!
-A note on promotion: I'm about to blast this post into the heavens with some bots, using fiat I'd otherwise be shipping into Steemit regardless. I realize people have mixed opinions about this sort of practice, but I put the better part of four days into this video, and as somebody with two decades in the music industry, I am long since calloused to the concept of exposure = time + money. I have experimented with botting before, and have empirically come to the conclusion that it is a loss leader where we accept the reality of "trending" and exposure on Steemit, and pay ... both for access + exposure and, slightly more ideologically, to take something I've put serious sweat equity into and blast it past (some) spammy content taking up space. In an ideal world, obviously I'd love to not do this. Anybody thinking you turn a profit whatsoever on a bid bot exchange needs to give it a whirl. My last three engagements netted about a 30 percent loss on sbd invested vs. recoup in the end, even including the value of some upvotes I don't normally land. It's certainly not a profitable tactic. It is, however, a way to invest SBD I'm planning on shipping into Steem one way or another in this ridiculously buy-friendly market. I am simply choosing to take a 30 percent loss in exchange for me getting something I worked my ass off a bit more visibility and hopefully net some new followers for the kind of music content I'm trying to get out there.
Is this a viable strategy to defeating Trending Spam? I couldn't tell you. Despite my futuristic origins, I don't have all the answers. What I do have is a sweet multicam drum and synth (and bass!) video that you have arrived at, one way or another, and should watch now. Set the sample rate to "source" for 720p, as it will default to 480p.
Drumoperator out.
---
▶️ DTube
▶️ IPFS