WHAT ARE OUR OPTIONS Wih This Financial Sector Uncertainty?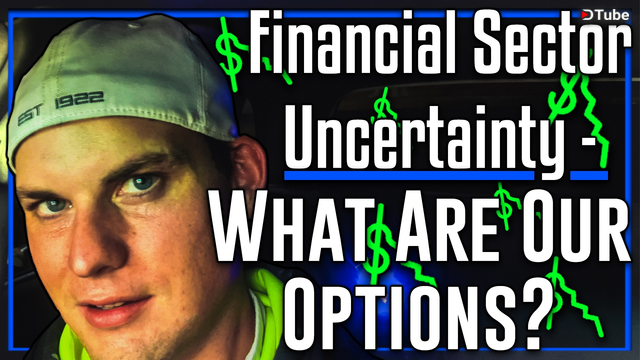 ---
What are some options in this financial uncertainty? Well, I'm a huge advocate of crypto, but in this video I talk about some other things a person could consider with all this uncertainty going on in the financial sector.
The value of your currency plays a HUGE role in how your economy operates, and your economy's health affects the prices you pay for goods and services.
Also, the stock market has had a really bad rap for quite some time, and with good reason in my oppinion. BUt this is one of the things that should be considered.
Thanks for watching, look out for the next part of "What are our options with this financial sector uncertainty". Coming soon. Hit that post notification bell.
For more #cryptocurrency and #cryptoworldevolution related talks, news, and updates, consider subscribing here:
🤜 https://goo.gl/zLiyB4
---
Some tools and sites I use, I think they're pretty cool. Help me, help you.
🌟 KuvaCash is definitly making money better: https://goo.gl/f9zKTR.
🌟 CryptoGem Global is a P2P cryptocurrency exchange that helps buyers and sellers of crypto get together: https://goo.gl/FAZdGJ.
🌟 I've been mining Monero with my CPU for a few years now. Works great and quite a few cryptos to choose from: https://goo.gl/4HknVd.
---
Check out the #cryptospacezim merch here:
👕https://dexterscryptospace.threadless.com/
---
Feel free to get in touch with me here:
🕊Twitter: @Dexstaples
📸 Instagram: @dexstaples
🌀 Steemit: @dexstaples
👥 Facebook: CryptoSpace Zim
✈️ Telegram: https://goo.gl/TnnxGb
🎮 Discord: https://discord.gg/8sFxf3
👻 Snapchat: @dexstaples
---
With this channel I hope to spread awareness of the possibilities #cryptocurrency can give people in general but especially people in #thirdworldcountries. So subscribe and let's share the awareness:
🤜 https://goo.gl/zLiyB4
---
Disclaimer: all thoughts expressed are my personal opinion. I am not a financial adviser. Some links in this description are affiliate links.
---
▶️ DTube
▶️ IPFS