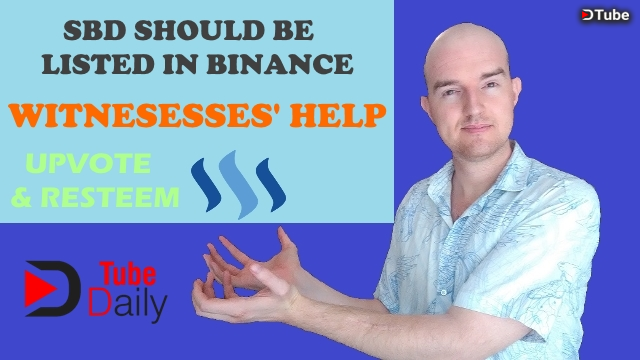 ---
After reading a post from @socky , I decided to record this video and write this post.
I think it's really important to make steem dollar listed in binance.com because it's the main currency of our earning from steem blockchain.
Most minnows keep steem dollars to exchange them at good rate, because we don't earn that much. So not only steem is important for us, but steem dollar as well.
We vote for witnesses and we ask our followers to vote for them, I hope they will help us somehow to reach @ned to fill out the form of asking binance to list steem dollar in the exchanger.
Witnesses that I am asking to help us are :
Also I ask the help from platforms like @dtube , @dlive , @busy , @dsound , @steepshot , @zappl , @dmania and others.
I also hope that the creators of famous tags will help, like #promo-steem , #ocd-resteem , #steempowerment , #dtubedaily , #onelovedtube and other famous tags. ( If you know any famous tags, please let me know in the comments and I will add them to the list. )
I also ask some powerful people like : @exyle , @happymoneyman , @reseller , @dnews , @joeparys , @themarkymark , @larrymorrison , @therealwolf , @adsactly-witness , @lukestokes , @firepower , @thejohalfiles , @kpine , @yoo1900 and others to support.
I also ask the best dtubers like : @harshilpatel , @myndnow , @kevinli , @adventuroussoul , @sergiomendes , @alphasteem , @tanbay and others to record a video about this topic, the impact of dtubers is good.
I also ask my dear steem friends like : @overkillcoin, @steemcafe , @tibfox , @cartel , @veganroma , @holgerwerner , @enjoyinglife and others to support this somehow.
I think it's important for all #steem community and I am almost sure that steem dollar will be listed in binance.com very soon and the price will go much higher. ☺
Any kind of support will be appreciated !
Thanks to everybody for being such amazing steemians. ☺