HUGE REWARDS FROM #BLINDTEST. SP delegations! More than 5$ worth upvotes, BUILDTEAM tokens and SO MUCH MORE! (MYSTERY BOX)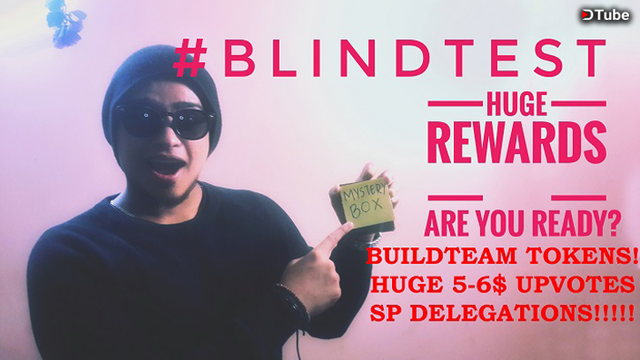 ---
Today marks the end of the 1st week of #blindtest.
This week we reviewed esteem and are hoping to see more #blindtest reviews on esteem by the end of the day!
#blindtest rewards are given out in the form of "MYSTERY BOX"
Until now, we only know of 3 things that could be there in the mystery box.
The contents of the mystery box will change every week and will be announced on the day of the giveaway. (every 7th day of the #blindtest cycle)
2 mystery boxes will be given out each week to the 2 best reviewers of the week.
Whats in the box?
Here is what we know so far:
1 BUILDTEAM token for each winner.
100% UPVOTE from NathanMars and #blindtest team that can accumulate to 5-6$(or more)
HUGE SP delegations for 90 days (Amount of delegation will be differ from box to box)
There are more rewards but will remain disclosed (because it is a mystery DUH!)
The token is a permanent element of the mystery box. That means, every mystery box has a BUILDTEAM token and every week the winners WILL get a BUILDTEAM token.
However, the upvote and delegation is not a permanent element. Boxes may have the upvote or delegation in them.
We can only know whats in the box on the day of the winner announcement.
The amount of SP delegation you will receive for 90 days can be anywhere from 100-200SP,
There is also going to be a MEGA MYSTERY BOX for 1 reviewer that will be decided after 4 weeks. If an eligible reviewer will not be found, then it will be given after 5 weeks, if not 6 weeks and so on!
(So do your best to win the MEGA MYSTERY BOX)
#BLINDTEST BLOG: https://steemit.com/blindtest/@blind-spot/blindtest-let-s-talk-about-your-project-coming-to-life-updated
ORIGINAL #BLINDTEST ANNOUNCEMENT VLOG: