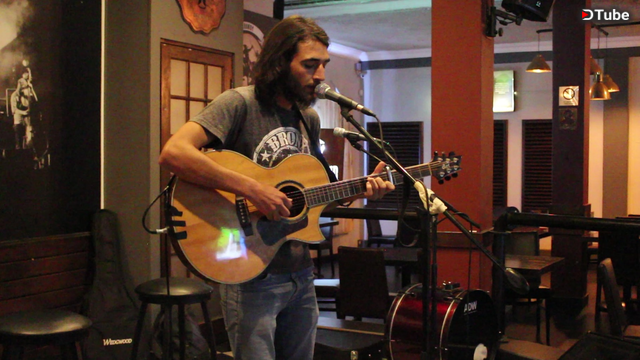 ---
Why Open Mic Nights?
Whenever someone asks me why I host open mic nights, one of the first things I tell them is that it is not JUST about the music. Don't get me wrong, The Music is top of the list, but in the end, it is about the PEOPLE who make the music, and the HUMANS who support these people.
Daniel O'Connell
That being said, I take great joy in seeing personal growth in the open mic musicians, on more than just a musical level. Take Daniel O'Connell for instance. Musically, he has grown in leaps and bounds since he started playing open mic. He has effectively taken a nice hobby, and turned it into a craft that he can use to entertain, and yes, even earn money.
However, seeing him grow as a person has to be one of my personal open mic highlights. From a shy-guy-in-the-corner, to, well, a shy guy that is not afraid to get on stage, or even interact off-stage. Now for me as an off-the-charts extrovert, that is not an issue, but I can only imagine how much of a challenge it has to be for a very strong introvert like Daniel.
So with this, I would just like to say that I am super proud of the bloke, and really look forward to seeing where The Music takes him!
Find him here:
https://www.facebook.com/danieloconnellmuso/
https://www.instagram.com/danieloconnellmuso/
---
[Pardon the sound quality, I am working on getting better videos with excellent sound!]
Find me in other places:
http://www.facebook.com/baasdebeer
http://www.instagram.com/baasdebeer
http://www.twitter.com/baasdebeer
https://steemit.com/@baasdebeer
http://www.youtube.com/user/baasdebeer

---
▶️ DTube
▶️ IPFS